The Alice" is a fantastic, unique destination, and the journey to get there is part of the adventure!
"The Alice" is almost a mythical place, the enigmatic centre of Australia in many ways. Geographically, it sits darn near the middle of the continent in all directions, and it is the urban hub for the vast and sparsely inhabited Outback region. With a strong Aboriginal connection, an affinity for visual arts of many genres and a diverse population, it also has a place at the cultural heart of Australia.
There is no end of things to see and do in Alice Springs, provided you are open to new and unique experiences. The atmosphere is one of a town that, although well-established and welcoming to visitors, still retains some of that frontier, rough-and-ready spirit. The aboriginal culture is also strong here, as the surrounding area is the homeplace of the Arrernte people, which offers a great learning experience for those who want to really understand Australia. The town centre is next to the Todd River, based around Todd Mall. Nearby Anzac Hill overlooks the easily walkable central area which is packed with cafes, restaurants and shopping.
The time and effort involved in getting there is all part of what makes visiting such a memorable experience - be it by a flight from one of Australia's coastal cities like Brisbane, Sydney or Perth, to pick up an Alice Springs campervan hire or picking up your wheels elsewhere and embarking on an epic road trip. Motorhome Republic's Adelaide to Darwin itinerary is a classic, and the best way to see the Alice as well as myriad other amazing Outback destinations. It can be done in either direction, and we think that it's darn near the top of the list of the world's most unforgettable journeys. The landscapes you will see along the nearly 4,000 kilometres are unique and mesmerising.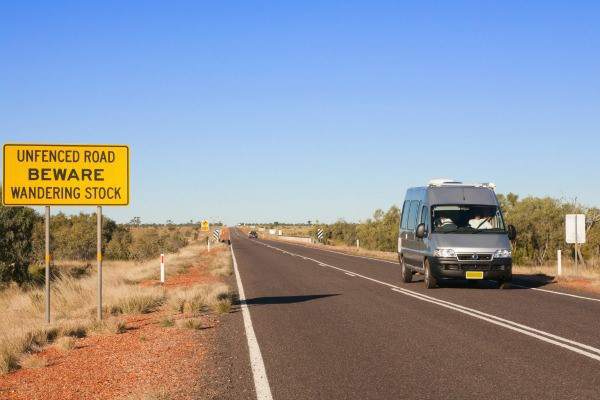 Stay in Alice Springs: The practicalities
Once you have made it to Alice Springs, it makes sense to stick around for a few days at least to really find out what makes Australia's heart beat. The rugged beauty of the place is understated, but it will grow on you - particularly once you find out how much it has to offer. If you're nervous about navigating the long and lonely roads typical in the red Centre, have a read first of our Outback driving guide with expert Allan Whiting.
Campervan visitors can take advantage of the holiday and caravan parks scattered throughout the town and surrounds, such as the Big4 MacDonnell Range Holiday Park or Alice Springs RV Park and Resort.
Food and other expenses can be a little elevated in Alice Springs due to the isolation, but it is still very manageable on a budget. It gets very hot in summer and cold in winter, so be prepared for the weather - and perhaps plan to go in a temperate shoulder season!
The dining scene showcases quite a range, from local tucker to exotic international eateries. Cheaper options include fast-food chains and takeaways (Eastside is often considered the best fish and chips), along with pizza from La Casalinga on Gregory Terrace - and of course, ingredients from the supermarket to cook in your camper! On the more upmarket (but not super expensive) end of things are very Outback-themed places like the Red Ochre Grill and Overlanders Steakhouse, and the top-rated Hanuman with Indian and Thai dishes.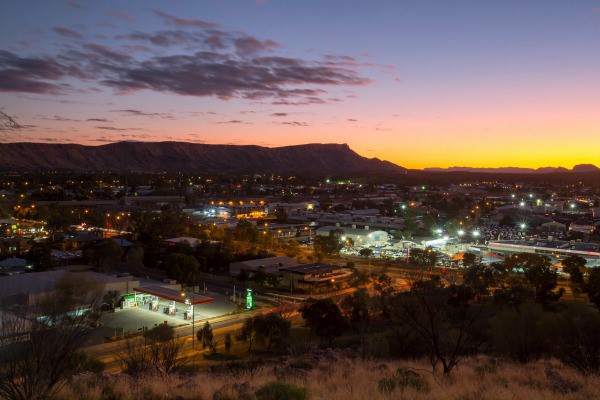 Get to know Alice: What to see and do
Set up and ready to explore? Here are a few ideas:
Catch a sunset. This one's free and spectacular and only requires a quick drive out of town at the appropriate time to find the perfect outback landscape setting - with a campervan, you can make a cup of tea or even dinner while you wait. Don't forget to bring a camera!

Check the calendar for the many events which take place here - from the annual Alice Show with fairground rides, animal displays, shopping, races and performances, to the more specialised Camel Cup race day or Beanie Festival dedicated to the knitted hats.

The Reptile Centre will familiarise you with some of the most fascinating Outback denizens - venomous snakes of many varieties, frilled-neck lizards, crocs and more. For a walk on the flora side, try the Olive Pink Botanical Garden which displays the plant diversity of the desert. The Alice Springs Desert Park is another options, offering both critters and vegetation to admire.

History buffs should visit Adelaide House, the first stone building in town, as well as the National Pioneer Womens Hall of Fame where hundreds of women are recognized for their contributions to Australia's heritage. The Alice Springs Telegraph Station site has a range of restored buildings set in a lovely park, another must-visit spot just outside of town. There is also an Aviation Museum for people who like planes, and a more general Museum of Central Australia.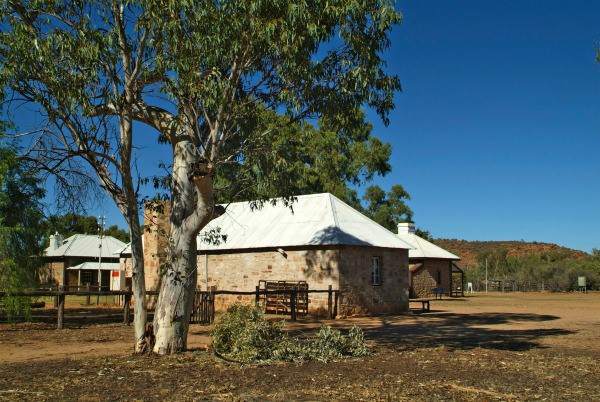 Adventure activities are available all over the show in Alice Springs. Take to the skies for a hot air balloon ride at sunrise, or get onboard a "ship of the desert" (that's a camel, in case you were wondering) for a plodding journey through the surrounding hills and valleys. For a little more speed, opt for a quad bike tour or even a mountain bike excursion in the Araluen Mountain Bike trails nearby.

There is an outdoor market in the Todd Mall every second Sunday for most of the year (closed mid-December to mid-February) which features local produce, arts and crafts and is a great place to go if you are in need of a little retail therapy and some souvenirs to take with you. Once a month from August to November there is also a Night Market on one Thursday night, with entertainment, crafts, food and more.
Explore the Red Centre: where to go from Alice Springs
Unlike many of its coastal counterparts, this Australian town is surrounded by a lot of wide open space and not a lot else! It can be quite a drive from the Alice to the next attraction in the vast Outback - but it's guaranteed to be a scenic one.
Uluru is of course a bucket list kind of destination, a whole day's drive from the Alice - but there's no closer travel hub from which to embark on the trip! Uluru, or Ayers Rock, is of course the centerpiece of the area and an iconic sight, but there is more than just that amazing big red lump upon which to gaze. It's part of the Uluru-Kata Tjuta National Park, which includes the striking Kata Tjuta rock domes.

Much closer by Alice Springs is the Emily and Jessie Gaps Nature Park, in the Heavitree range just 20 minutes' drive from town. The park includes fascinating aboriginal paintings and some great scenery. It is a registered sacred site for the Arrernte people.

The closest town is Ti Tree, just over 2 hours' drive away. It's a tiny settlement, a fantastic spot to get into the rural outback spirit. Shoot the breeze with locals in the Ti Tree Roadhouse which claims to be the most central pub in Australia. 65 kilometres south of the town is Ryan Well Historical Reserve, where visitors can see the Maggie Homestead ruins which were a significant site in the movement of stock along the Overland Telegraph Line.

The East and West MacDonnell Ranges stretch for miles on either side of town. The "Macs" as they are called are quite the sight to see, and also serve as a playground for outdoor recreation. There are so many different hotspots to visit: Ormiston Gorge, the Ochre Pits, Ellery Creek Big Hole for swimming, and a range of different nature parks. Campgrounds dotted throughout the ranges make them great for campervan travellers.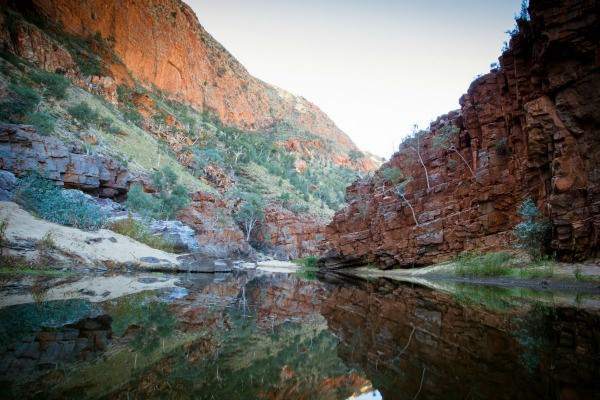 Whether you arrive in the Alice in the middle of a Red Centre adventure along the Stuart Highway or fly right in and pick up an Alice Springs campervan rental, there is plenty to keep the intrepid traveller busy here.
To make the prospect of an Alice Springs campervan rental adventure even more appealing, Motorhome Republic is currently giving away five prizes of AUD$1,000 to five lucky renters, with a stashes of cash hidden in different motorhomes throughout the country. This giveaway applies to all bookings made in the month of October 2016 for pickup in January, February or March 2017, anywhere in Australia. Be in to win!
---
---