New Zealand is a gorgeous country - picturesque, spacious, and spectacular - a dream location for motorhome rental adventures. People flock here to explore rising peaks of mountain ranges, jaw-dropping fjords, beautiful beaches and rolling hills of farmland. New Zealand locals are friendly and welcoming, and the country is full of native flora, fauna, and birdlife to capture the imagination of all travellers.
A New Zealand campervan hire road trip is the ultimate way to explore Aotearoa (Te Reo Maori for 'land of the long white cloud'). You can pick up your motorhome from a variety of starting points throughout the country, including but not limited to Auckland, Christchurch, Queenstown, Dunedin, or Picton, and begin the adventure of a lifetime. Follow one of our New Zealand road trip itineraries, or create your own, and you'll be heading off onto country roads, discovering majestic scenery the likes of which you have never seen. Due to the small size of this island nation, you'll never be too far away from civilisation. The rural towns have their charms and quirks, and the cities are abuzz with multicultural activity. There are very few bypasses in New Zealand, which means you'll truly see it all from the windows of your motorhome.
If you're not convinced to visit already, view this video from Tourism New Zealand to see what treasures await.
Pre-book your New Zealand Motorhome Rental
Booking a campervan with Motorhome Republic is quick and easy. Enter your motorhome requirements and travel dates into our simple search engine, compare all your options from international and local rental suppliers and book! Filter by price to stay within your budget, or by size to accommodate your family and friends. See all the options in one handy place to ensure you're getting the best vehicle at the best price. You can even view the website in several different languages, including Spanish and French.

Pick up points for New Zealand Campervan Hire

North Island
New Zealand's largest city, Auckland, is situated near the top of the North Island and is a thriving hub of activity. Whether you're into art and history, bush walks and trails, fine dining on the city's wonderful waterfront or soaking up the sun on one of the numerous beaches, there is plenty to do and see in this thriving metropolis. Auckland is also the main hub for international travel, and a fantastic place to start your motorhome excursion.
A road trip through Northland to Cape Reinga is a brilliant way to spend the summer discovering small towns along coastal drives. Hiring a campervan in New Zealand means you can slowly make your way up the coast, stopping in holiday parks and well equipped campsites along the way.
Just southeast of Auckland City is the popular region of the Coromandel peninsula. It's known for its warm sunshine, clear waters, and glorious golden beaches. The Coromandel is a few short hours from Auckland city, and is a popular weekend getaway for city dwellers. It's a beautiful drive, especially in a wide-windowed campervan, and the natural wonders of Cathedral Cove and Hot Water Beach are well worth the journey. In the middle of Hahei Beach lies the Hahei Holiday resort, a camping ground perfect for your motorhome, which acts as a great base for the surrounding areas.
Within a day's drive of Auckland lies the popular tourist towns of Rotorua and Taupo. Both are lakeside cities rife with outdoor adventure activities, and easily accessible with campervans. On a clear day in Taupo, you can make out the mountain peaks of Mt Ruapehu, Mt Tongariro and Mt Ngauruhoe (Lord of the Rings fans might better know the latter as Mount Doom), which sit on the Central Plateau. While the summer sees hikers tramping up the mountain paths, the winter season brings both locals and tourists to the snowy slopes as they enjoy skiing and snowboarding. Over the hills to the east, and into the vineyard-filled Hawke's Bay, the city of Napier holds an Art Deco festival each February, which is well worth a visit.
New Zealand's capital city of Wellington is tucked into the harbour at the bottom of the North Island. Its CBD lies flat on the waterfront, then sprawls up the hilly suburbs, making for a picturesque city of varying heights. Wellington is very compact, and is home to Te Papa, the national museum, as well as an array of other art galleries, delicious restaurants, and the popular Weta Studios. Biking in the hills that engulf the city is a fun way to see Wellington from a height – why not add a bike rack onto your campervan rental?
Continue your New Zealand campervan holiday by crossing the Cook Strait to the beautiful South Island on one of the vehicular ferries that leave from Wellington Harbour.
South Island
Off the Interislander ferry in the South Island, you'll arrive in Picton, a gorgeous little village and the head of the Queen Charlotte Sound. Many foot passengers from the ferry arrive in this small town to pick up their campervan and begin a South Island adventure.
The long coastal and inland routes of the stretching South Island beckon from Picton. Close by is vineyard-laden Blenheim, where the wine is plentiful. The breathtaking sights of the Abel Tasman National Park make for an incredible trip in a motorhome, and the campsites scattered along the way make it easy to explore the region at your own pace. Over the winding Takaka Hill you'll arrive at the gorgeous Golden Bay, or head inland and wander through the Nelson Lake District.
While the captivating 'Garden City' of Christchurch has been devastated by earthquakes in recent years, don't let that put you off. The city has picked itself up in true Cantabrian style, and creativity and ingenuity are rising through the cracks. This central South Island city has the largest international airport on the island, with frequent flights back up to Auckland, and across the ditch to Australia.
New Zealand's only open-range zoo, Orana Wildlife Park in Christchurch is more than just a zoo. It's a place of conservation and education, and prides itself on ensuring the highest well being of all its animals. Orana Park is home to the only gorillas in the country, and daily animal encounters can fill your zoo schedule. It's a fantastic day outing, especially for the kids, and is a favourite among both tourists and locals. Just a 15-minute drive away from Christchurch central, it's easy to jump in your campervan and head out to explore the 18 hectares of park.
Being centrally located, any road out of Christchurch will lead somewhere spectacular. Back up north is Blenheim, the famous Marlborough Sounds, and Nelson. Head south, however, and you arrive at the Adventure Capital of the World, Queenstown. This impressive city sits between mountains and lakes, and is abuzz with tourists all year round. Just beyond lie Milford and Dusky Sounds in Fiordland National Park, both of which you can explore by way of a fantastic tour. Across the magnificent Southern Alps, drive up the wild west coast, through local towns and alongside windswept beaches. Renting a motorhome in New Zealand makes it incredibly easy to wander through the South Island, and take in these majestic sights.
Note these New Zealand road rules and regulations for your motorhome rental trip in New Zealand
Road tripping around New Zealand is a blast, and we want you to be the safest you can be, while having the best time of your life. Like any country, New Zealand has specific rules and regulations around driving. Please familiarise yourself with the driving laws before you begin your expedition. Here are some of the main points to remember, followed by a comprehensive driving guide for New Zealand.
It's incredibly important to remember that motorists in New Zealand drive on the left. Always look both ways before pulling out onto roads.

The speed limit can range between 50km/h and 60km/h in the cities, up to 80km/h through rural towns, and 100km/h on the open road. The speed limit is strictly enforced, and is signposted.

Even in a motorhome, seat belts must always be worn.
Before heading out on your epic road trip, get an idea of the conditions by trying out the Visiting Driver Training Programme from the AA.
Driving tips for your New Zealand road trip
Remember motorists drive on the left in New Zealand.
If you find yourself getting weary, swap drivers and schedule stops along the way.

Most the roads in New Zealand are single lane, and on main routes there are passing and 'slow vehicle lanes'. If you're holding others up, always be sure to stick to the left in your campervan so they can pass you.

Drive slowly on unsealed gravel roads, and remember that dust can impair your vision. It's a good idea to check your rental vehicle policy, as some companies do not allow rental vehicles to be driven on these roads.

The weather in New Zealand changes very quickly, so if you find yourself in rain, fog, or high winds, slow down.

Rural roads are not lit, so avoid driving these long stretches at night if you can.

Approach mountain routes, corners, and narrow roads with caution, especially with motorhomes.

Points of interest or natural attractions are often signposted by brown signs. Give yourself extra time on your journey to stop and check out some of these sights along the way.

A corner store in NZ is called a Dairy, and there you can find basic groceries, snacks for the trip, newspapers, and the like. In larger centres, you'll find sizable grocery stores and all the services you need.
Rental companies for motorhome hire in New Zealand
At Motorhome Republic, we have over 30 top rental brands available for campervan hire. Here are just a few of the options available in New Zealand: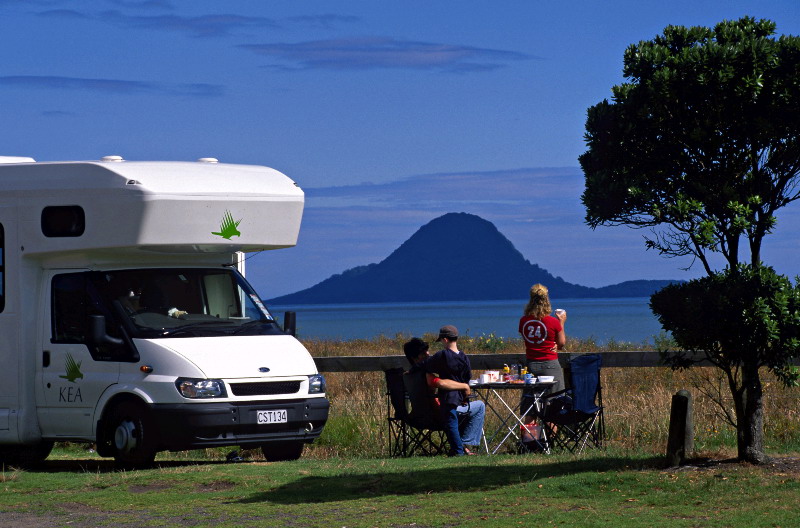 Visiting Guide For An NZ Campervan Hire Roadtrip
Planning a motorhome holiday to a country you've never even seen is a much more involved process than turning up and getting behind the wheel. The more planning you can do, in fact, the more prepared you will be for the best possible road trip.
When you pick up a campervan hire in NZ at a cheap rate with Motorhome Republic, keep in mind that there are a few more details to cover before you hit the road.
Take a look through our planning guide for essential driving knowledge with your campervan hire in NZ.
Best times of the year to visit New Zealand
The best time of year to visit New Zealand depends a lot on what you're looking to get out of your trip, as there are pros and cons to every month.
Summer in NZ is December, January and February. Thanks to both the warm weather throughout the country, the school holidays, Christmas, New Years, and a public holiday in early February, this time is by far the busiest on the roads and in campsites around the country. Naturally, the weather at this time of year is incredible, and for those who have never enjoyed a Christmas on the beach with a barbeque, it's an unforgettable experience. That said, you will have to book campsites in advance due to their popularity throughout the season, and driving times will be slower with more traffic on the roads.
Autumn, through March, April and May, can be a fantastic time for travelling with a motorhome hire in NZ. Days throughout this season tend to stay warm between 18 and 25 degrees Celsius, and the nights only start showing their chill around mid-April. It's important to note that the South Island cools down more quickly than the North, but both islands are capable of epic scenery as the weather changes. This time of year offers fewer crowds, although the Easter holidays will always be a busy time as local families take road trips of their own.
For some, winter will be the best time of year to visit New Zealand. The season runs through June, July and August. The North Island does see more rain and cold days, but it's rare to see snow around the cities. The South Island is a lot colder, and it can snow down to ground level in the cities a few times per winter. That said, the cold brings out the best of New Zealand's ski season, and some of the most stunning vistas with snow-laden mountains. There are fewer crowds in winter, and while you will almost certainly come across rainy days, cool sunshine is not unheard of by any means.
Spring in New Zealand in September, October and November is a special time for road trips. Thanks to the country's endless livestock farms, road trips at this time of year are notable for the lambs and calves in fields up and down the country. September can still be quite cool, especially in the mornings and especially in the South Island, but the whole country starts feeling like summer by late October. This secondary shoulder season can be an ideal way to avoid the brisk winters and the busy summers in your NZ campervan hire.
How much time do you need to explore New Zealand?
One of the biggest mistakes travellers make when they come to New Zealand is to give themselves too little time. While the country may look small on a map, there is a lot of terrain to cover, countless attractions to experience and dozens of hidden gems that will make you not want to leave.
If you're looking to cover all of New Zealand, you will need roughly six weeks to tick off all the major cities and attractions. You could skim over some and do it in four, and you could easily take your time and take two full months.
Of course, you might prefer to see New Zealand in several shorter trips, rather than one big one.

Public holidays in New Zealand
New Year's Day - January 1

The day after New Year's Day - January 2

Waitangi Day - February 6

Good Friday - varies

Easter Monday - varies

ANZAC Day - April 25

Queen's Birthday - First Monday in June

Labour Day - Fourth Monday in October

Christmas Day - December 25

Boxing Day - December 26
Note that most New Zealand regions also have anniversary days, which are public holidays only in those areas.
Camping in New Zealand
There are hundreds, if not thousands, of campsites around New Zealand.
The most common spots are campgrounds and holiday parks. These areas are well equipped for travellers, as they have everything from kitchen and bathroom facilities to plug-in sites for motorhomes, and sometimes even small stores on site for basic goods. You can expect to pay from $10 to $40 per night in one of these areas, and you must respect the rules of the campground.
Another option for accommodation with a motorhome rental New Zealand is a Department of Conservation (DoC) campsite. There are more than 250 of these throughout the country, and they are often quite cheap or completely free. DoC sites tend to be a lot more basic than campgrounds, with minimal amenities and no site manager in most cases. Some sites will have toilets, laundries, kitchen facilities and more, but it changes from site to site.
Freedom camping is where you park your motorhome or pitch a tent in an undesignated area. Many travellers opt for this method as it saves on campground fees, but it does mean that they don't have access to waste disposal or toilet facilities. Freedom campers have been a contentious issue in the country lately as some visitors end up leaving waste and rubbish out in the gorgeous countryside that New Zealand is known for. If you do end up freedom camping, make sure it's in a safe place away from traffic, and don't leave anything at all behind. Note that some councils have banned freedom camping, which means you can face fines for ignoring 'No Camping' signs, and it's also important to avoid camping on private property.

Feeling well and truly inclined to experience NZ in a Campervan Hire? Book your adventure with Motorhome Republic in advance to ensure you secure a package that ticks all the boxes.