The pride of North America and second largest country in the world in terms of land mass, Canada is growing in popularity as a motorhome, RV or campervan rental option. Friendly people, cosmopolitan cities and stunning scenery all combine to create a unique destination. Bordering the United States, there are eight forest regions, mountains, glaciers, lakes and a somewhat chilly temperature drop during winter. However, the snow-sports on offer more than make up for it.
Where to go in your motorhome hire
Spread across 10 provinces and three territories, including Quebec, Ontario and British Columbia, there's no shortage of places to visit in Canada in your RV Rental. Perhaps the most famous city is Toronto in Ontario, with the CN Tower, Toronto Zoo, amusement parks, theatres, bars and a buzzing nightlife. However, if you're more focused on the open road, then the Rocky Mountains (nearly 5000km long!) are a must-see. Another wonder of the modern world is Niagara Falls, located on the border of Canada and the US. These are effectively three waterfalls, with the Horseshoe Falls predominantly in Canada.
Other Canadian cities to consider:
Edmonton: Located in Alberta on the North Saskatchewan River, Edmonton is a cultural hot-spot, with 'The Festival City' a very worthy nickname. Its humid climate and low rainfall also make it a perfect holiday destination in your RV Rental.

Calgary: Great for shopping, you can certainly burnout your credit card in Calgary. The new Science Centre, Calaway Park amusements, Calgary Stampede and the Tower offer a vast array of attractions for the whole family.

Vancouver: World famous sports venue Stanley Park, Lynn Canyon Park, Vancouver Aquarium and the Capilano Suspension Bridge are just a handful of reasons to come here. It's also a beautiful, friendly and homely city and a great destination for a motorhome hire roadtrip.
Handy driving tips for Canada
If you are planning to hire a campervan, motorhome or RV in Canada, plan ahead. It's a vast, expansive country and you may be required to drive extended distances in your RV Rental. Always have plenty of water and supplies and make sure the fuel gauge is topped up. You drive on the right in Canada and the roads have an excellent reputation in terms of quality. Once you get away from the cities, be careful of wild animals and drive to the conditions – especially during winter. The speed limit is 100km/h on motorways and generally 50km/h in urban areas, unless instructed otherwise.
Cheap, bargain Canada RV rentals
Motorhome Republic is the perfect place to hire a Canada campervan, because we offer you so much choice of the different brands on offer. Just enter your itinerary details and we can compare deals. Whether it's campervan size, cost or brand that's most important to you, we can deliver. And our customer service team can answer any questions you may have. Just hire your Canada motorhome with us and get travelling. You won't regret it!

A Guide to Driving a Motorhome in Canada
As the second largest country in the world – spanning over 9.9 million square kilometres – Canada is the ideal place for a self-drive motorhome holiday. Home to diverse natural landscapes, stunning ski slopes and vibrant international cities, this beautiful country offers something for everyone.
The hardest part about planning a motorhome holiday in Canada is picking where to go first! With so much to see and do, you could easily spend the better part of a year traversing this huge country. A good place to start is with Canada's most popular routes, such as the Cabot Trail in Nova Scotia or the roads through the Canadian Rockies. Of course, weather will also influence your road trip planning. Canada is infamous for its harsh winters, so most motorhomers explore southern regions and leave the frosty north to the arctic animals.
This helpful guide to driving a motorhome in Canada will provide you with some handy tips and information about the Canadian road rules, so you can get behind the wheel with confidence. Before we launch into details, here are the most important things to keep in mind:
Unlike fellow commonwealth countries, such as the UK or New Zealand, in Canada everyone drives on the right.

If you're not used to driving in cold, wintry conditions, try to plan your holiday for spring, summer or autumn. If travelling in winter, plan ahead and be extra careful.

Canada is home to several wild animals – keep your eyes peeled as it's not uncommon for moose, bears or deer to come onto the roads.
Canada Road Rules
Canada is made up of 13 provinces and territories, all of which have slightly different road rules. Fortunately, the rules are fairly similar across the country. For the purpose of this guide, we have focused on the general rules that apply nationwide.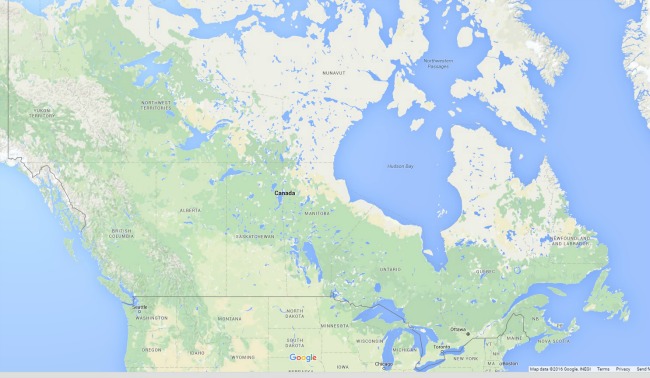 Drivers' Licences
If you're going to be in Canada for less than three months, then a license from your home country is all that's required – unless your license is not written in English, in which case you'll need to bring along International Drivers Permit. You'll also need a permit if your Canada RV rental trip exceeds three months. International Drivers Permits are obtained from your home country before you leave.
Speed limits
It's imperative to stick to the speed limit at all times. Limits are clearly signposted on the roadside in kilometres per hour. The highest speed limit in Canada is 120kph, which is the limit for the expressways in British Columbia. While official limits are governed by each province or territory, here are some general speed zones which apply almost everywhere (with very few exceptions):
School zones: 30kph

Urban zones: 50kph

Rural zones and highways: 80-100kph

Expressways: 100-110kph
Seatbelts
All passengers and drivers aged 16 years or older (or 15 in Yukon) are required by law to wear seatbelts, in all provinces and territories. Passengers under the age of 16 are also required to wear seatbelts – it is usually the responsibility of the driver to enforce this rule, but exact laws differ slightly across the country while on your Canada motorhome hire roadtrip.
Cellphones
Driving while talking, texting or operating a cellphone is illegal in Canada. Hands-free devices are permitted in most provinces and territories, but officials retain the right to charge you with distracted driving if they believe your use of said devices is impairing your driving in any way. To be safe, we recommend making all calls while you are safely parked and the vehicle is not running, or – if you're travelling with passengers – letting them take care of all mobile communications.
Alcohol limits
Driving while under the influence of alcohol is illegal in Canada. Your blood alcohol limit must not exceed 80mg of alcohol per 100ml of blood. As it's extremely difficult to estimate how many alcoholic drinks will exceed this limit, we strongly advise against consuming any alcohol before you get behind the wheel. There are heavy penalties for driving under the influence of alcohol or a drug, including the suspension of your licence, hefty fines and a DUI or DWI charge.
Give way rules and intersections
Learning the give way rules is one of the most important parts of driving in a new country. In Canada, there are several circumstances in which you are always required to give way. If a school bus is flashing red lights, you must stop and wait (it is prohibited to pass). You must also give way to all police cars and emergency vehicles if they are operating their sirens or flashing their lights.
Four-way intersections
These types of intersections operate on a 'first-come, first-go' basis, where the first vehicle to arrive has first right of way. If vehicles appear to arrive at the same time, then you give way to the right while driving your RV rental. In most cases, these intersections are fairly straight-forward, but if there's ever any confusion drivers use hand gestures or flash their lights to come to an agreement.
Roundabouts
Otherwise known as 'traffic circles', roundabouts are fairly common in Canada, especially in Quebec. You must give way to all other vehicles on the roundabout before you enter. All traffic flows in an anticlockwise direction.
Traffic lights
Canadian traffic lights use the universal traffic light colour code; green means go, amber means come to a stop if it's safe and red means stop completely. These colours are displayed as circles (for moving straight ahead) or arrows (to illustrate when rules apply in certain directions only). Some provinces and territories also feature shapes on their traffic lights to assist drivers who are colour blind.
Whether or not you are allowed to turn right on a red light varies across the country. We recommend asking your motorhome rental provider when you set off on your journey to be sure about which rules govern the areas you'll be driving in.
You may also come across traffic lights with flashing green lights. In most provinces and territories, flashing green signals mean vehicles can turn left before oncoming traffic can proceed. However, to confuse things slightly, these signals have a different meaning in British Columbia and Yukon, where they simply inform drivers that they are approaching a pedestrian-controlled intersection and should therefore pay extra attention.
Overtaking
In Canada, the centre line is painted yellow, and lines which separate multiple lanes heading in the same direction are painted white. One-way roads feature a yellow line on the left shoulder and a white line on the right.
As a general rule, you may overtake another vehicle when the centre line is broken or dashed. If the centre line is solid, overtaking is strongly discouraged. If there is a dashed line and a solid line present, passing is allowed on the side of the dashed line. If there is a double yellow solid line, overtaking is prohibited in either direction.
When there are multiple lanes heading in the same direction, vehicles travelling slower than the speed limit should keep to the right. If you are travelling fast (but within the speed limit of course!) or overtaking another vehicle in your Canada campervan rental, keep to the left. Please be aware that in some regions, vehicles are allowed to pass on the right (otherwise known as 'undertaking'). This is something to be aware of so it doesn't take you by surprise.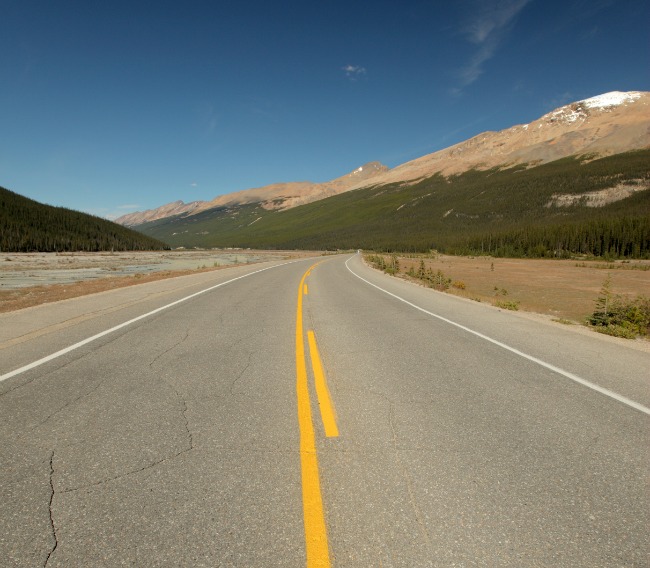 Road signs
It's almost impossible to memorise every single rule about driving in a foreign country, so thank goodness for road signs! These provide essential information about upcoming conditions, hazards, limits and more. If you're travelling through Quebec, please note some signs may be written in French or a mix of French and English.
Prohibitive signs
Most prohibitive signs feature the colour red. For example, STOP/ARRET signs are red hexagons with the words in white lettering, while YIELD signs are triangle-shaped with red borders. Circular red signs which feature red bars across a black symbol demonstrate that the pictured symbol is not allowed, such as parking or turning right.
Permissive regulatory signs
Green circles with pictorial symbols indicate permitted actions or situations where certain actions are the only option. For example, 'left turn only' signs are a green circle with a left-pointing arrow in the middle.
Speed limit signs
Signs which indicate the maximum speed limit in any given area are black and white. The word 'MAXIMUM' is clearly printed at the top of the sign, followed by the number (in kilometres per hour).
Warning signs
Most warning signs are black and yellow and diamond-shaped. These signs alert drivers about upcoming hazards or changes in the road, such as intersections, slippery surfaces, sharp corners or bridges. The changes are depicted with simple pictorial symbols.
There are two main exceptions to the yellow and black colours: black and orange signs, which indicate temporary road conditions (such as construction zones or roadworks) and bright yellow and green signs, which indicate school zones (warning drivers that children may be around).
Information and direction signs
Signs which provide navigational information about upcoming towns, exits and nearby landmarks are green and white. Pay attention to these signs as you drive so you don't take a wrong turn or miss out on your exit!
The Canadian Highway System
Canada's National Highway System is made up of highways and freeways. Routes are found all over the country, with the exception of Nunavut, where there are no National Highway System connections.
Trans-Canada Highway
Don't let its name deceive you; the Trans-Canada Highway is not one road but actually a network of roads! This 'highway' covers 8,000 kilometres in total and includes most major cross-country routes. You'll probably spend a lot of time on this network if you're planning an extensive Canadian RV rental road trip!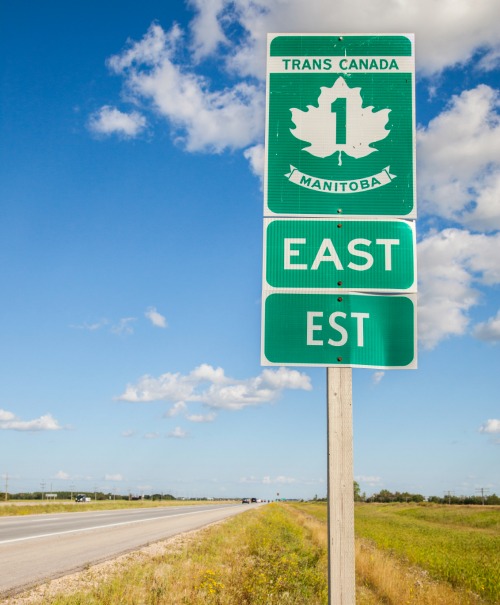 Numbered highways
All roads in the National Highway System are given a number and a name. It's important to note that most locals refer to the roads by their name, not their number, so it's a good idea to familiarise yourself with both. For example, highway number 16 in Alberta is also called the Yellowhead Highway.
Service centres and rest stops
The quality of the service centres and rest stops depend on where you're travelling. In some areas, such as on highways 400 and 401 in Ontario, the facilities are very modern and feature 24/7 bathrooms, fast food, gas pumps and more. In quieter areas, you might only find a bathroom or a picnic table. It's a good idea to do a little research before you set out on a long drive to ensure you've got plenty of places to refresh and refuel.
Toll roads
Canada has toll roads in the following states/territories: British Columbia, Nova Scotia, Prince Edward Island, Ontario and Quebec. Toll 'road' is a broad term – many are actually bridges. Some toll roads feature payment booths and some operate electronically (your number plate is registered and the bill will be sent at a later date). Most motorhome rental companies will have a toll road policy – talk to them when you pick up your vehicle about how to best handle toll payments.
Parking in Canada
As in most countries, parking in Canada varies widely depending on whether you are in an urban or rural area. Out of the big cities, parking should be a breeze, but you'll want to plan ahead if you're visiting any of the major urban centres.
Parking differs from city to city, but there are a few general rules to be aware of wherever you go: you may not park facing the opposite direction of traffic flow, in front of fire hydrants or on the sidewalk. If it is snowing, try to avoid parking on the street to make room for snowploughs to clear the way.
Roadside parking
Road signs can help you determine whether or not you are allowed to park somewhere. If you see a green circle with a black 'P', you are allowed to park, however if there's a red circle with a black 'P' and a diagonal bar, parking is not permitted.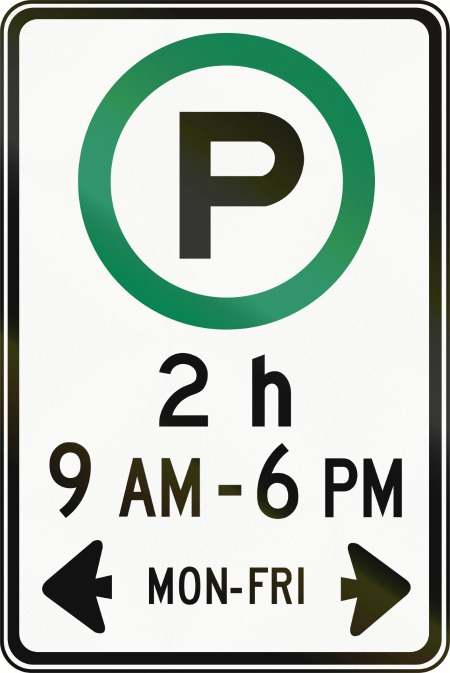 Snow routes
As mentioned above, it's important to be careful where you park when it's snowing so the snow ploughs can do their thing! You may not park in any section of the road which is marked a 'snow route'.
Paid parking
You will likely have to pay for parking when you're in major cities. Keep an eye out for private parking buildings or city-administered roadside parking meters. Many paid parking spots accept credit card payments, but it's best to always carry coins just in case.
Keeping safe on the roads
Whenever you're driving in a new country it's important to be as prepared as you can for any event which might occur. From jotting down emergency numbers to carrying extra gas, here are some tips for staying safe on Canada's roads.
Emergency numbers
Canada's emergency number is 911; call this number if you require emergency assistance from paramedics, the police or the fire service. If you require the police in a non-emergency situation (for example, minor traffic incidents), then you are advised to phone the nearest police station.
Other useful numbers you might want to jot down include:
Mental Health Crisis Line: 1-800-667-8407

Non-emergency ambulance: 727-2400

Poison Control Centre: 1-800-567-8911
Driving in winter
Canada's winters are not 'mild' by any stretch of the imagination – so be sure to pack your best winter woolies! If you are planning your road trip between November and March, it's a good idea to take precautions to ensure you're ready for whatever the weather brings (which could very well be snow, snow and more snow!).
It's recommended that travelers pack a 'survival kit' in the event you break down or become stranded somewhere while you wait for assistance. Good things to include in this kit are first aid items, hi-vis clothing, non-perishable food, warm clothes, a small shovel, sandbags and some bottled water. You should also ensure you have winter-appropriate tyres – ask your motorhome rental provider for more information.
When on the road, be sure to drive to the conditions, slowing down where necessary and taking extra care when braking or turning corners. As visibility is often low, keep your lights on at all times – even during sunlight hours. A local tip – many Canadians add some weight to their boot which helps to stabilise the vehicle. This is a good place to keep your sandbags (which, helpfully, can also be used to help free your tyres should you get stuck in the snow).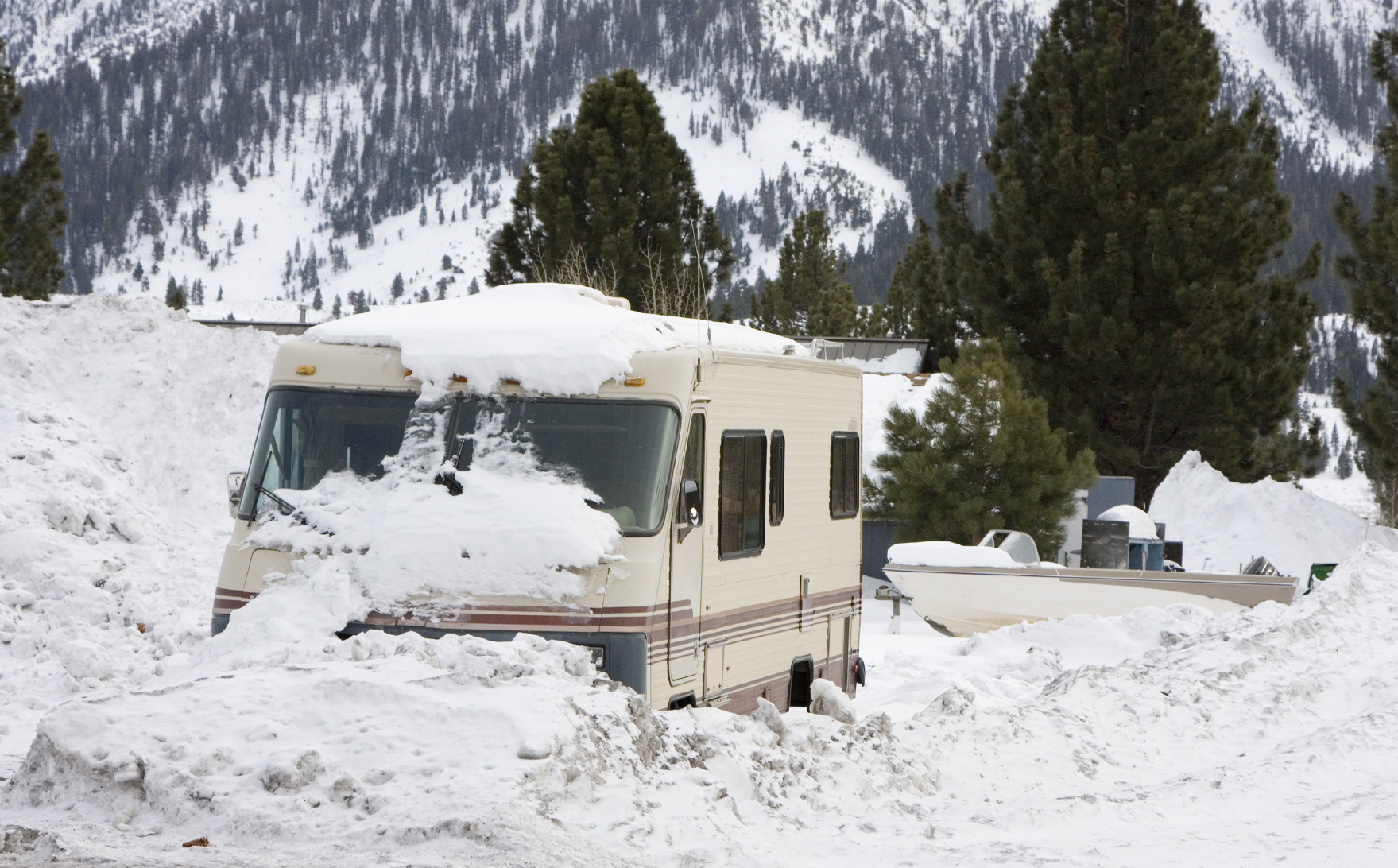 Animals
In rural regions, wild animals such as deer, elk, moose, bears and coyotes pose a very real concern for drivers. To minimise the risk of a collision, travel at a safe speed in your RV rental (always within the speed limit, or lower if conditions are bad), stay alert (take frequent rests) and always be prepared to come to a stop suddenly (keep a decent following distance from other vehicles). If a small animal runs into the road, a collision may be the safest option. However, if a large animal comes into the path of your vehicle, do your best to swerve and avoid collision (providing you can do so safely without colliding into other cars or objects).
Tips for planning your Canadian road trip
Now that you have a better idea of the Canadian road rules, you can concentrate on the fun part: planning where to go and what to see! Below are some links to useful websites which may help you plan your self-drive holiday. Have fun!
General Disclaimer
This information is provided on a 'best intentions' basis. While we do our best to ensure the information is error free, we do not warrant its accuracy or adequacy for any intended purpose.