Head outback, Jack
We asked Allan Whiting of Outback Travel Australia for some pointers about driving in the Outback, and he certainly delivered! Allan's extensive knowledge in the field of 4WDs and outback travel makes him a bit of an expert on the subject - read on and you'll find yourself becoming just a little bit more like Crocodile Dundee in no time, ready to take on one of the world's harshest but most desolately beautiful environments with a motorhome rental.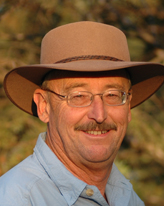 We'll start with the stuff that will keep you alive in a harsh environment like Australia's Red Centre: the essentials to surviving the Outback. Three of the most important tenets to keep in mind are these: self-sufficiency, safety and animal avoidance. Stock and restock your vehicle with everything you might need, be well-prepared for all possible situations, keep a sharp eye out for wildlife and proceed with caution for your Outback adventure.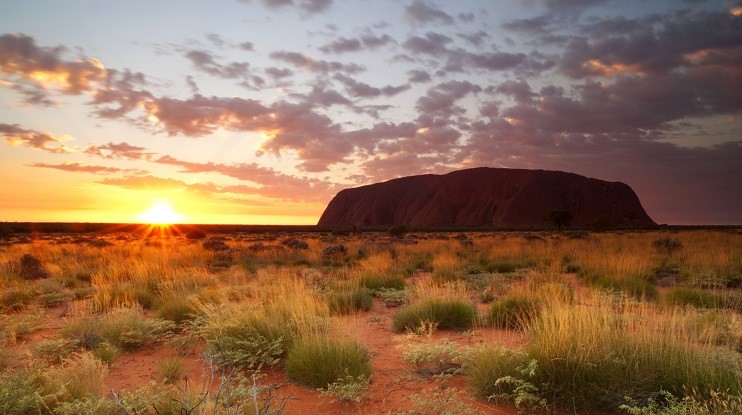 Surviving the Outback: Self sufficiency
Visitors from most countries are accustomed to towns every few kilometres, with mechanical and medical help readily available 24/7, via mobile or cell phone. Visitors are also used to seeing other vehicles all the time. That's not what it's like in Outback Australia. It's possible to be on an Outback road and not see more than a few vehicles all day. On some roads there may be no passing vehicles at all.
There is very limited mobile or cell phone coverage once you're away from cities and four-lane highways, and many small towns have no mobile coverage. You cannot rely on mobile phone coverage on highways and gravel roads unless you're within a few kilometres of a mid-sized town.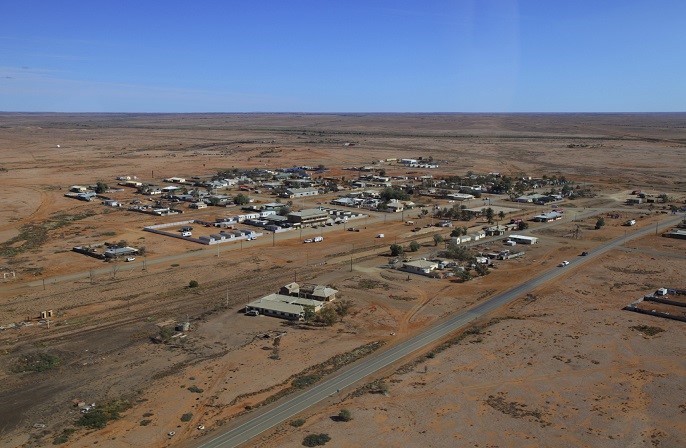 So, no service and no civilisation - what should you do? If you're planning to be in remote areas for some weeks you should hire a satellite phone. Most vehicle rental companies can organise one for you. Additionally, prepare to be as self-sufficient as possible, and bring plenty of supplies - back-up your back-ups. A first aid kit and ample water and food for several days are necessities.

Surviving the Outback: Safety
Nearly all people travelling in the Australian Outback are doing the same as you: enjoying the vast landscape. However, there are 'weirdos' in every country, including Australia, so take some precautions if you stop beside the road overnight.
If you camp away from a town camping area, the best choice is a designated roadside parking area, where there are normally some other vehicles parked for the night as well. The alternative is getting right away from the road, where no passing vehicles can see your vehicle lights or your campfire.
If you're planning to travel into remote areas you need to let someone know where you're travelling to and what day you expect to be there. Tell the police in the town you're leaving and check in with police at your destination.
That way, if you don't arrive within a day or two of your planned arrival, the police can start a search for you. Country police in Australia are very friendly (unless you're speeding) and they're used to looking after travellers.
No matter what happens DO NOT LEAVE YOUR VEHICLE. Many people have died of thirst, wandering along hot Outback roads in search of help. Exposed to the sun and without water, you can be dead in a day.
So what should you do if lost or stranded? Flag down any passing vehicles and let them know about your problem. Help will arrive, but you and your vehicle may be stranded at the roadside for several days.
We're sorry if this information sounds frightening, but we've visited the roadside graves of travellers who have died in arid country. You need to be Outback Aware.

Surviving the Outback: Animal avoidance
Australia's spectacular wildlife can be a threat to Outback drivers in three different ways.

Road hazards
The kangaroo and the emu are Australia's two national symbols, but they're a huge problem for drivers.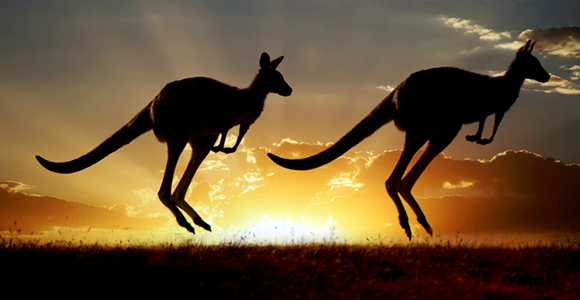 Kangaroos leap across rural roads – particularly around sunset and during the night – and are killed in large numbers. They're heavy and they do a great deal of damage to a vehicle if you hit one. 'Roos have also ended up inside vehicles after smashing through windscreens!
Avoid driving in the early evening and at night. If you must travel at night, drive slowly – 60km/h maximum – so you have some chance of avoiding kangaroos. Travel at 100km/h at night and you'll hit one sooner or later.
Emus are active during the day and behave unpredictably. If you see emus at the edge of the road, slow down to walking speed as you pass them.
Other animal hazards are sheep and cattle, on roads that have no fences. Slow down to walking speed when approaching them.


Venomous and deadly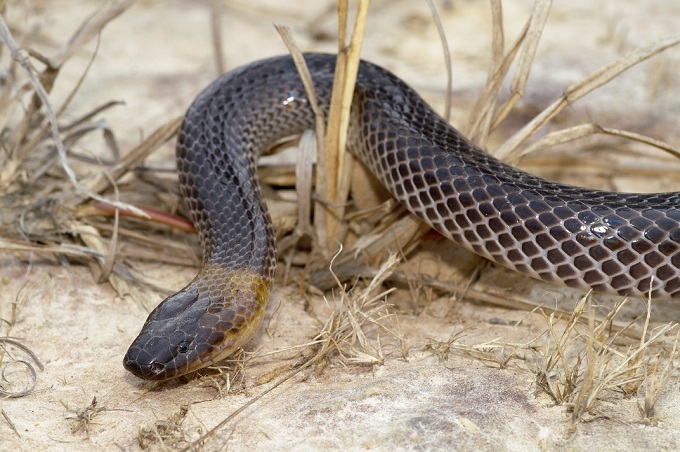 Australia is home to the most venomous snakes and spiders on the planet, but they don't like us any more than we like them. If you stay away from snakes and spiders they'll leave you alone.
Precautions include not walking through long grass, where snakes may be hiding and not picking up campfire wood without looking carefully.
If you do encounter a snake, stop walking and retreat slowly, so that the snake doesn't feel threatened by your proximity. Under no circumstances should you chase a snake, or try to kill it, because they're protected creatures and the chances of the snake winning are high!
In the unlikely event that you get bitten by a snake or a spider take a look at this Outback survival advice.
Water worries
Australia is famous for having dangerous sea creatures. Sharks swim in all Australian coastal waters and crocodiles are common in coastal and inland waters in tropical zones.
The safest place to swim in the ocean is at a beach that has surf lifesaving patrols (nearly all beaches have free entry). Life savers monitor the water for sharks and an alarm sounds if a shark is sighted. You can recognise a beach that's patrolled by a pair of prominent red and yellow flags: always swim between these flags. Swimming outside the flags or at unpatrolled beaches is risky: several people are drowned every year when caught in currents and others are killed or wounded by shark attacks.
In tropical areas and inland there are fewer or no sharks, but crocodiles are a threat. They swim in the ocean and they also inhabit creeks, waterholes and river mouths. The only safe place to swim in crocodile-infested areas is in a town or resort swimming pool!
Don't camp on beaches, creek banks or the edges of 'billabongs' (land-locked natural pools) in crocodile areas, because the crocodile's favourite hunting tactic is to rush from an unseen, underwater position onto land, drag its prey into the water and drown it. The whole process happens in a few seconds and there's usually no escape possible.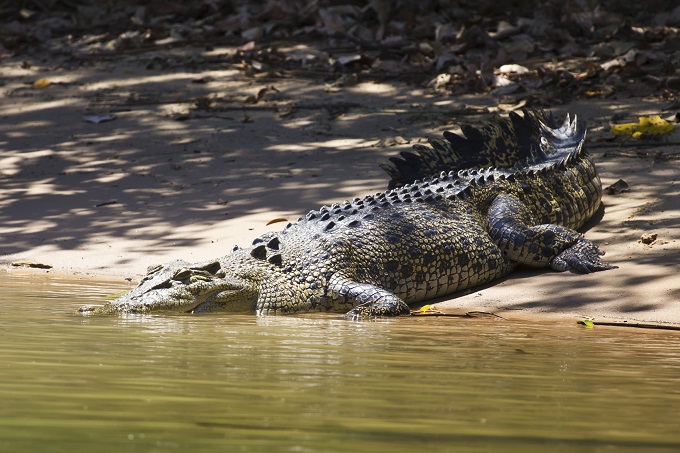 Other dangerous ocean-going creatures are 'stingers'. These jellyfish float in the ocean and trail stinging threads around them. Some stingers have painful, but relatively harmless stings while others have fatal stinging power.
It's common to wear a so-called 'stinger suit' when snorkelling in coral reef areas. This thin, lightweight clothing stops stinging cells contacting your skin. On patrolled beaches there is up-to-date information about stingers, but elsewhere you're on your own.
Once you are set with the knowledge of how to stay alive, it's a good idea to start thinking about the driving aspect of your Outback journey - after all, you'll be doing a lot of it! Here are a few tips from Allan about staying safe on Australian roads, and a few notes on Outback-specific driving.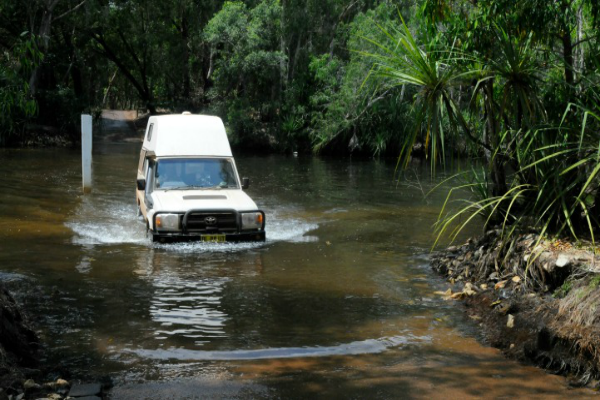 Australia driving essentials
First up, let's go over the basics for hitting the road anywhere in Australia.
Australian vehicles have right-hand-side steering wheels and drive on the left-hand side of the road. This is pretty obvious when you're driving in traffic on lane-marked highways, but on narrow roads or dirt roads where there are no markings and fewer vehicles it's easy to forget. Write a reminder note and stick it on the steering wheel!
You can drive with a foreign (English language) licence for three months, but beyond that period you need to get a licence from an Australian state. If your licence is not in English, you need to get an International Driving Permit before you leave home.
Distances and speed limits are in kilometres and km/h. Speed limits are generally lower than in Europe and Aussie police don't allow any over-speed margin. Fines are heavy and driving at 30km/h over the speed limit may see you headed for jail, so beware!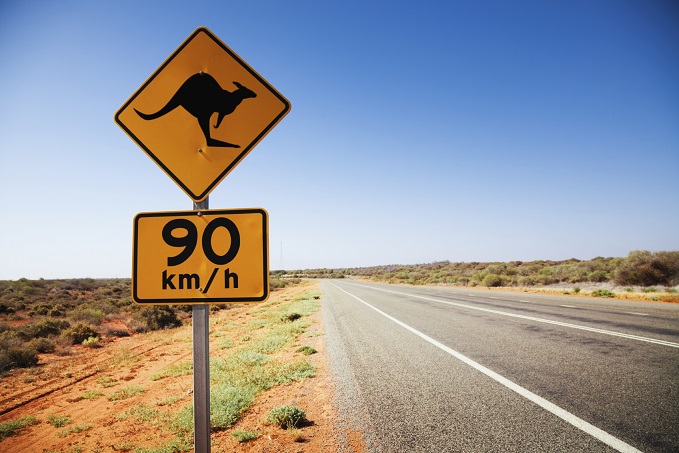 Don't drive if you've been drinking alcohol: that's another offence which may get you jailed.
Everyone in a vehicle must wear a seatbelt at all times, or the driver will be fined.

State of the nation's roads
Australia is as large as greater Europe and the same size as the USA, but most of the 24 million Aussies live east of the north-south mountain range that runs from North Queensland to Victoria and around the coasts, so the inland road network is not well developed. There are bitumen major roads around the coast and through Central Australia, but many 'Outback' roads are gravelled.
For trip planning purposes, it's important to note that Highway One in its various guises is a bitumen road that runs right around Australia. You'll also find good bitumen roads on these vital routes:
However, even on such roads there are often very long distances between towns that have fuel, water and food. Most Outback food stores and fuel stations aren't open at night.
Rental vehicles usually have restrictions on where they can be driven. Check that the vehicle you're hiring can be driven on gravel roads, before you plan your trip. Permits are necessary to travel through Aboriginal Tribal Lands in certain remote areas.
If you have limited or no experience of driving on gravel roads think of driving on icy roads: grip is poor and you don't want to get the vehicle sliding. All gravel roads in Australia are 'corrugated' with a series of ruts that are caused by the action of tyres passing over the loose surface. Some corrugations are mild and others are severe.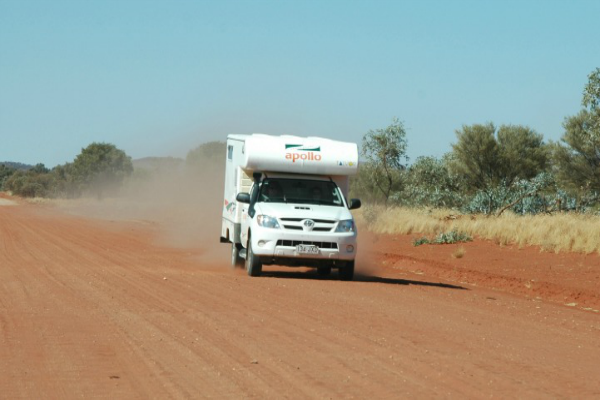 The best speed for most gravel roads is around 70-80km/h and at that speed the corrugations smooth out somewhat. However, severe corrugations may be better travelled at speeds as low as 40km/h. Find a speed that's kind to the vehicle and don't rush!

Major gravel roads are:
Gibb River Road in northern Western Australia

Great Central Road that links the Western Australian goldfields with Uluru (Ayers Rock)

Tanami Road from Alice Springs to Halls Creek in Western Australia

Birdsville Track that's a major part of the link between Port August in South Australia and Mount Isa in western Queensland

Savannah Way between Mataranka in the Northern Territory and Normanton in northern Queensland

Oodnadatta Track that connects Marree and Marla in South Australia.
Again, check with your rental company whether you are permitted to drive on these.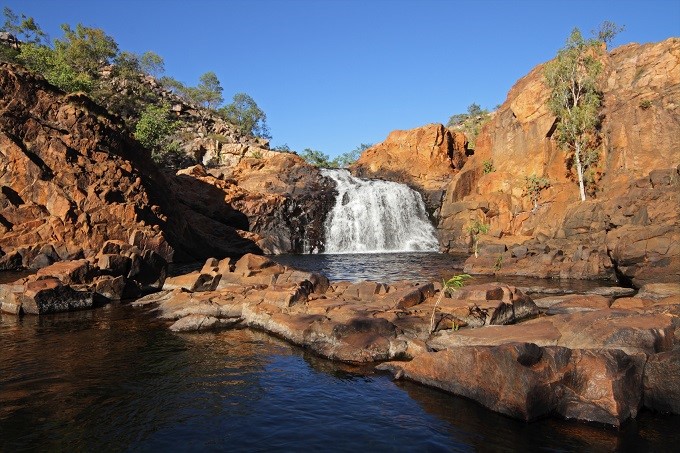 Do you feel ready to take on the Outback and emerge victorious? Despite the dangers, an Outback motorhome rental road trip is an unforgettable experience in a stunning setting - you won't forget the sunsets which set the land on fire, the hidden gorges and waterfalls, the wide open spaces and sparse but friendly small towns where you can share a beer with locals. Find an Australia Motorhome Rental and you could be in for the adventure of a lifetime!

Popular locations for pick up and drop off include a Campervan Hire Melbourne, Motorhome Rental Tasmania and Campervan Hire Perth. For those not interested in Australia and it's wild outback, consider New Zealand for your campervan hire experience.
---
---