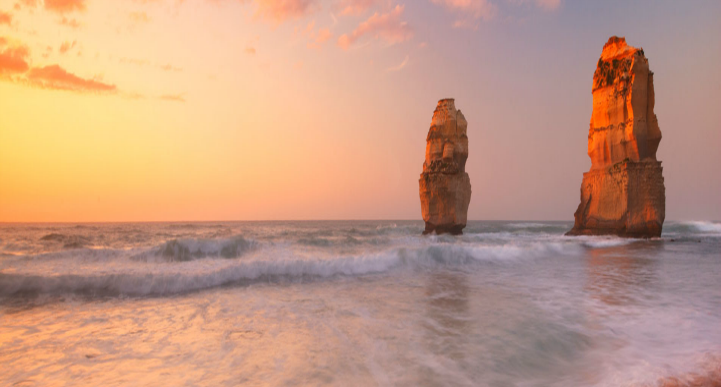 Over 4 million people call Melbourne home, yet it doesn't feel like a concrete jungle. From the capital of Victoria, your driving destination options are unlimited - making it an ideal location from which to rent a campervan. Whether you stick to the southern regions and explore Canberra or Adelaide from there, or meander along the east coast on your way to Queensland, the options are limitless. With 23 available fleets, Motorhome Republic has exactly what you need to explore the fascinatingly diverse terrain of Australia. Whether you're looking to take an extended holiday or just a weekend getaway, you can choose from our array of roomy motorhomes, cozy campervans, or a caravan perfect for your budget. Experience trips from Melbourne for an unforgettable Australian holiday.
Campervan hire for a memorable Melbourne trip
An ideal drive in your motorhome hire is along the Great Ocean Road. This 664 kilometre stretch of road takes you along a gorgeous coastline with incredible sights along the way. Since you're in charge of transportation, you can stop as often as you like to check out fascinating attractions ranging from the 12 Apostles (stacks of limestone which eroded in a unique way), to walks along the rainforest canopy. Of course, no holiday to Australia would be complete without seeing koalas and kangaroos - both of which are plentiful in the Victoria region. Though it's fun to explore off the beaten path, taking this tried and true route provides everything you could want, plus added peace of mind.
For a luxurious escape, leave Melbourne and head southeast to the Mornington Peninsula to enjoy wine tours, steamy pools, and superb golf courses. A great place to kick off your holiday, or to end it with a touch of sophistication, this is a stop that should not be left off of your campervan hire itinerary.
Mt Kosciuszko, located northeast of Melbourne in the Kosciuszko National Park is famed for having Australia's highest peak, and is totally worth the 500 kilometre journey. In the wintertime, experience top-notch skiing and snowboarding, or go cycling, fishing, or trekking during the summer months.
You can take a trip down the Murray River, which meanders through the state of Victoria. For one of the most picturesque settings in the region, head 3 hours north to Echuca Moama. The twin towns are located on either side of the river, and have the largest fleet of Paddlesteamers in the world. This historic region has a comfortable climate all-year-round and is a charming place to visit.
Anyone who visits Australia from abroad expects to see Australian wildlife such as wombats, platypuses and koalas. In fact, even urban-dwelling Australians enjoy having a chance to interact with these amazing creatures, and there's no better place to do it than at the Healesville Sanctuary. This zoo specialises in animals native to Australia. The great news? You only need to drive your campervan rental 65 kilometres from Melbourne for your up-close encounter with these wild creatures.
When should you hire your Melbourne motorhome?
Melbourne is unique in that it cycles through the four seasons daily. You may wake up to a sunny day, but don't forget your umbrella in case of surprise showers!
Throughout the year, the weather is fairly mild, meaning that it's always a great time to visit. If you are looking to visit in the summer, remember that Australian summer is December to February, and the winter is June to August. On average, the highest temperature in the summer is about 25 degrees Celsius, whereas the highs in the winter are at about 14 degrees Celsius. The city of Melbourne rarely receives any snow, making the winter a superb time for a holiday, provided you pack your warm clothes.
Motorhome Republic helps you make the best choice when it comes to finding the perfect rental deal online. Melbourne is a great starting point to explore Victoria from, and you can easily drive up into South Australia or New South Wales. Motorhomes are one of the best ways to travel the Great Ocean Road, and it reaches the top of many people's list of "Must Sees".
Tips and tricks for campervan travel through Melbourne
Parking your motorhome is limited in Melbourne; in many instances it is simpler to park for the night on the outskirts of the city.

There are a few toll roads in the region, so it would be wise to check online what the cheapest route would be before getting hit with a bill! You can find more information at The City Link or East Link websites.

If you have little ones on board, don't forget to hire car seats or booster seats.

Want even more discounts? Book your camper early for the best prices possible on your motorhome.

Winter-time rentals in Melbourne have even lower costs on the same cozy campers. Don't forget your heater though!