Taking a motorhome holiday in your own backyard is a great way to spend a vacation - but sometimes you just want to take a trip that's utterly remarkable.
Motorhome holidays can take you almost anywhere. All you really need is a sealed road, a trusty motorhome rental and a spirit of adventure. Most of the time you'll be exploring your own country, or one nearby, but every now and again, the time comes to take a truly extraordinary trip. One that goes above and beyond any normal vacation experience, which treats you to the mind blowing experience of a lifetime. This isn't the kind of vacation that you'll be taking every summer but it is sort of trip that you'll remember for the rest of your life. If you think that you'd like to one day take the motorhome trip of a lifetime, read on to discover a selection of amazing journeys which leave you with stories and memories that you'll treasure forever.
It's not really the kind of place that you'll drop by because you were in the area but when you're planning the trip of a lifetime, going a little out of your way is the name of the game. Each corner you turn in Iceland seems to offer up a new spectacular photo opportunity - this country's geographical isolation is matched only by its intense, otherworldly magnificence. Whether you choose to brave the far northern winter to catch a glimpse of the famed aurora borealis or opt for a summer road trip to take advantage of midnight sun, there's no doubt that this will be a journey like no other. Book a Campervan Hire Iceland now to experience it's wonders.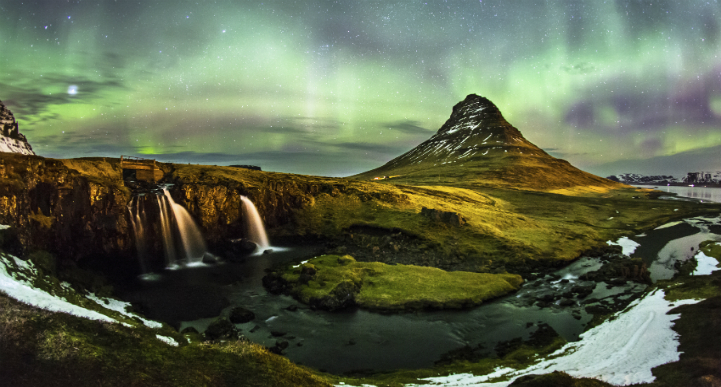 Highlights:
Seljalandfoss Waterfall. Dropping 60 metres down cliffs that once formed Iceland's coastline, this intensely beautiful waterfall stands out as one of the most gorgeous falls in Iceland, no mean feat considering the plethora of scenic cascades that grace this country. Although Seljalandfoss is stunning at any time of day, if you can make it here for sunrise you'll have an unforgettable sight in store for you.

Ice Caves under Vatnajökull Glacier. It's difficult to describe just how spectacular these caves are, but suffice it to say that those who visit them feel as though they've entered an entirely different world. The waving whorls of crystalline blue ice dwarf visitors as they soar upward to create immense cold caverns - a frozen cathedral to outstrip any man made structure. If you're visiting Iceland in winter, this is one place you can't pass by.

Geysir. Not all of Iceland's attractions are of the cool variety. The country is well known for its geothermal features, including Geysir, after which all other geysers are named. Although Geysir itself erupts infrequently, there are several other geysers nearby which put on an impressive display on a regular basis - this is just one of several places on this unique island nation where you can see the explosive power of nature at work.
Looking at a map, it's easy to forget just how big Australia is. This is a nation seemingly designed for epic road trips, and this route will treat you to not one but several of Australia's traditional road trip routes. Combining both the Great Ocean Road and a journey through the depths of the Outback, not to mention touching on many of the country's most well-loved cities, you'll come away from this trip with a full appreciation for just how bold, bizarre and beautiful Australia can be.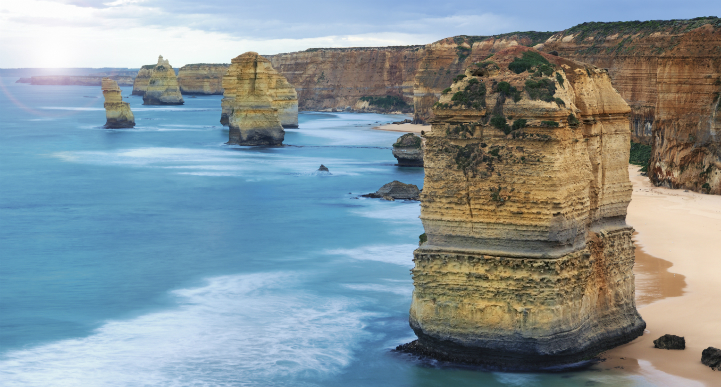 Highlights:
Melbourne. Don't drive through Melbourne without stopping to take in the sights and sounds of Australia's cultural capital. From the laneways adorned with remarkable street art to the stalls of the Queen Victoria Market, it won't take you long to discover the vibrant soul of this fascinating place. Motorhome Republic has a huge selection of Melbourne Campervans for hire.

Great Ocean Road. Right up there with Big Sur among the world's finest coastal routes, the Great Ocean Road stretches from Torquay to Allansford in the state of Victoria and showcases not only stunning coastlines but fertile wine country and verdant rolling hills. Keep an eye out for the Twelve Apostles, eye-catching limestone formations that jut abruptly from the waves.

Uluru. If there's one image that is more quintessentially Australian than any other, it has to be the sight of the red bulk of Uluru (also known as Ayers Rock) soaring upward from the desert floor. People have been coming to bask in the majesty of this hulking sandstone formation for untold years - a tradition which you have the chance to be a part of.
Check out the wide selection of Motorhome Republic Australia Motorhomes available for rent. Consider Tasmania for a campervan hire adventure on top of the locations covered here.
There's something mythic about a road trip across America. Enshrined in many great works of fiction and countless real world experiences, the wide open spaces and diverse vistas of the United States provide the ideal landscape for an epic journey. While it may seem odd to skip New York on this coast to coast road trip, anyone who's ever tried to navigate the streets of the Big Apple in any kind of vehicle (never mind a large motorhome) will realise that even if you visit New York first, it's easier to pick up your motorhome from somewhere else.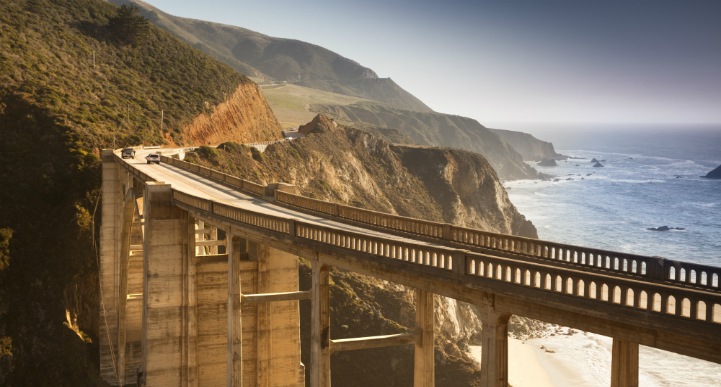 Highlights:
Chicago. Whatever you're into, you'll find something to intrigue and delight you in this mega-metropolis. In particular the music scene and culinary opportunities are far too good to pass up.

The Bonneville Salt Flats. As you drive west from Salt Lake City, you'll come across this immense salt pan - 104 kilometres of hard packed salt, stretching almost as far as the eye can see. This bizarre landscape is unlike anything you're likely to have seen before.

Big Sur. Praised by many travel authorities as one of the world's finest seaside road trip routes, this clifftop drive with the Pacific Ocean on one side and the Santa Lucia Mountains on the other shows off coastal California at its best. Nearby locations popular for RV Rental include Las Vegas and San Francisco.
The isle of Britain may not be very large in terms of mere land size but it certainly makes up for this with a surprising amount of cultural diversity. You don't have to go far before you find yourself in a new city with its own distinct feel. That's why, although this is the shortest of the road trips presented here, it's still a remarkable journey which will treat you to a vast array of unique sights, cityscapes and accents.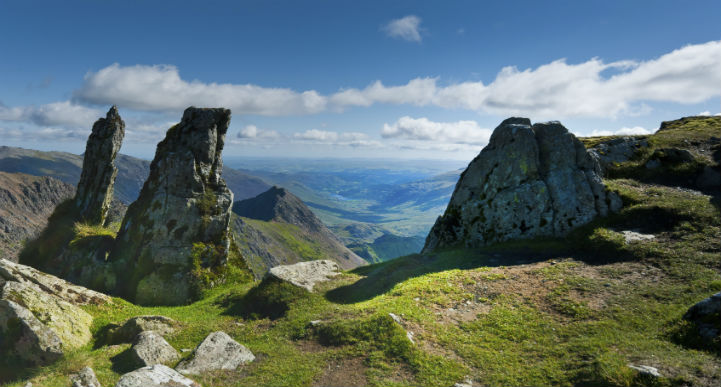 Highlights:
London. How could it not be included be included as highlight? This ancient yet modern world city is humming with culture, history and entertainment opportunities. Make sure you set aside some time to spend here either before or after your trip - exploring London is an absolute must.

Snowdonia National Park. Nature lovers will find themselves in heaven as they drive through this stunning national park. Climbing Snowden itself is something of a ritual for many visitors, though if you're looking for less crowded hiking options there are some spectacular routes in the lower mountains which will allow you to soak in the serenity of nature.

Edinburgh. The capital of Scotland is a place steeped in history - the heritage of this city is impressively evident wherever you look. There's Edinburgh Castle of course, towering over the Old Town (also known as the Royal Mile) atop a rocky outcrop, but make sure you look a little further to discover even more incredible landmarks in this stately old city.
New Zealand's famed natural beauty has drawn millions of captivated visitors to these gorgeous islands over the years but no matter how long you visit here, it's impossible to experience all the hidden wonders and spectacular scenery of this nation. This road trip will give you a more in-depth view of the country than most are ever privileged enough to experience - you'll come away having seen more of New Zealand than most Kiwis themselves. It's not a quantity over quality trip either, including enough world-class destinations to rival many a world tour. Pick up a New Zealand Motorhome Rental today.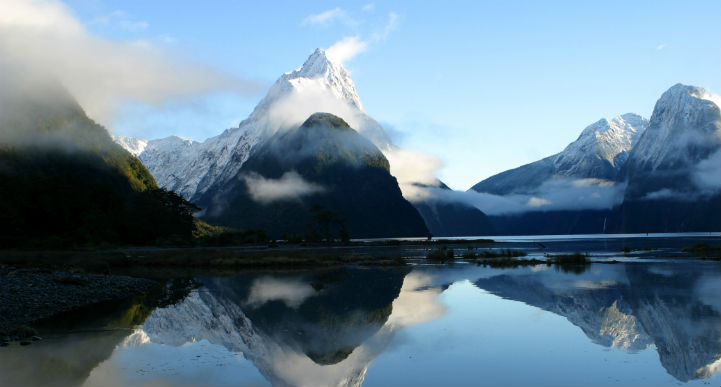 Highlights:
Napier. This coastal city packs a one-two punch. Featuring a multitude of superb wineries (perfect for a leisurely tasting tour on one of Napier's many sunny summer afternoons) and fascinating 1930's art deco architecture, it effortlessly combines culture and relaxation.

Kaikoura. There's no better place in the world to get up close and personal with marine mammals. Snorkel with seals, play with dolphins and see massively majestic whales up close - it's all part of the experience in this small South Island town.

Milford Sound. It may be a bit of a drive to get out to Milford Sound, but believe me when I say that it's more than worth it. It's renowned as one of most beautiful places on earth, thanks in no small part to its green, soaring cliffs and deep mirror-like waters.
A transEuropean holiday is on many people's bucket list - and taking that holiday in a motorhome is the pinnacle of Euro travel experiences. This route guides you through a rich smorgasbord of countries, cultures, languages and locations, encompassing many of the world's most enviable destinations. From the cultural hubs of Paris, Amsterdam and Berlin to the lakes of Switzerland and the beaches of southern France, this is truly the trip of a lifetime. Avis is a particularly good rental supplier for this kind of trip, as they have no issues with transnational travel - just keep in mind that there may be an additional fee associated with this option.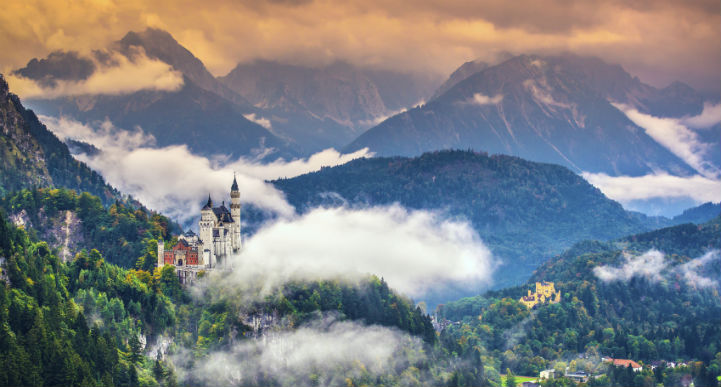 Highlights:
Paris. It may be cliche to single out Paris, but the fact remains that you'll regret it if you don't set aside at least a few days to experience the sights, scents and tastes of the city. It's easy to get caught in the tourist traps (especially in the busy summer months) but if you can, get someone who knows the place to show you around - you'll avoid the crowds and have a much better experience.

Neuschwanstein Castle. Of all Germany's "fairytale" castles, this is undoubtedly the most recognisable - thanks in part to Disney modelling their iconic Sleeping Beauty castle on Neuschwanstein. The history of the castle is as intriguing as its striking silhouette and certainly merits a stop on your way from Munich to Zurich.

Marseille. France's second largest city offers an entirely different experience to Paris. Whether you choose to hit the beaches, drive just outside the city to see Notre-Dame-de-la-Garde, a huge Romano-Byzantine basilica, or head to the Quai des Belges to experience the local fish market, take some time relax in this Mediterranean city before you head north once more.
For the most seamless experience, book a France Motorhome rental with Motorhome Republic.
These may not be the kind of motorhome road trips you'll be embarking on in the next few months, but if you continue to plan and dream, then even the biggest adventures are within your reach.
---
It's funny how motorhome memories stick with you. I can still recall a motorhome vacation my family took when I was five years old and how awesome I thought I was, tucked away in a loft bed above the cab. From revealing unique destinations to providing tips and tricks, it's my mission to help others build great motorhome memories too.
It's funny how motorhome memories stick with you. I can still recall a motorhome vacation my family took when I was five years old and how awesome I thought I was, tucked away in a loft bed above the cab. From revealing unique destinations to providing tips and tricks, it's my mission to help others build great motorhome memories too.
---
---