The benefits of booking self-contained vs non self-contained campervans in New Zealand
Traveling via campervan is the hottest growing trend in the holiday industry. Pick a country or a few, plan a route and experience the best road trip of your life. Cruise the country with a bed, kitchen, lounge area and more in your own backseat.
One major question you will come across when booking a campervan is do you hire a self-contained unit or one that is not self-contained? Not sure what this term means and how it could affect your trip? Read on as we break down the advantages of booking either type of motorhome.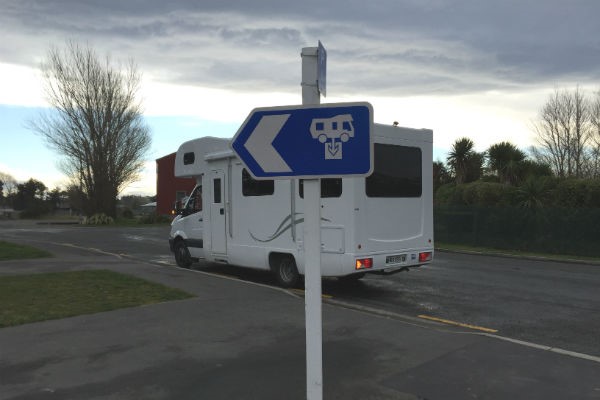 What does self-contained mean?
A self-contained campervan is a vehicle that can function without outside resources. Certified motorhomes include a toilet and water container that holds greywater (from the sink and shower) and septic waste. This means you do not require toilet facilities when you park up overnight somewhere. Best of all, it allows you to leave a place with no trace of being there. In New Zealand, self-contained certified vehicles must be able to hold three days of waste before visiting a dumping station.
What are dumping stations?
Dumping stations are facilities specifically used for motorhomes to release greywater and sewage from their tanks. They are available at motorhome-friendly campgrounds and the occasional standalone location.
Tip: When you're looking at rental options on Motorhome Republic, look for the checked "Cert. self-contained" in the vehicle description box.
Environmental impact
One reason non self-contained units do not have the freedom to park everywhere is due to the environmental impact. Without a place to store grey water, it often gets dumped on grass, parks or beaches which can cause harm to the area.
Price difference between self-contained and non
When you start looking at rental rates, you'll most likely notice a price difference between campervans and motorhomes. Converted minivans are the cheaper option while 6-berth luxury RVs are clearly more expensive. Although the motorhome rental rates may be higher for self-contained units, you will save more money on the road with free camping locations, which brings us to your selection of campgrounds.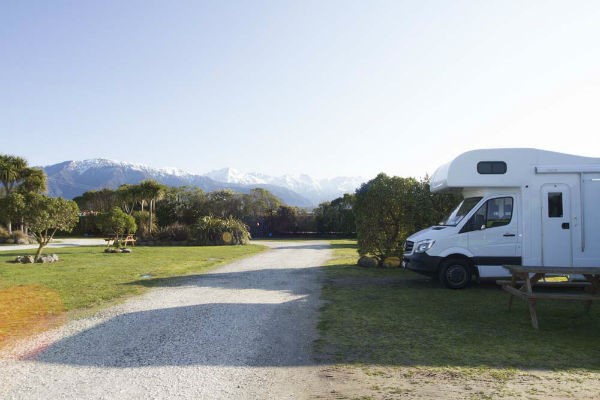 Camping options
Free camping areas
One of the compelling reasons for hiring a campervan is to avoid spending money on accommodation. There are many public places which allow campers to park up for a night and stay free of charge. This is called freedom camping and these sites range from dirt parking lots to well-equipped set-ups with showers and toilets (rare). In New Zealand, freedom camping options are plentiful but many require that you have a self-contained vehicle to take advantage of them. Non self-contained vehicles are often prohibited and may receive a fine if parked in such a spot.
Freedom camping rules, and regulations surrounding self-contained units vary country to country so it is best to research this before booking.
Paid camping areas
For non self-contained campervans, parking at a campground is usually the best option. Low-cost sites provide toilets at a baseline minimum, while the often pricier holiday parks offer showers, lounge areas, outdoor picnic space, and more. Here you can choose between non-powered sites and powered sites.
Non-powered sites
Non-powered sites are camping areas where you can park up and use the shared facilities of the campground.
Powered sites (more expensive)
Powered sites are camping areas where you can park up and plug into the campground's supply of electricity. Motorhomes need to be plugged in regularly (every 2-3 days) to charge up the battery which powers the vehicle's amenities.
We recommend that self-contained vehicles switch between freedom camping and paid camping to charge up the amenities and use the dump station to empty greywater every couple of days.
Amenities in your campervan
What is most important for your motorhome? If a spot to sleep and a portable stove top is enough, choose a basic campervan like the Hippie Camper's Drift or Lucky's Rookie.
If you prefer your own shower, toilet, dining area, kitchen, storage and plenty of space to relax in, a self-contained unit will be the better choice. Find features such as mini-fridges, hot water, ovens, microwaves, awnings and more.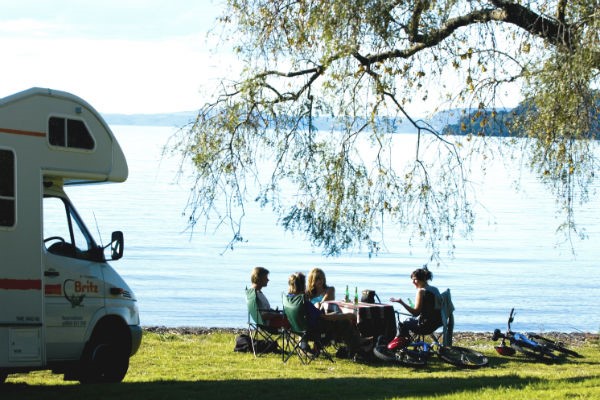 Self-contained rental companies across the globe include:
Is self-contained the choice for you?
At the end of the day, the choice is yours. If you don't want to worry about finding a paid campsite or a toilet each night, stick with a self-contained motorhome. If you prefer the more basic camper and stove option, follow the city's laws regarding overnight parking and clean up after yourself. Regardless of your decision, the trip will be one you'll never forget!
If you have any more questions about self-contained units or camping in general, feel free to contact us via phone or email at any time of the day.
---
---