Long-term rentals: How to drive south for the winter and adopt the snowbird lifestyle
Just like the majestic geese of the north that migrate south for winter, snowbirds of the human variety have taken to driving towards the equator in search of warmer weather, new experiences, and unforgettable adventures.
It's a phenomenon that has seen people leave their usual homes for more than just a week or two away - but rather several months of exploration and discovery. Without wings, us humans must use wheels instead, which is why an extended motorhome holiday over winter is simply made for the snowbirds of the north.
Why being a snowbird is so appealing
It will only take a week or two of harsh winter to miss that natural, warm feeling of bright sunshine on your skin. In the depths of Canada and northern USA, the temperatures drop so low that eyelashes freeze, walking to the mailbox becomes a major operation, and no level of layering is enough to keep the cold out.
Instead, climb into the enveloping warmth and comfort of a motorhome, point the wheels south and breathe a sigh of relief as every day and every mile feels a little warmer than the last.
It's a popular choice for retirees who have had enough of the cold winters and have the time to escape them. That said, it's not uncommon amongst those who have flexible work-from-home jobs, and those who can take extended leave.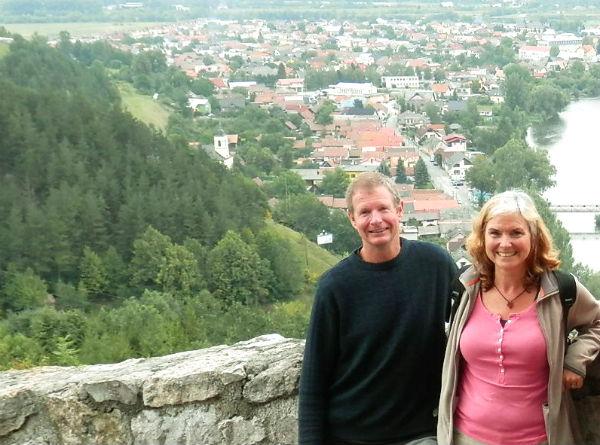 Image: Travel with Kevin and Ruth
Living the snowbird dream
Canadian couple Ruth and Kevin Read have now been on the road for 10 years after selling up, retiring early and heading south for the winter. Their adventures in their 28-foot Damon Daybreak - named Sherman - have become famous on their travel blog 'Travel with Kevin and Ruth', where they have inspired many other northerners to take up the lifestyle for themselves. Sherman and the Reads can usually be found in North America or Mexico, but it's not uncommon for them to occasionally leave the camper behind and fly overseas, too.
Even four-time grammy winner Anne Murray, a notable Canadian singer, prefers to spend her winters down in Jupiter, Florida. She plays golf, reads, swims, and takes walks - all of which she definitely could not do outdoors in her hometown in Springhill, Nova Scotia.
There are countless travellers from up north on the roads down south when winter rolls around each year, and it only takes a quick search to find endless blogs, books and stories about their adventures.
How to rent a motorhome for extended periods
Most motorhome rental brands offer discounts for long-term rentals, although it's important to book as soon as possible to get the vehicle you're after. If you're looking to rent an RV for 21 days or more, you will automatically get a discount for the longer period. Plus, you can always chat with one of the team about finding a deal best suited for your trip.
Some people may opt to purchase a motorhome for their trip, but keep in mind that renting simplifies the process considerably by including insurance in the price, minimising paperwork, and making it easy to drop it back off after your trip without having to worry about reselling it.
If nothing else, renting an RV affords you the option of trying out the snowbird lifestyle first before trading in a chunk of your savings just to get a taste.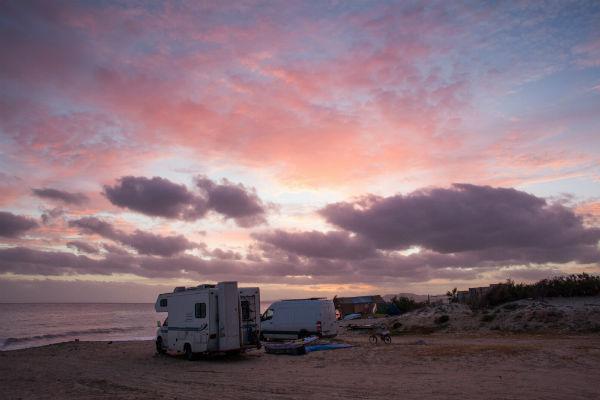 Crossing borders with your motorhome
Like with all out-of-country travels, it pays to do your research. Sort out the finer details beforehand so that you can ride easy when it's time to depart for the warmth of the south.
● Always check with your motorhome provider when you pick up the motorhome about where you can and can't go. Some providers prohibit taking RVs to certain areas at specific times of year (for example, Death Valley is often restricted through summer), and many will require you to request permission for a border crossing into Mexico with your rental. Crossing into the USA is generally fine, but can sometimes incur a small additional fee, so be sure to read any fine print before booking.
● Be sure to double check you have the correct documents for crossing borders before you go. Passports must be valid for 6 months past the date you expect to leave the country. Every nationality has specific visa requirements, so do your due diligence in finding out just what you need and how long you can stay. Additionally, research what you can and can't bring into the country - the USA doesn't allow some fresh fruits and meats for example, so you may be better off doing your shopping once you arrive.
● Don't forget to think about your mobile phones! You may be best to purchase a new sim card for your phone if you're staying several months, as roaming charges and fees can be exorbitant.
How to look after your RV rental for extended periods
Looking after your motorhome is much like looking after your own car.
● Firstly, keep it clean. Mould and mildew can be an issue if the interiors frequently experience condensation, which you may notice around window sills, next to ventilation ducts, and in the kitchen and bathroom spaces. Mildew flourishes in warm, humid environments, so it's something to watch out for if you're staying somewhere that barely knows what winter is. Avoid it by keeping doors and windows open for fresh air, clean and vacuum the interiors regularly, and inspect for black spots.
● Your tyre pressure should be fine when you pick up the camper, but keep an eye on it if you're driving for more than a couple of months. Double check which PSI the tyres should be and make a point to top them up (without overdoing it) when need be.
● Check the oil each month and top it up with an approved product, measuring with the dipstick to avoid overfilling. You can check the wiper fluid levels at the same time.
Watch this video for a few more tips about keeping your motorhome secure while on the road.
You shouldn't have to worry about having your motorhome rental serviced, as the hire company would have given it a thorough check before you picked it up. Should something on the vehicle break, talk to your rental company about how best to solve the problem.
Money matters for snowbirds
Your costs and expenses will largely be determined by the size and level of comfort you're looking for in a motorhome, and by what you're interested in doing during your travels.
A one-month motorhome rental can cost roughly US$1,700 for a small, no-frills camper, or up to over US$6,700 for a large RV with room for several adults and children. Naturally, there are plenty of options in between that can suit your needs.
While you're on the road, your main costs will be food, activities, campsites, and fuel.
Your food bills can be as varied as your itinerary, ranging from simple fare cooked in your RV kitchen, or dinners out at your destinations. Food is an easy way to keep to a budget, as you can make the most of shopping at supermarkets and cooking in the camper to avoid the high costs of dining out. This way, you might expect to spend roughly US$500 per month for two people while on the road, or roughly the same as what you would at home.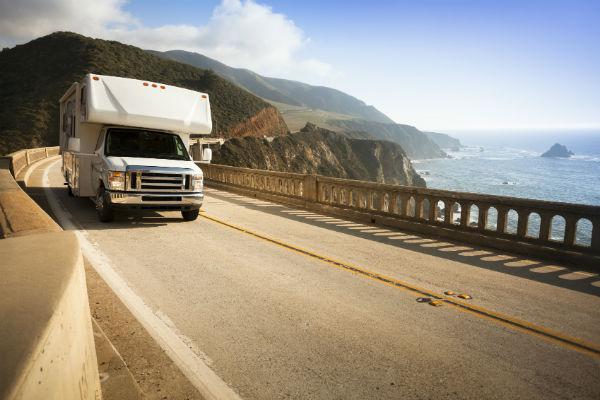 Fuel bills will depend on where you're filling up, how much you're travelling, and the motorhome itself. Talk to the local agents about fuel economy on your rental when you pick it up, and expect to pay roughly US$500 per month if you're travelling a lot of the time.
The average cost of an RV site per night in the US is around $30. This fee tends to cover electricity hookups, some facilities such as bathrooms and kitchens, water, sewerage, and other features such as picnic tables and BBQ areas. For a month, expect to pay approximately US$900 if this is where you plan to park up each night.
You can get away with an activities bill of absolutely nothing - or you can run it up into the thousands if you're looking to experience every sight and adventure along the way. Many attractions are free, and some are pricier but well worth the expense. As this is your most flexible cost during your trip, set yourself a budget and stick to it.
Where to go
When it comes to finding a fantastic motorhome itinerary, the options are endless. Discover the USA by embarking on one of these exciting road trips in the Land of the Free.
● Explore the Grand Canyon, Vegas and all things Californian with this San Francisco to San Diego itinerary.
● Put on your cowboy boots and get ready to experience the Deep South with this New Orleans to Savannah tour.
● Take a road well travelled as you cut through the middle of the USA on the iconic Route 66 itinerary.
An extended motorhome tour to escape the winter months and explore the warmer parts of the world (at a time when they're not too hot, either) is an affordable, freeing experience. Book your RV rental and fly south for the winter like a true snowbird to escape the chill.
---
---