Holidaying in a motorhome opens up all kinds of opportunities and adventures for the intrepid traveller. Anyone who's ever hit the open road in a campervan will be able to attest to the freedom that this kind of vacation offers: with accommodation and transport rolled into one nifty package, it's easier to set your own pace, discover the kinds of places you really want to see, and take time for special experiences. To really make the most of your campervan holiday though, you need to know things like where to camp, where the nearest dump stations are, and which local attractions are really worth checking out - that's why the Motorhome Republic Travel mobile app serves all this up for you (plus a lot more) on a silver platter.


General Manager of Motorhome Republic, Phil Wright said of the new app "Driving around Australia or New Zealand? Once you've got your motorhome sorted, getting your hands on this app should be next on the travel checklist. The app is free and it's packed with all the current info that roadtrippers need. It's a no brainer."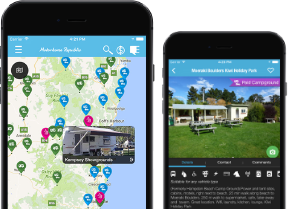 This completely free app is the ultimate motorhoming companion for those exploring Australia and New Zealand. The vast majority of the information you can find on the Motorhome Republic Travel mobile app is crowdsourced, which means that you'll be picking the brains of hundreds of motorhome enthusiasts just like you. This also means that the info is constantly being tweaked and updated to reflect real world changes. Take a look below to find out just a few of the ways this app could kick your campervan holiday into top gear.
Campgrounds
One of the most crucial keys to a good motorhome holiday is discovering great places to park up for the night. The Motorhome Republic Travel app makes this ten times easier, not only showing campgrounds in your area but allowing you to filter them to find exactly the kind of place you're after. You can search for sites suitable for self-contained or non-self-contained campervans, or break it down by price, with Paid, Low-cost and Free options. You can even read up on what other travellers have to say about the different campgrounds to get a good picture of what's on offer.
Petrol/dump stations
This isn't quite as exciting, but it will certainly help your trip to go more smoothly. You'll never have to panic about whether you'll run out of petrol again, even on remote stretches of road - the Motorhome Republic Travel app will let you know exactly where the nearest fuel stop is, so you're able to stop stressing and enjoy the moment. Then there's the matter of dump stations. One of the less pleasant duties associated with campervans is emptying the waste, but it has to be done and knowing precisely where to get rid of it will go a long way toward making this a quick and painless part of your holiday.
Attractions
Sorting out practicalities is all very well, but no one goes on holiday to discover amazing petrol stations. Motorhome Republic Travel points out all sorts of different attractions and hidden gems along the way. You'll have no trouble finding major tourist attractions, but one of the great things about the communal nature of this app is the fact that you can also uncover little known highlights that previous sojourners have stumbled across. From Kalgoorlie to Kaikohe, your trip will be enhanced by attractions both big and small.
Current road conditions/warnings
This one is pretty handy. Although roads in Australia and New Zealand are generally pretty well maintained, things like landslides, flooding and so on can sometimes conspire to obstruct roadways. The Motorhome Republic Travel app is hooked up to the civil defence network, so it can give you the heads up when something major is going wrong. This can save all kinds of hassle, especially for campervan travellers who could find it a lot harder than other motorists to U-turn and try a detour.

To check out this free app for yourself, you can find it on both Google Play and the App Store. Kiss hassles goodbye on your next motorhome holiday with the nifty Motorhome Republic Travel app - and if you're hunting a motorhome rental, just head over to the Motorhome Republic website to see the very best deals that different rental suppliers have to offer.