Jumping in a motorhome rental and heading off into the sunset is always great fun, but sometimes you only have a short time in which to do it.
While planning an epic road trip can be fun, the fact is that we can't always take weeks or months off work to relax and explore to our heart's content. However, a long weekend provides the perfect opportunity to escape the monotony of day-to-day routine and shoot off for a quick motorhome road trip. Don't let another long weekend pass you by without grabbing the opportunity for adventure with both hands and setting out on a brief (but amazing) journey into your own backyard. Here are three amazing options each for Sydney, Melbourne, Perth, Darwin, Adelaide and Brisbane. Plot your trip and find yourself a great Australia Motorhome Rental deal!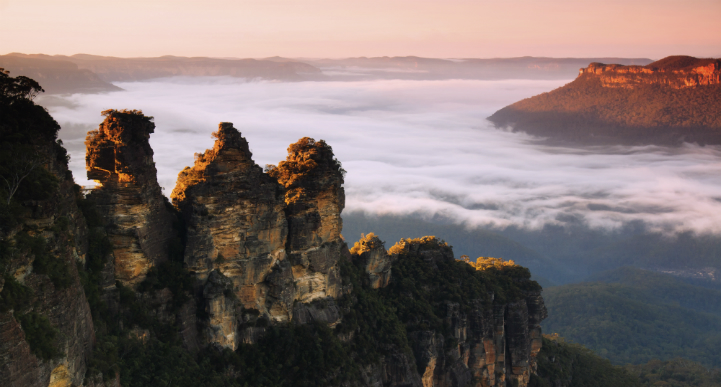 A campervan holiday from Sydney
Head southwest out of Sydney through Goulburn for a trip through Australia's capital. If you haven't been to the Australian War Memorial before, a visit to this deeply fascinating place is highly recommended. Make sure you drop in at the Old Bus Depot Markets for a bite and a browse before heading on your way. If the weather's good, returning to Sydney via the coastal A1 route (stopping at the beaches along the way) is a must.

You don't have to go far from the big city to get out in nature. Drive to Blue Mountains National Park to discover eucalyptus forests, vertiginous cliffs, waterfalls and cute little villages. There are plenty of campgrounds to park up your campervan for the night in the Blue Mountains area, so accommodation is never an issue. Make sure you take the opportunity to get out on foot too as there are many stellar walking tracks and trails here.

Hunter Valley is the destination of choice for the true gourmand with more than 150 wineries, a selection of award-winning restaurants and delicious locally grown produce. Set just a couple hours north of Sydney, it doesn't take long to get here but once you've arrived you'll want to spend as much time as possible sampling the fruits of the bountiful country. A farmers market visit should definitely be on the cards, along with a wine tour and possibly a gourmet trail expedition.

Get started by finding the best Sydney motorhome rental deals!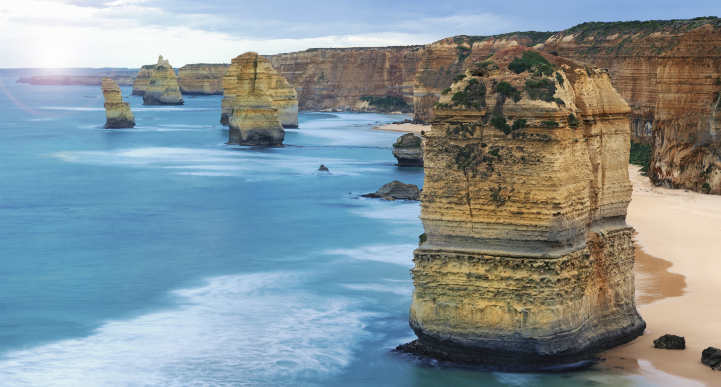 A campervan holiday from Melbourne
There is perhaps no more famous, or acclaimed, road trip route in Australia than the Great Ocean Road. Found a little to the southwest of Melbourne, this route between Torquay and Allensford displays some of the most beautiful coastal scenery on the face of the Earth. Keep an eye out for the towering limestone pillars of the Twelve Apostles jutting out of the sea.

Mornington Peninsula is only about an hour away from Melbourne's CBD, but you'll feel a whole world away once you arrive. This is the perfect spot to unwind: whether you opt for a spot of golfing at the 36-hole Moonah Links, take a tour of the region's wineries or stretch your legs with a walk through the stunning Arthurs Seat State Park, you're sure to come back from your long weekend feeling refreshed and energised.

For the ultimate in pampering, consider a trip to Daylesford and Hepburn Springs. This area is day spa central, giving you ample opportunity for a massage, mud bath, or whatever else you'd like to treat yourself to. Those more keen on exploring should head to The Convent, a 19th century mansion where visitors can find fine art, a chapel and a nuns museum.

Get started by finding the best Melbourne campervan hire deals!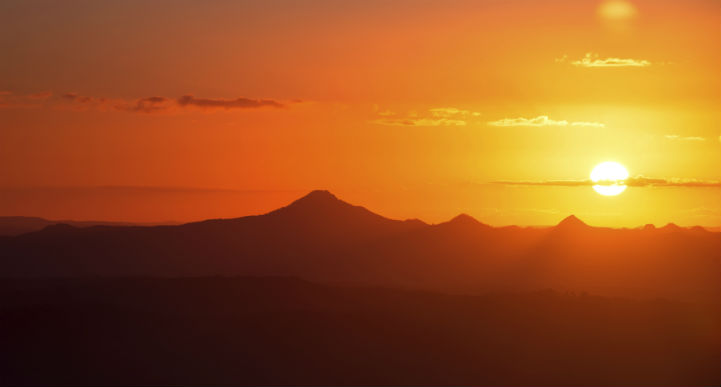 A campervan holiday from Brisbane
Drive north from Brisbane along the coast to discover pristine national parks, beautiful beaches and fascinating towns. Make sure to stop at Hervey Bay to take a dip and see if you can spot humpback whales on their way to Antarctica, head to the iconic Bundaberg Rum Distillery for a drop of history, and take a detour to the oddly named 1770, as this township serves as the gateway to the unbelieveable aquatic life of Lady Musgrave Island.

Springbrook National Park is part of the UNESCO World Heritage-listed Gondwana Rainforests of Australia, an excellent place to visit when you want to get an authentic look at what this country was like in the deep past. The Settlement camping area is the only spot in Springbrook where camping is permitted, so make sure to book well ahead of time to secure a spot, especially if you're heading away at a busy time, like a long weekend.

A trip to Tamborine Mountain allows you to enjoy the tranquility of tropical rainforests without ever straying too far from the comforts of civilisation. Walking at least one of the rainforest tracks is essential, but you may also want to spend some time relaxing at one of the many local cafes, wineries or restaurants.
Get started by finding the best Brisbane motorhome rental deals!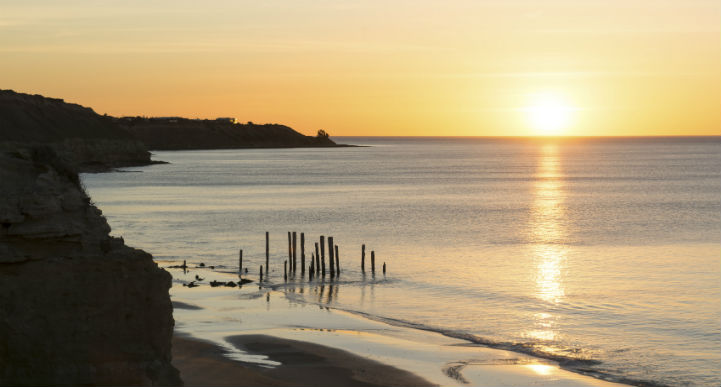 A campervan holiday from Adelaide
Barossa Valley is known nationwide as a leading wine region, but there's more than just vineyards here. Explore the region's history on the Tanuda Heritage Trail from Kapunda to Mt Pleasant, take a scenic balloon ride to get a breathtaking aerial view of Barossa, or work on your handicap on one of the region's championship golf courses. Naturally there's plenty for foodies and oenophiles to enjoy too: hop out of the motorhome for a while to take a bicycle tour along one of Barossa's food and wine trails for a day you'll never forget.

For those who want to get away from it all, Murray River National Park gives you the opportunity to eschew the city life in favour of the beautifully rustic wetlands of South Australia. There are plenty of campsites here, and at many times of the year you'll find that you may find you're the only group in sight. However on long weekends things can get a bit crowded, so make sure you arrive early to nab a good spot.

Directly south of Adelaide, the Fleurieu Peninsula is not only home to some of the country's finest beaches, it's also liberally dotted with gourmet eateries, world-class wineries and charming small town art galleries. This is also a great trip for coastal views, so make sure to stop every now and again to fully appreciate the stunning vistas.
Get started by finding the best Adelaide motorhome rental deals!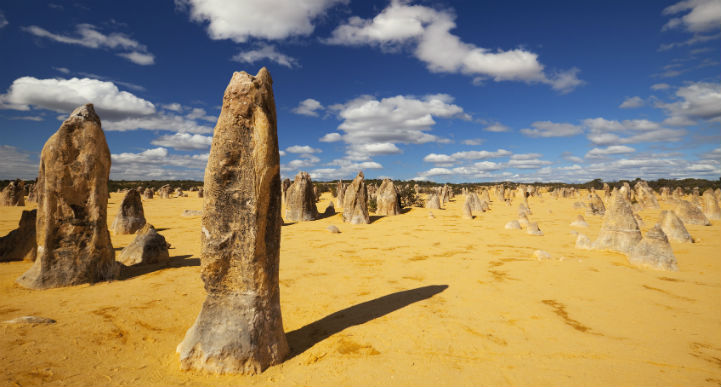 A campervan holiday from Perth
Lane Pool Reserve in Dwellingup is only about an hour and a half away from Perth, but in that short period of time you'll pass from a buzzing urban centre to a serene, bush enclosed paradise. Dwellingup has it all: bush walks, swimming spots, picnic clearings and scenic drives - it's a pretty popular spot, understandably, so look into your camping options before setting out.

Many head up to Namburg National Park to see The Pinnacles for just a day and then head back again, but this area is well worthy of greater exploration. The Pinnacles themselves are eerie limestone outcrops, relics from an ancient time when the sand rested under the sea. Quite a few visitors go on to enjoy snorkeling, swimming or fishing at the nearby secluded beaches, and explore the vibrant native bushland.

Just under 3 hours south of Perth lies Margaret River - a temperate paradise that hosts both a thriving wine industry and a robust foodie culture. This is the perfect place to eat, drink and be merry, all in a gorgeous setting of terraced vineyards and rolling hills. Just make sure you sort out beforehand who will refrain from indulging in the interest of safe driving!
Get started by finding the best Perth motorhome rental deals!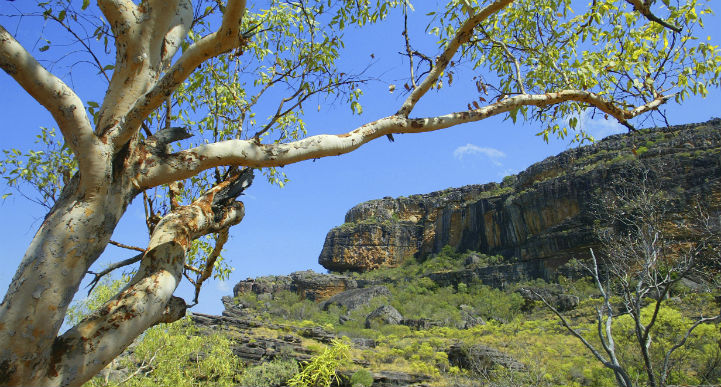 A campervan holiday from Darwin
An easy way to get out of Darwin for the long weekend without leaving behind urban conveniences is to take a trip south to Katherine. Keen anglers will be delighted by the many opportunities to snag barramundi, while those merely looking to escape the heat will find a watery paradise in Katherine Gorge. If you want to strike out into the bush on foot, following the Jatbula Trail is an essential experience, especially for those visiting between June and the end of September.

Drive west to discover Litchfield National Park - only an hour and half away from Darwin, it's closer than the more well known Kakadu and a fantastic place to picnic, take a leisurely walk, see some beautiful waterfalls and dive into some of the best natural waterholes in the country.

There's a reason that Kakadu is Australia's most well loved national park - well, several actually. Around two hours to the southeast of Darwin is a vast place of startling biodiversity and ancient human history stretching back more than 40,000 years. In addition to its more well known denizens like kangaroos and crocs, the park is home to more than 280 bird species and over 70 different kinds of mammals. You'd need more than a long weekend to fully explore Kakadu National Park, but when it's on your doorstep, even a short trip may be too much to resist.

Get started by finding the best Darwin motorhome rental deals!



A Campervan Hire in Tasmania is another great option for your Aussie Motorhome roadtrip - take a look at the options Motorhome Republic has on offer for the southern isle.

Not interested in Australia? Consider New Zealand for your adventure, and grab a Campervan Hire in NZ.
---
It's funny how motorhome memories stick with you. I can still recall a motorhome vacation my family took when I was five years old and how awesome I thought I was, tucked away in a loft bed above the cab. From revealing unique destinations to providing tips and tricks, it's my mission to help others build great motorhome memories too.
It's funny how motorhome memories stick with you. I can still recall a motorhome vacation my family took when I was five years old and how awesome I thought I was, tucked away in a loft bed above the cab. From revealing unique destinations to providing tips and tricks, it's my mission to help others build great motorhome memories too.
---
---