Golfing this summer? Pile your friends and gear into an RV
Golf and motorhome travel go together like mac and cheese, and it's no wonder the popularity of this perfect combination is growing by the year.
Golf and RVing - trending upward
Avid golfers know the joy of being out on the course, how it feels to see the ball fly towards the flag and the thrill of a birdie or an eagle. With that, they know how frustrating it can be once they've visited all the courses nearby and are ready to explore 'greener' pastures.
Naturally, taking a motorhome to go on a golfing tour is the obvious solution. Golfers are easily able to store all their clubs and gear without having to pack them for flights or squeeze them into a car. Plus, with so much space, RVs also allow for several friends to travel together, or for golfers to bring along partners or family.
In fact, it has been pro golfers who have largely led the charge for using a motorhome as a home base while on tour. John Daly and Rory Sabbatini are just a couple of PGA Tour players who use RVs during their tours. Sabbatini prefers the motorhome lifestyle as it helps him keep his stress levels to a minimum, allows him to travel easily with his family, and feels much more homey than a series of hotel rooms.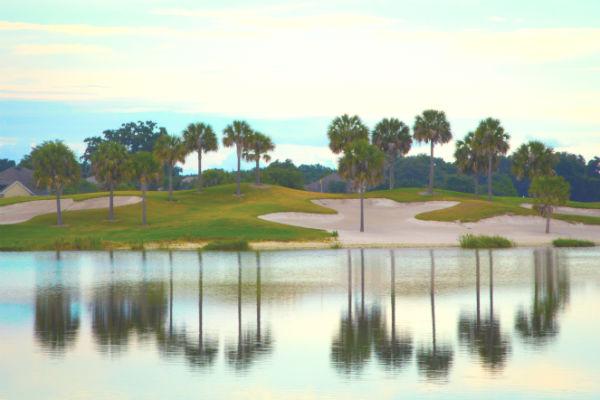 Where to go for a golf motorhome trip
Even without the golfing aspect, a motorhome tour is a wonderful way to get out and enjoy the scenery of a region, and to visit many of its best attractions. So while you're enjoying your golf trip, you can seamlessly add in nearby points of interest and tick a few things off the bucket list.
These itineraries in the USA and Canada would easily suit a golf trip:
● America's south is known for its golfing, so a trip from New Orleans to Savannah could offer just as much fun whether you're driving or… driving.
● Canada's scenery is epic, and you can enjoy it just by walking the grounds on a number of courses between Vancouver and Calgary.
● The West Coast is home to legendary courses such as Torrey Pines and Pebble Beach Golf Links, and the Seattle to San Diego road trip can take you there.
● Cruise down the east coast in your motorhome from New York to Miami and discover the countless golf courses along the way.
Plus, the trend has become so popular that many golf courses in the USA and Canada have created spaces specifically for motorhomes, so you can find all the facilities you need right there on site. These spots tend to include some kind of deal that allows you to camp and play for a discounted price.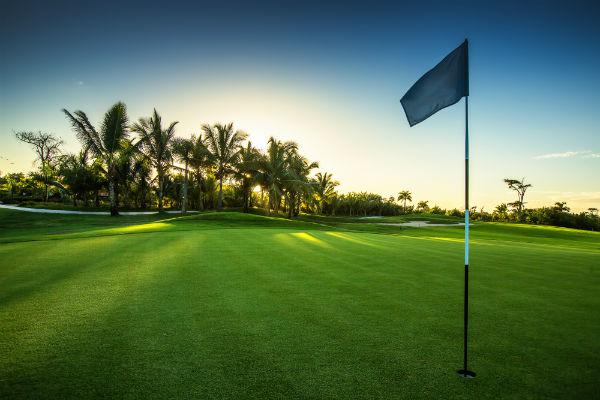 How much might a motorhome golf trip cost?
The major costs of any golf trip by motorhome will be the cost of the initial rental, fuel, camping fees, course fees, as well as food and entertainment along the way.
RV rental
Depending on your preferences in motorhome, you can opt for a no frills option for roughly US$2,500, or go big with a large and luxurious Class A motorhome for approximately US$11,000 for the month.
Fuel
This will depend on how far you're planning to drive and which RV you rent. Like any vehicle, smaller RVs will typically consume less fuel, so keep this in mind if you're looking to keep costs low in this area of the budget. The US typically has cheap fuel prices but they tend to rise a bit in the summer months, and most motorhomes will get roughly 8-10 miles per gallon. A rough estimate for a two-week trip would be around the US$600 mark, so set aside more than you would for a normal road trip.
RV Parks
Camping sites will typically cost roughly US$30 per night. It's worth taking a look at the RV Golf Club, which requires a US$99 annual fee to park at a selection of golf courses around Canada and the USA. Of course, that's a great way to meet likeminded golfers!
You'll already have a good idea of course fees, and again it will depend on which clubs you want to visit, with some costing just US$20 and others charging into the hundreds. For food, you can expect to spend a similar amount to what you would spend at home, as you'll be able to make simple meals in your camper.
Ready to plan your summer golf trip? Beat the crowds and book an RV rental today.
---
---