Adelaide To Melbourne 6-7 Day Road Trip
The journey along the south-eastern Australian coastline between Adelaide and Melbourne is ideal for motorhome adventure. With the breathtaking ocean a constant companion, there are numerous natural wonders to enjoy. From national parks and antipodean wildlife, to outdoor adventure and some of the finest beaches in the world, this unique stretch of highway will transport you to the holiday of your lifetime.

Now this Motorhome Republic itinerary may not be the quickest direct route between the two cities, but you will have no regrets. Starting with Kangaroo Island and concluding with the world famous Great Ocean Road, the contrasts and colours are worth the extra mileage. So, let's get going.
DAY 1 Adelaide to Victor Harbor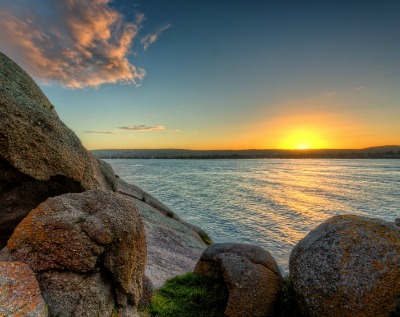 Once you pick up your campervan in Adelaide, head south. Your destination is Victor Harbour, one of the many towns within the stunning Fleurieu Peninsula. A hidden coastal gem of South Australia, it's only 45 minutes from the Adelaide CBD. You have a selection of beaches to enjoy, including Christies, Maslin and Sellicks, where you can learn to surf or just lap up the golden sunshine and scenery. But there's way more to the Peninsula than just beaches. Attractions include:
For wine lovers, there are four distinct regions with more than 100 cellar doors. This is true wine country.

Animal Farm Goolwa is great for the little ones, who can get up close and personal with ponies, cute rabbits and so much more.

Whale watching is always popular – the South Australian Whale Centre in Victor Harbor can tell you everything you need to know. Penguins are also local visitors on Granite Island.

Unsurprisingly, the seafood and produce is fresh and tastes spectacular. Top restaurants include Flying Fish and the Salopian Inn.

If you feel like getting out from behind the wheel, the only remaining Horse-Drawn Tram in Australia always has plenty of customers.

As a tourist hot-spot, there are a number of camping options at Victor Harbor. Victor Harbor Holiday & Cabin Park is always popular, as is Adare Caravan Park & Conference Centre, where you will find two well-equipped kitchens and a BBQ area. Victor Harbour Beachfront Holiday Park also has powered and unpowered camping sites.


DAY 2 Victor Harbor to Robe

It's time to really put your camper through its paces. With a distance of 353km, Victor Harbor to Robe is more than four hours of driving. The road varies in quality, so make sure you pack plenty of water, top up the fuel tank and stock up on supplies. But this is an opportunity to really experience the rugged coastal beauty of the region.

After around 20 minutes you will hit Goolwa – a quaint spot with heritage buildings and the Goolwa Barrages, or take a leisurely cruise. There's an information centre to point you in the right direction. After Wellington and Miningie, you are on the open road. Cape Jaffa is just north of Robe, so take a break here. The lighthouse and Cape Jaffa Wines on Limestone Coast Road are just two of the highlights.

Fishing port Robe is a welcome park-up point and you will need an overnight stay to fully sample the delights on offer. More than 80 historic buildings and sites reflect the pioneering history of the town, including the Cape Dombey Obelisk, Chinese Monument and Old Gaol. Put away the stove and indulge in one of the atmospheric pubs and restaurants – alfresco dining is especially popular. A quick drive around Lake Butler is also memorable.

Accommodation/Camping options in Robe:
Discovery Holiday Park, 70 The Esplanade: Indoor pool and Kids' club are all on offer.

Lakeside Tourist Park, 24 Main Rd: Award-winning camp with good reviews.

Sea Vu Caravan Park, 1 Squire Drive: Beach frontage and large camp kitchen.


DAY 3 Robe to Mount Gambier
We now take a slight deviation from the coast and head 113km inland to Naracoorte. The Caves here are World Heritage listed with fossil exhibits. The Black Cockatoo Bush Camp Hiking Trails are reasonably self-explanatory, while Padthaway Estate Winery has wine to die for.
Continue back south again via the A66 for around an hour and 15 minutes to Mt Gambier. Here you will discover a little bit more of an urban population, but the untouched, natural beauty remain. Outdoor adventures abound here, with numerous biking routes and parks and gardens, alongside numerous lakes and sinkholes. If you want to keep driving, Millicent and Beachport back up the coast have timeless appeal.

From top end to budget accommodation, there is something to fit the bill:
Blue Lake Holiday Park: Part of the Big4 Holiday Park chain, facilities are excellent, with tennis courts, a games room and amenities all year round.

Pine Country Caravan Park, Cnr Bay and Kilsby Rds: Extensive sites, with laundry within a tranquil country park.

Limestone Coast Tourist Park, Jubliee Highway East: Great place to recharge, with expert advice from the friendly team.


DAY 4 Mount Gambier to Portland
Staying inland, the A1 route from Mount Gambier to Portland delivers a stunning selection of flora and fauna. From the Myora Forest Reserve to Lower Glenelg National Park, Cobboboonee National Park and Mt Richmond National Park, these are all on your 90-minute journey.

You have now crossed the border into Victoria at Portland Bay. Portland has a major sheltered harbour and numerous things to do. Cape Nelson Lighthouse is a quick drive, while Cable Trams operate most days. The Maritime Discovery Centre presents a fascinating insight into underwater exploration, while the Great South West Walk is only for those with energy to burn. Photo opportunities include Discovery Bay Coastal Park and Glenelg River.

Where to park your motorhome in Portland:
There are many Parks Victoria campsites in the area. Check online before starting your holiday as these can get very busy.

Portland Bay Holiday Park, 184 Bentinck St: A range of options and prices with showers and refurbished amenities block.

Narrawong Holiday Park, Caravan Park Rd: Only 10 minutes from Portland, family friendly and spacious.

Henty Bay Beachfront Van & Cabin Park, 342 Dutton Way: Rock fishing and an adventure playground are just some of the treats on offer.


DAY 5 Portland to Torquay via the Great Ocean Road
It's time for one of the highlights of the trip, as you approach one of the drives of a lifetime – the Great Ocean Road. Carved into cliffs, bordering beaches and just generally winding for 243km along Victoria's southern coast, this is one to tick off your bucket list.

From Portland, head to Port Fairy towards Warrnambool. Once out of the city, the journey begins and the ocean appears in all its glory. The Twelve Apostles rock formation is a collection of limestone stacks just off the coast of Port Campbell National Park and is an iconic spot. Pull over and enjoy the view. The road heads inland for a period after Princetown, passing through quaint Lavers Hill where homemade cakes in the Blackwood Gully Tea Rooms are perfect for morning tea. Great Otway National Park and Otway Mountains offer spectacular bushwalking. This includes the Great Ocean Walk, which can be completed in segments for overnight hikes, day tramps or leisurely strolls.
After the friendly seaside village of Apollo Bay, the road becomes even more picturesque, perching on cliffs that drop into the ocean. Stop at one of the many surf beaches and take a lesson – you're in Australia after all. Bells Beach is perhaps the most famous sandy enclave.

Stop in Lorne for lunch or dinner at the Pier Restaurant which serves up delectable seafood, or just order a drink and let the beautiful ocean views wash over you from this fantastically placed eatery.

Torquay, your end destination for Day five, has some excellent campsite facilities:
Torquay Holiday Park, 55 Surfcoast Highway: A modern undercover kitchen and two guest laundries.

Torquay Foreshore Caravan Park, 35 Bell St: The waves are so close you can hear them, with powered sites.

Jan Juc Caravan Park, 93 Sunset Strip: Surrounded by gums and fauna, this self-contained park unit is unique and certainly an experience.


DAY 6-DAY 7 Torquay to Melbourne
Your next destination is around 100km away and one of the most popular cities in the world. Get on the M1 straight into stunning Melbourne and prepare for one of the cultural must-sees of the Southern Hemisphere.

Some towns and cities are relatively one-dimensional – the beauty of Melbourne is its cosmopolitan atmosphere and variety of things to see, do and taste. The capital of Victoria is fully embracing its status, with innovation and experimentation key watchwords for the region. One day is certainly not enough…

The National Gallery of Victoria, St Paul's Cathedral and Sea Life Melbourne Aquarium are indoor attractions if the weather isn't too good, while the Royal Botanic Gardens and wineries of Yarra Valley should be high on your tick-list if the sun does shine.

Melbourne is regarded as the sporting capital of Australia, with Melbourne Cricket Ground, National Sports Museum and Melbourne Park all worth a look. The town itself is also easy to navigate, with Flinders Street Station a standout photo opportunity.

If you're dining out the restaurant scene has truly exploded, with so many international dining options. However, fresh ingredients are also easily sourced at Queen Victoria Market – the biggest open-air offering in the Southern Hemisphere.

Two days is probably the minimum you will require to get the most out of Melbourne, so here are some campervan accommodation options to keep you close by:
Melbroune Big 4 Holiday Park, 265 Elizabeth St: Just 9km from Melbourne, this is a great location to keep you close to the CBD.

Crystal Brook Tourist Park, 182 Heidelberg-Warrandyte Rd: A lovely natural setting on the outskirts of the city.

Honey Hush Caravan Park, 6 Leakes Rd: Less than 30 mins from downtown with standard and luxury accommodation.

Wantirna Park Caravan Park, 203 Mountain Highway: Bit more of a drive, but fantastic facilities and a swimming pool.

And that's your itinerary. Visit www.motorhomerepublic.com for the best motorhome/campervan deal and hit the road for one of Australia's most spectacular road trips.

For those who want to continue the adventure, consider Tasmania as another great place to explore or over the other ditch in New Zealand. Christchurch is a great spot to begin a campervan adventure.
---
A journalist and editor for nearly two decades, I am originally from London but proudly call New Zealand home. Having travelled the South Island in a campervan, I know exactly how liberating motorhomes and campers can be. It's a great opportunity to be part of Motorhome Republic, as we look to educate and encourage people to hit the road in what is, essentially, a portable hotel! I will be creating interesting industry articles, travel itineraries, road-trip ideas, movies and so much more. Come along for the ride!
A journalist and editor for nearly two decades, I am originally from London but proudly call New Zealand home. Having travelled the South Island in a campervan, I know exactly how liberating motorhomes and campers can be. It's a great opportunity to be part of Motorhome Republic, as we look to educate and encourage people to hit the road in what is, essentially, a portable hotel! I will be creating interesting industry articles, travel itineraries, road-trip ideas, movies and so much more. Come along for the ride!
---
---