The early bird catches the worm, or at least a great campervan rental deal.
"The early bird catches the worm" is a common saying in the English language and applies to a lot of things in life. Being organised certainly enables you to take advantage of more opportunities than people who leave their planning to the last minute. In the world of campervan rental the saying certainly holds true and it happens for two reasons: early bookings give the suppliers a bit of surety around the upcoming season and so we are able to negotiate some fantastic discounted rates for you. As well as this, much like the airlines, some motorhome companies employ what is called flex rates. This is where the rates change dynamically according to the demand, as vehicles sell out the remaining vehicles slowly increase in price. The second reason early bookings are good for the consumer is that demand always outstrips supply in New Zealand and Australia for motorhomes (particularly 2 berth with shower and toilet, 4 berth and 6 berth vehicles) through the summer months. As time passes therefore the number of available vehicles decrease, it means not only do you run the risk of not getting your preferred vehicle features but also that the only ones left if you leave it late are those that are more expensive.

To help create a win-win situation, Motorhome Republic has negotiated some great exclusive offers for bookings made in the month of June for travel during the summer season. These deals are available for a strictly limited period and vehicles will continue to sell out fast, if you are looking for a motorhome or campervan holiday in Australasia this Summer we urge you to take advantage of this great offer and catch that worm, you'll be happy you did.
Australia Early Bird Deals
Jucy Campervan Rentals

Book a Campervan with Jucy for travel between 01 November and 15 December 2015 and save 10% on the base rental rate. This exclusive offer must be booked before 30 June 2015 however vehicles are subject to availability. For full details click here.
Cruisin' Motorhomes.
Cruisin' Motorhomes operate out of the east coast of Australia and Tasmania and offer late model high quality hi-tops, 2 Berth Shower Toilet options and also 4 and 6 berth Motorhomes. For bookings made 125 days in advance you receive a 5% earlybird booking discount, so travel booked before 30 June will qualify for discounts from 1 November onwards. For full details click here

Maui Motorhomes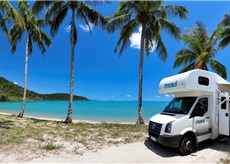 Book your Maui Motorhome over 120 days in advance of your intended travel date and save 10% off the daily rental rate. Book by 30 June 2015 for travel from 01 November 2015 right through the summer period. Maui motorhomes are in extremely high demand, especially in the 4 and 6 berth categories, if you want a quality motorhome for summer this is definitely a great time to book. For full details click here.

Apollo Motorhomes

Book an Apollo motorhome and save 5% on your base rental rate with the great early bird deal. This deal applies to all rentals booked more than 120 days in advance. Apollo Motorhomes have branches in Auckland and Christchurch and frequently sell out for the summer period book your motorhome today and save. For details, terms and conditions click here.

Spaceships
Spaceships range of funky and easy to drive sleepervans are great for those wanting to travel around Australia on a budget. Your campervan often costs less than a car but gives you the flexibility to save money by staying at Holiday Parks. Booking in advance with Spaceships saves you 5% on your base rental costs, travel from 01 November right through summer and as long as you book by 30 June you will be eligible for this great saving, For terms and conditions click here

Bargain Campervan Rentals
With vehicles available from both Tasmania and the east coast of the Mainland, Bargain Rentals offer a range of motorhomes from 2 berth to 6 berth as a budget alternative for your summer motorhome holiday. Enjoy an earlybird 10% discount for travel from 1 December 2015 until 24 March 2016, For bookings made before 30 June, For full details and terms and conditions click here

Britz Campervans
Britz Campervans earlybird deal applies to all bookings made 120 days or more in advance. You can save 5% off their wide range of vehicles from hitop campers, to 2 berth shower and toilet vehicles through to some top of the range full sized motorhomes. Their fleet are all recent model (with a maximum age of 5 years) and well maintained, this really is a great deal if you are looking to explore Australia this summer. For terms and conditions click here.



With thousands of vehicles across Australia on sale now, Motorhome Republic are extremely confident that we can arrange something to suit all tastes and with these amazing early bird offers you can save money as well. Don't delay and miss out on your campervan rental in Australia, book today. If you're looking to travel in another country or at another time of year though, don't worry we have plenty of other deals available. Just search on our website for your preferred locations and dates and instantly have any eligible discounts applied, or feel free to go to our global deals page and browse away for an offer that suits you.

Keen to hit the road? Take a look at our popular locations for your campervan hire including locations in New Zealand like Christchurch and Queenstown or if you'd like to travel through Australia - Melbourne, Sydney and Perth.
---
---