One of the most beautiful things about a motorhome rental getaway is that it opens up your holiday horizons, allowing you to stay in places far from any hotel, in the midst of nature's glory - all without giving up the comforts and amenities of home. Some mobile accommodations take this concept to the next level, such as the newly developed Snowsuite.
The Snowsuite is designed to allow adventurous vacationers to take the motorhome-style experience onto the heights of snow covered mountains. The creators are billing the experience as a luxury yacht on treads, able to treat you to spectacularly remote alpine vistas while enjoying the kind of environs you'd expect from a 5 star hotel room. Mini-bar, bathroom, shower, queen-size bed, jacuzzi - Snowsuite's inaugural "Giano" model has it all. Based on the humble snow groomer, the Snowsuite is designed with the ability to traverse snowy inclines in search of the ideal mountain perch. Atop the utilitarian snow treads, a custom built suite is created to offer luxurious living in extreme climates and altitudes.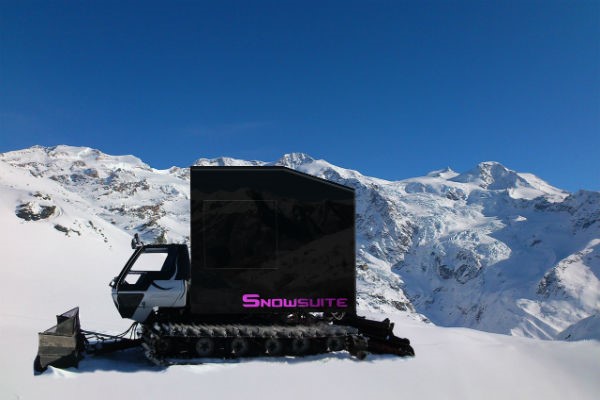 This innovative travel solution is still in its early days, with custom created mobile snowhomes just now beginning to come available for hire and purchase, but it may not be long before Snowsuites are rolling to the top of alpine landscapes near you. In the meantime however, there are still plenty of spectacularly scenic mountainous locations you can visit in a more conventional motorhome. Below are just a few spots around the world which are dream destinations for adventurous motorhome travellers drawn to the grandeur of Earth's most magnificent natural features.
Glacier National Park, Montana, USA
Known as the Crown of the Continent, Glacier National Park will take you right into the heart of alpine country, with soaring granite peaks rising on all sides. To get the full impact of the majesty this park has to offer, a journey along Going to the Sun Road is a must. Mirror-calm lakes and immense mountains will surround you along the way and you'll even have the chance to see Jackson Glacier, one of the rivers of ice that gave the park its name. There are camping sites along the way so you can take the trip at a leisurely pace. Just make sure you check up on the vehicle size limit for the road, as larger RVs won't be able to navigate the narrowest sections. A Calgary RV rental is the way to go if you're happy to cross the border, while Salt Lake City and Seattle suit those willing to make a real road trip of it.
Arthur's Pass, New Zealand
It's hard to find somewhere in New Zealand's South Island where you can't see the peaks of the Southern Alps, but taking the road through Arthur's Pass will bring you right into the midst of this photogenic mountain range. It's not a long journey so make sure to savour it, stopping along the way to gaze out at the view and take some spectacular holiday snaps to make your friends jealous. Don't miss Mount Rolleston, where you have the chance to get close to New Zealand's native parrot, the kea. These lively and curious birds are always a delight to watch - just remember to keep a close eye on your vehicle, as they love stripping the rubber from windscreen wipers and attacking car tires. A Christchurch motorhome rental will set you on your way across the pass, and give you the chance to explore the South Island's famous west coast.
Blue Mountains, Australia
This UNESCO World Heritage site is only a couple hours away from Australia's densely inhabited east coast but it feels like an entire world away from civilisation. The mountains themselves aren't blue of course but you'd never know it to look at them, as fragrant oils released into the air by eucalyptus trees cast a blue haze over the incredible vistas. Although campgrounds within Blue Mountains National Park itself don't allow motorhome camping, there are several excellent tourist parks very nearby where you can stop for the night. If you can, try to find a Wollemi pine while you're in the area. These are among the rarest trees on earth - no one had even seen a live specimen until the 90's, but this is one of the best places to spot them. Opting for a Sydney campervan hire will put you just two hours from this primeval wilderness.

As you can see, motorhomes and adventure go hand in hand even if you aren't traversing mountain slopes on a converted snow groomer, so if you're excited to experience the world in a fresh new way while still vacationing in comfort, take a look into how a motorhome rental could set you on the road to your greatest holiday yet.