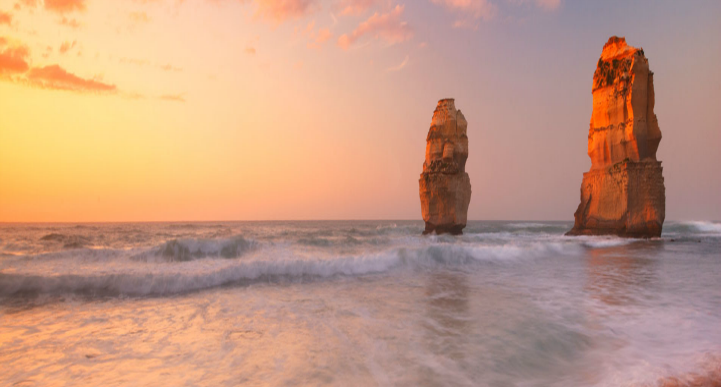 Melbourne is a thriving cultural hub of Australia, and a fantastic gateway to the Lucky Country for a campervan holiday.

Hiring a campervan in Melbourne
Melbourne is home to just over 4 million people and is the capital of Victoria. From Melbourne, you can head just about anywhere in the country, up the east coast of Australia or across the south. There are 23 fleets available for you to choose from with Motorhome Republic to help you get on the road and discover the best Australia has to offer, whether that's a quick long weekend trip, or a month-long holiday. Take your pick of comfortable campervans, spacious motorhomes and affordable caravans from Melbourne for an Australian holiday of a lifetime.
Trips from Melbourne in your campervan hire
One of the best things to do with your Melbourne motorhome hire is a drive – the Great Ocean Road, a 664-kilometre road trip that covers several incredible attractions starting from Melbourne itself. There is everything from kangaroos and koalas to treetop canopy walks and the 12 Apostles rock stacks along the way, and you can follow as much or as little of the track as you like.
To the southeast of Melbourne lies the Mornington Peninsula, which is well worth the visit at the start or end of your holiday. The area is known for its fantastic golf, hot pools and wineries, offering an extremely relaxing stop for any campervan holiday.
The Kosciuszko National Park is almost 500 kilometres northeast of Melbourne, and is where you will find Australia's highest peak, Mt Kosciuszko. If you're there in winter, it's a top spot for skiing and snowboarding, and in summer the area is known for excellent hiking, biking, and fishing.
For a stop that will show you the real beauty of the Murray River that runs through Victoria, make your way to Echuca Moama, just 3 hours north of Melbourne. These towns are twins parked on opposite sites of the river, and together are known as the paddlesteamer capital of the country, with a warm climate throughout the year and old-world charm on both sides of the river.
Visitors from overseas (and many from Australia) will love the Healesville Sanctuary, a zoo that specialises specifically in native Australian animals. It's only 65 kilometres in a campervan rental from Melbourne, and is where you can get up close and personal with koalas, wombats, platypuses, and more.
Best times to hire a Melbourne motorhome
Melbourne is known for having four seasons in a day, where you'll quickly learn to take an umbrella out even if it's sunny in the morning.
For the most part, however, the city enjoys mild seasons throughout the year, making any time a good time to travel.
The average highs in summer (December to February) sit around 25 degrees Celsius, and the average highs in winter (June to August) are roughly 14 degrees Celsius. It's very rare for snow to fall in the city itself, so even winter can be a fantastic time for a holiday, so long as you bring plenty of warm clothes.

Most of the major companies can offer you a campervan rental deal online, while Motorhome Republic can help you make the best choice. Melbourne is a fantastic base to explore Victoria, South Australia and on into New South Wales. Hiring a motorhome from Melbourne to travel the Great Ocean Road is one of the thing on many peoples "Bucket List" and Motorhome Republic can help make sure you get the best deal at the best price.
Handy tips for Melbourne campervan travel
There aren't many motorhome parking spots in the city, so look to park for the night on the outskirts of Melbourne, where there is more space for your campervan.

With a few major toll roads in the region, make sure you check online, so you don't get hit with a surprise bill. The City Link or East Link websites will give you more information.

Travelling with a family? Remember to hire booster seats or car seats.

Book in advance for early-bird specials and get the right vehicle for you.

Try a winter-time Melbourne rental for lower costs and a cozy campervan. Just make sure you have a heater!