It doesn't matter what the season is, motorhome travel is a fantastic way to see the country - though there are a few things you'll need to take into account in each season.
Although many might associate motorhome or RV holidays more with summer than any other time of the year, the truth is that these homes on wheels give you the opportunity to experience a place in whatever season shows it off to best advantage. Whether you're looking for a winter wonderland, fun in the summer sun, the fresh air of spring or the russet and tangerine hues of autumn, a motorhome is the perfect way to see what you want and travel where you will. There are, of course, a few tricks to vacationing in each season - and to save you having to spend years figuring them all out, we've got a handful of tips for each season below.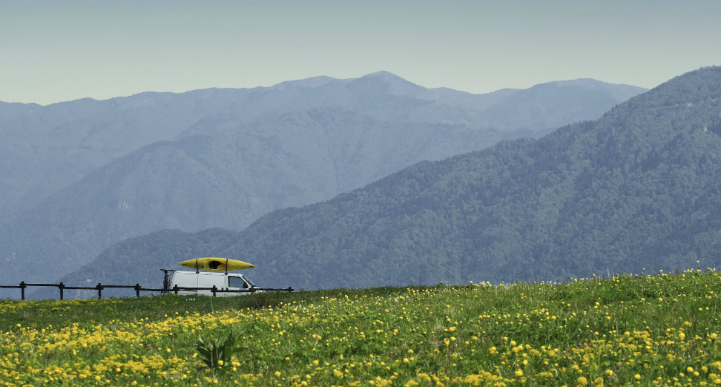 Spring
There's a hint of new life in the air as the colder months retreat and spring rolls in. This can be the perfect time for a motorhome vacation, especially if you're planning to head to rural areas - the changes that spring brings in plants and animals is most evident when you get a little ways from urban civilisation.
If you're travelling in a country that has 'spring break', you may want to take this into account. Of course, the massive flood of university students escaping the bounds of their chosen institution for a week or two of revelry only affects some cities but it's worth taking note in case your destination is one of those.

This is also the season when allergies like hay fever are most likely to strike. Because you'll be a long way from home (and quite possibly a long way from civilisation) you'll need to make sure that you have everything you need with you to combat the onset of these pesky maladies.

Spring can be very different depending on where in the world you are, but one common trait is that the weather can tend to be changeable. After all, winter's not that far behind and though warmer times are on the way, bad weather can make itself known. Sun showers can be a minor driving hazard, as the road gets slippery and glare becomes a factor very quickly.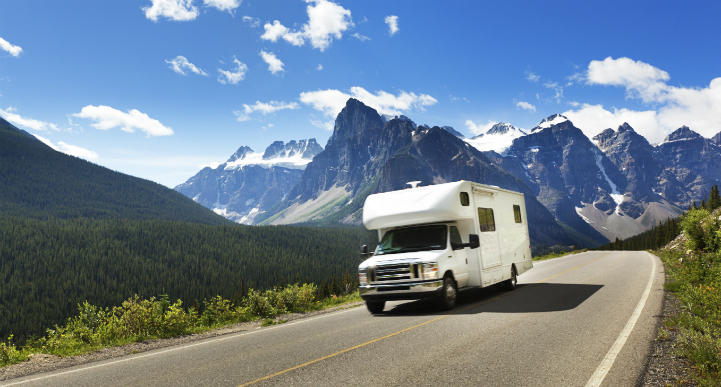 Summer
Ah, summer… the quintessential holiday season. The sun is shining down, the days are long and mellow and you no longer have to worry about packing all those winter woollens "just in case." For those hitting the beach, picking summer for your vacation is a no brainer but it can also be the perfect time for a coastal road trip (sea breezes counteract the heat wonderfully) or a jaunt to cooler climes.
A strong sun is one of the best things about summer but it can also be a hazard. When you're not driving the motorhome from one destination to another, it's likely that you'll be enjoying the outdoors - and if you don't bring sunblock, you may end the day looking more lobster than human. This is especially true in Australia and New Zealand, where the atmosphere's protective ozone layer is much thinner than in other parts of the world.

Many motorhome holidaymakers choose to go RV camping in forests and national parks. This is potentially one of the best vacation experiences you'll ever have, but it does pay to be cautious: in most parts of the world, grasses and forests are tinder dry by mid summer, making fires a risky proposition. Pay attention to fire bans (even if you think you know better) and never, ever leave a fire unattended.

Don't forget that your motorhome is essentially a large metal box on wheels - so if you're not careful it can get pretty sweltering inside during summer. Take advantage of any available shade - this will also help your air conditioning work more efficiently.
Autumn
The searing rays of summer have passed, making room for a more moderate season that is spectacular in its own right. The beautiful hues of autumn are almost justification enough to take a road trip, but it's not the only reason to holiday in this rich season. While the weather is still reasonable, the number of people on the road has dropped from the summer peak, allowing for a more peaceful journey.
If you're wanting to see the most impressive displays of autumn leaves, remember to hit the road for somewhere that gets cold winters. It's going to be a little more chilly, but that very cold brings out the most vibrant crimsons and golds - a worthwhile trade off, I'd say.

Because it's getting a bit cooler, it's tempting to bring a lot more 'home comforts' with you. And of course you want to be comfortable and enjoy your trip, but just remember that space is at a premium when you're travelling in a motorhome. There's only so much room before things start to get seriously cluttered, so make sure that you're only bringing what you really need.

In some parts of the world, it doesn't have to be winter before it starts getting really cold. If you're heading into a more extreme climate, be aware of what the weather conditions could throw at you. Driving conditions in particular can change rapidly if you encounter things like sleet or hail, so be prepared to adapt to whatever the season throws at you.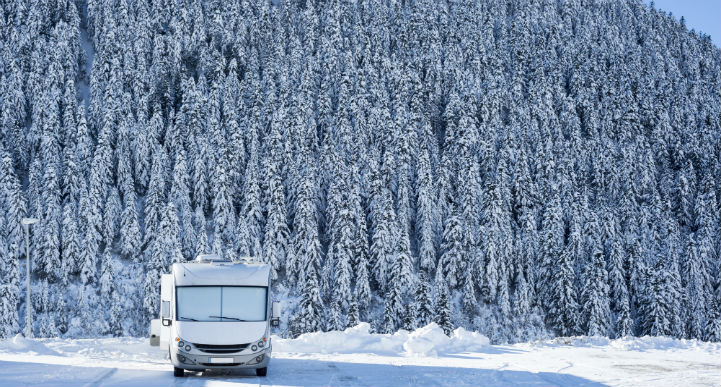 Winter
For keen skiers, this is the season of the gods. Check to see if there's any ski / motorhome rental deals on during the time you plan to travel, as RV hire companies will often offer package deals during the colder months. This can also be a time for spectacular scenery: snow laden peaks, fields and houses blanketed in white, delicate outlines of skeletal trees against a deep blue sky…
Be aware of the potential for black ice. Even on sunny winter mornings, near invisible patches of ice can linger on the road in shaded areas. Watch your speed and take it easy around corners, especially in the shade. A motorhome has a lot of momentum behind it, so a little caution goes a long way.

Keep that motorhome toasty! A small dehumidifier will do wonders for you here, sucking up nasty condensation and emitting a modest amount of heat as a bonus. If you're really struggling to stay warm, insulating the windows with bubble wrap is a neat trick that's easy and surprisingly effective.

Paying attention to the position of the motorhome when you park up will make a huge difference to how warm you stay. Depending on where you're parked up, you may be able to position yourself to make the most of the morning or afternoon sun (whichever you'd prefer). If you can, it's also a good idea to find a windbreak, as windchill is a huge factor in how cold the temperature actually feels.
There are dozens of little tricks to making the most of any season - if you know of a few that we didn't include here, please let us know in the comments below. We're always keen to learn more about motorhome travel, no matter what the time of year!

Whether you be looking to experience a Motorhome Rental in the USA, Motorhome Rental in Canada, Icleand Campervan Hire or a France Motorhome Rental, Motorhome Republic has all these locations and many more covered for your adventure.
---
It's funny how motorhome memories stick with you. I can still recall a motorhome vacation my family took when I was five years old and how awesome I thought I was, tucked away in a loft bed above the cab. From revealing unique destinations to providing tips and tricks, it's my mission to help others build great motorhome memories too.
It's funny how motorhome memories stick with you. I can still recall a motorhome vacation my family took when I was five years old and how awesome I thought I was, tucked away in a loft bed above the cab. From revealing unique destinations to providing tips and tricks, it's my mission to help others build great motorhome memories too.
---
---