Get away to the green with an RV rental
The 2016 Ryder Cup is not too far away, and golf enthusiasts who want to be there to witness this iconic event soon need to turn their thoughts toward travel plans.
This popular competition between teams from the United States and Europe is not the only way to enjoy the great game in the US. The Cup is a fantastic way to start, but there is plenty more golfing fun out there to be enjoyed in the Land of the Free - and it is best paired with the freedom that comes part and parcel of a motorhome hire holiday. Here is our guide for golf lovers to the Ryder Cup and beyond, motorhome-style.
Ryder Cup by RV
This year's event is the 41st of its kind, and is set to be held from the 30th of September to the 2nd of October at the Hazeltine National Golf Club in Chaska, Minnesota. The town is a commuter suburb in southwest Minneapolis, central to many midwest attractions and less than a day's drive from Chicago.
Europe are defending their title, having won the 2014 competition in Scotland. It looks to be an exciting competition for those in the golfing world, and to ramp up the anticipation a tour of the Ryder Cup was recently announced, during which the trophy will make its way around the participating European countries and go on display at various golf clubs before heading across the Atlantic.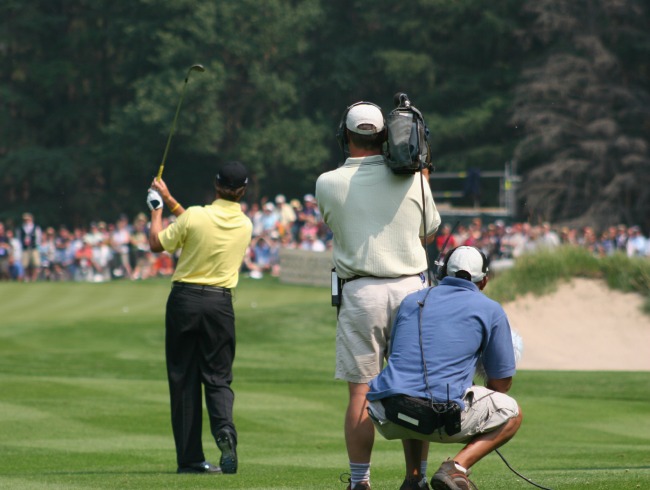 Picking up an RV rental in Chicago or one in another city within driving distance like Denver is a fantastic way to get your fill of Ryder Cup excitement as well as see a bit of the United States in the best possible manner. Accommodation and transport rolled into one, they provide all you need for a wonderful golf-focused road trip.
Will's Riverview RV Park is one option for nomadic golf fans, along with the Minneapolis Southwest KOA. Those wanting to combine their spectating with some natural delights might consider a campground in one of the regional parks and state recreation areas nearby - many of these are strung along the Shakopee River Valley.
Once the cup has been awarded, make the most of your RV rental and explore. You can get in a few holes before leaving the area - the Chaska Town Course and Deer Run Golf Club are both very close, with plenty more dotted around the outskirts of Minneapolis. Then, head out of town and visit the wonderful Great Lakes region and Chicago - if you have the time, you can go as far as Niagara Falls. Alternatively, another great option for those who like a little warmth is to head south as far as your schedule allows, to catch some autumn sun in Arkansas and Louisiana - you might even make it to the fabulous New Orleans!
Whatever your plans, we recommend you get in fast to make sure you can get the vehicle you want. Don't forget to pack clothes for cooler weather, and plenty of golf-appropriate attire!
Other US Golf Holidays by RV
Of course, the Ryder Cup is a big event in the golfing world - but it's not the only one! The 2016 US Open is coming up in June in Pennsylvania, and is a huge fixture on the calendar every year. You could plan an RV adventure around that prestigious competition - or forgo the crowds all together and put together your own tour to try out a range of great US courses. Here are a few we think are worth visiting:
Colorado: the Broadmoor and beyond
There are three luxury courses at the Broadmoor in Colorado, part of a wider luxury resort complex. The East, West and Mountain courses offer a range of different experiences to keen golfers, at fees of $170-$280 per person depending on the dates. Expensive, but worth it for a golf enthusiast - and you can cut costs elsewhere by making it an affordable RV vacation.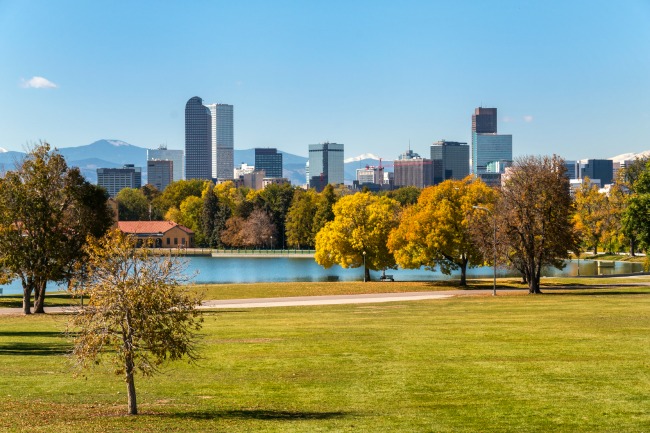 Pick up your RV rental in Denver and head south to Colorado Springs to visit the Broadmoor. There are plenty of other courses in Colorado where you can get in a few more rounds between exploring the beautiful state. Try the unique Fossil Trace Golf Course between Denver and the mountains, with triceratops footprints and other fossils preserved next to the 12th green. If you're there in the summer but have always wanted to visit Aspen, you could try out the Aspen Golf Club and tee off amongst gorgeous mountain scenery.
California: Pebble Beach putting
California is a fantastic place for any kind of holiday, and golfers will find that they can seamlessly fit in 9 or 18 holes around some beach time and city slicking. Pick up an RV rental in Los Angeles, San Francisco or San Diego and you are on your way to a good time - with that great California weather helping you along the way. Don't forget to include a leisurely drive along the Big Sur region.
The celebrated Cypress Point is a private course, but the golf courses at top-rated Pebble Beach resorts are open to the public. Pebble Beach Golf Links is quite expensive to play at around $500 per guest, quite the splurge, but there are cheaper options - Del Monte Golf Course, still a part of the resort, is more reasonable at around $140. Of course, there's no need to shell out for California's most famous golf resorts when there are so many others - look into the Central Coast Golf Trail which includes eleven courses conveniently strung between Los Angeles and San Francisco.

The Route 66 itinerary or Salt Lake City to San Francisco itinerary would both make the perfect complement to a California golf holiday!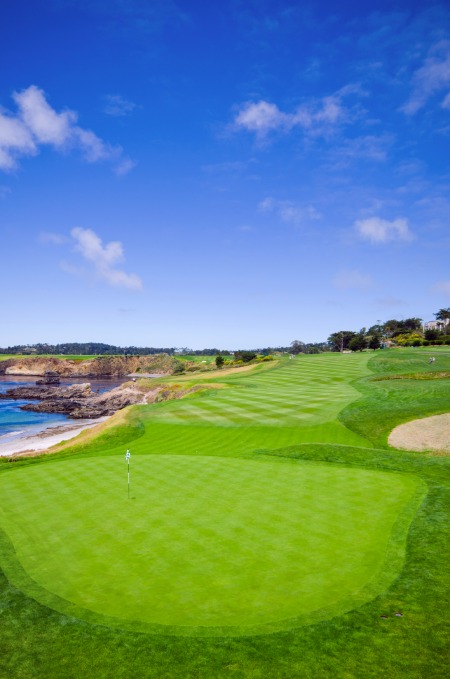 New England: Maine and more
A Boston RV Rental is a great beginning to a golfing adventure in the pretty countryside and elegant towns of New England. The ambiance of this northeastern part of the country is perfect for a holiday on the greens, and an RV can get you around to visit as many gorgeous courses as possible. Visit in the fall for some added colourful-foliage magic.
Go north from Boston to visit the courses of Maine, where Belgrade Lakes Golf Club has recently been rated in Golf Digest's top 100 public courses. Fees range from $75 to $130 depending on the time of year, so it's an affordable option - and Maine has plenty more golf courses to visit too, including the scenic Kebo Valley Club near Bar Harbor.
RV travelers could also head inland to the many courses of New Hampshire, Vermont and Massachusetts, or south towards New York and try out Connecticut's courses including the character-filled and challenging Fox Hopyard in East Haddam. This New York to Miami Beach road trip itinerary is a great way to extend your trip and include the next and most popular golfing destination...

Florida: Streamsong to the Keys
If you like warmth, you'll love Florida. If you like golf, and we're presuming that reading this article indicates a certain interest, you'll love it even more. Florida is consistently rated the top state in the USA for golfers, with more than 1,200 courses scattered around this long and skinny state. You can't go too wrong with an RV holiday here - just beware of gators in the lakes. Pick up an RV rental in Miami or Orlando and tee off to good times.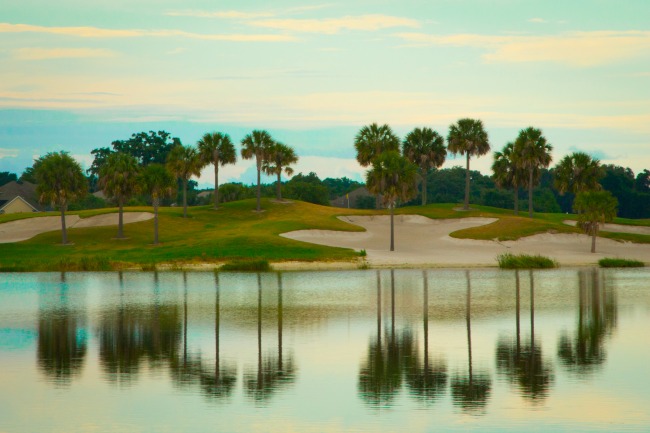 The courses at Streamsong resort an hour southeast of Tampa are a very popular and highly rated options, one of the most distinguished experiences Florida offers to the public. If the lively party atmosphere of the east coast beaches are more your style, you can golf by the beach at the Hammock Beach Ocean Course, designed by Jack Nicklaus. Even in the Florida Keys where space is at somewhat of a premium you'll find golf courses - get in a full 18 holes at the Key West Golf Club if you brave the bridges to explore this amazing and tropical part of the country.
---
I love travelling, and a motorhome is such a great way to get around and get up close and personal with a new country or city. My top motorhome memory is driving a small sleepervan through the highlands of Scotland- a stunning nation and one of my favourite spots on earth! I hope to help you plan your next road trip with handy tips and information. Happy motoring!
I love travelling, and a motorhome is such a great way to get around and get up close and personal with a new country or city. My top motorhome memory is driving a small sleepervan through the highlands of Scotland- a stunning nation and one of my favourite spots on earth! I hope to help you plan your next road trip with handy tips and information. Happy motoring!
---
---