The answers to the most common motorhome FAQs
Ever thought you'd love the freedom and adventure of a motorhome holiday, but balked at the logistics of how to drive and operate a home on wheels? Don't let the intimidation factor keep you from what could be the journey of a lifetime - with a little knowledge and a day or two to get into the swing of things, you'll be an expert.
To help set at ease the minds of dubious prospective motorhomers, we have put together the answers to some frequently asked questions.
1. How do I choose the right motorhome?
Picking the perfect vehicle is really all about logic - does it have enough beds for the number of people, does it have the facilities (i.e a shower/toilet/stove) that meet your needs, and does it have enough space? Keep in mind:
If you would like to take advantage of free or low-cost, basic campsites, a self-contained vehicle is ideal.

Take a look at the layout of the vehicle. Do the beds encroach on living areas, and how would it work if travelling with kids who might go to bed early?

While more space is always a bonus, remember to balance that with ease of driving - getting around is easier in a smaller motorhome.

A good rule of thumb for a comfortable holiday is to get a camper which can sleep one more than is in your party. If you are a group of 5, book a 6-berth motorhome.
Read more in-depth tips for choosing the right motorhome on our blog!
2. How do I tell if a motorhome rental is certified self-contained?
This one is easy - it will likely tell you while you are looking at your options before booking whether the vehicle is certified, but if in doubt, ask! The rental company or your rental agent will be able to tell you whether a vehicle is self-contained or not. Take a look at our blog post for more information about what self-contained means.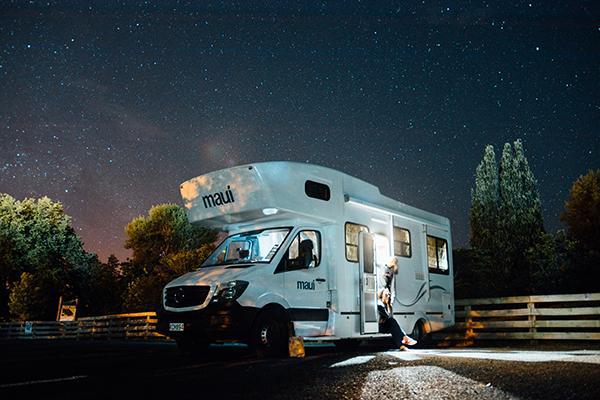 3. How do I avoid cabin fever when travelling with friends?
A holiday in a motorhome is so far from being cooped up! While the living space is small, it allows you freedom to roam into destinations where you can get out and explore. So your accommodation becomes not just the vehicle itself but the mountains, valleys, forests, cities and towns to which it takes you. In order to avoid cabin fever, take advantage of all that lies outside the doors of the motorhome. Some people prefer to travel in summer as it offers more opportunity to get outside.
4. How do I make the most of the space in the motorhome?
Being organised is the trick to maximising space in a motorhome. When you pick up your vehicle, decide on a place for everything and put it back there when you are done with it. Unpack clothes into available cupboards, then store away bags and suitcases in the outside locker if one is available. Over-cab beds can hold things that are not in use during the day.
5. How do I use a dump station?
A dump station is where you can get rid of grey and black water waste from the holding tanks in your motorhome, found in many towns and cities and often locatable with an app, map or website. They might vary between countries, so it is important to read instructions for dumping and listen to the orientation when you pick up the vehicle. With that being said, the whole process is really straightforward and should not put you off the experience.
Grey water requires simply attaching a hose to the outlet and allowing it to empty into the designated drain, and black water may use the same method or may require taking out a "cassette" (a small holding tank for the toilet) and emptying it straight into the drain. You can rinse water through both tanks to ensure it is well flushed.
Check and double check all valves are closed after you have dumped your waste and before driving away - and wash your hands!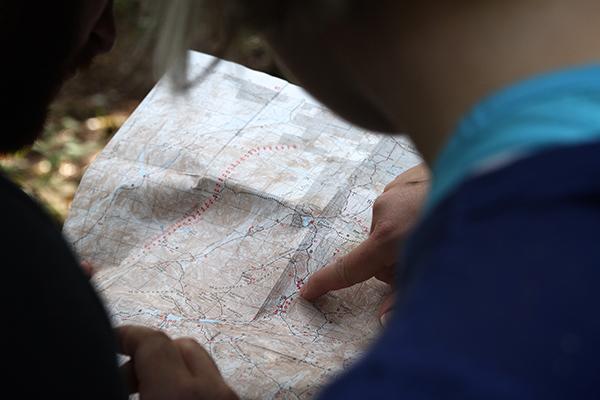 6. Can I camp for free? How do I find free spots?
In many countries you can camp for free or very low cost, particularly if you rent a self-contained campervan.
7. How do I drive on the "wrong" side of the road?
This can be a concern for anyone renting a vehicle in a country that drives on the opposite side of the road to their usual, and the worry may be exaggerated when it's a big motorhome. However, many a traveller has done it before, and you can too. Take your time to get used to the size of the vehicle, and spend time on quiet roads to acquaint yourself with "the other side". Booking a vehicle with an automatic transmission (if possible) can make the transition a little smoother. Pay extra attention when turning corners, as that is when you might find yourself straying back into the oncoming lane.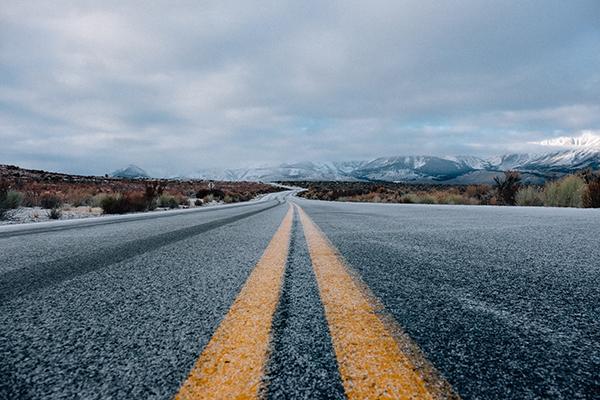 8. How will I manoeuvre a motorhome?
Driving a motorhome does require spacial awareness, as it is larger than the average vehicle. On the open roads it is not a problem, but slow down in tighter spots and take care until you are used to the increased width and height. If in doubt, get someone to spot you from the outside. You should also memorise the height of the vehicle and pay attention to the height limit signs in tunnels and buildings. All things considered, you will likely be pleasantly surprised with the excellent handling of most motorhome rentals - particularly the newer models.
For the nitty gritty of getting around, check out our blog post and video on reversing and parallel parking a motorhome.
Those are a few of the most commonly asked questions, and we hope the answers have set your mind at ease! If you are ready to give motorhoming a go, take a look at the many vehicles available on Motorhome Republic, and start planning your trip today!
---
---