Beat the heat with these adventurous destinations
When temperatures start to rise and summer rolls around once again, the urge to find somewhere you can cool off becomes inescapable. Swimming pools get busy all of a sudden and beaches pack out, so those who don't want to join the crowd have to head a little further afield to beat the heat. If you're willing to explore a little to find your next swimming spot, we've scouted out a bunch of neat little watery destinations which are a bit out of the way - some definitely more so than others. Whether you're exploring the U.S. or on an expedition south of the border, these North American water holes will be welcome detours for anyone taking a motorhome rental road trip during the warmer months.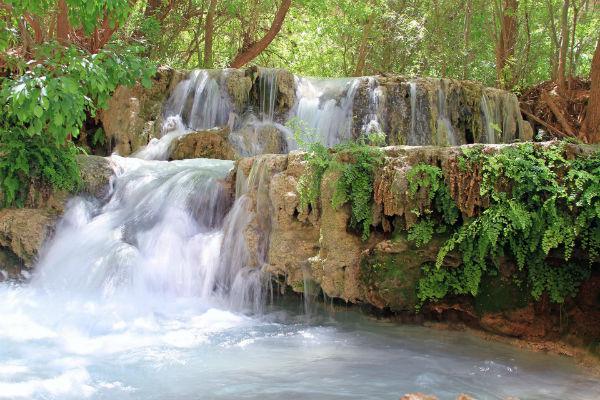 This spot isn't exactly unknown but it's just so spectacular that we couldn't bear to leave it off the list. Havasu Falls is located inside the Grand Canyon itself, near the town of Supai within the Havasupai Indian Reservation. Despite the fame of the falls, they're not that easy to get to. Hiking 8 miles down from Hualapai Hilltop to Supai will get you most of the way there, so it's not a spot that you can drive your motorhome rental right up to. The isolated beauty of Havasu Falls makes it well worth the journey though, and it all adds to the adventure.
The town of Cenotillo (as you might have guessed from the name) is surrounded by over 100 cenotes (also known as sinkholes, places where the earth has collapsed to reveal water underground) so you're genuinely spoiled for choice when you're visiting the area. We could have picked any number of spots around here, but Cenote Xoch is a little more out of the way than most which means that you're much more likely to get this lovely locale all to yourself. Not sure how to get there? Ask the locals in Cenotillo - you're sure to find a guide who's willing to show you around.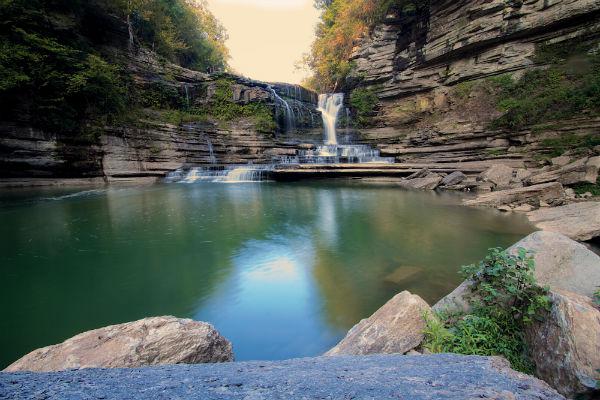 Image: Brenton Rogers (CC BY-SA 2.0)
Cummins Falls near Cookeville, Tennessee is another out-of-the-way treasure which takes a little bit of getting to. Make sure you wear sturdy shoes for the descent into the gorge: this an adventurous route which is not suitable for small children and features water-crossings, boulders and a number of other natural obstacles. The falls themselves are more than worth the trip, and the opportunity to cool off after your downhill trek will be one that few explorers can resist.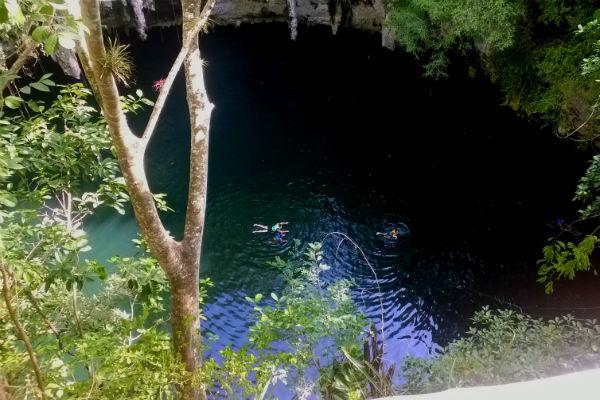 Image: Ovedc (CC BY-SA 4.0)
Cenotes are a major attraction in Mexico, but it's not always easy to find one which isn't stacked with tourists. Yokdzonot an exception to the rule: Ik Kil is the more well known cenote near Chichen Itza, leaving this spot mercifully free of crowds most of the time. Taking a dip in the sapphire coloured water of Yokdzonot with hardly anyone else in sight is a wonderfully surreal experience.
You have to be up for an adventure to reach God's Bath in the California foothills of Sonora, but for many motorhome explorers, that's all part of the fun. Make no mistake: the way down to God's Bath is steep and occasionally treacherous but there are ropes to make your descent easier, and once you reach the bottom of Clavey River Canyon it's a relatively easy trek upstream to reach the Bath itself. You'll need to park up your motorhome rental at Cottonwood Bridge before you start your journey down to the gorgeous God's Bath.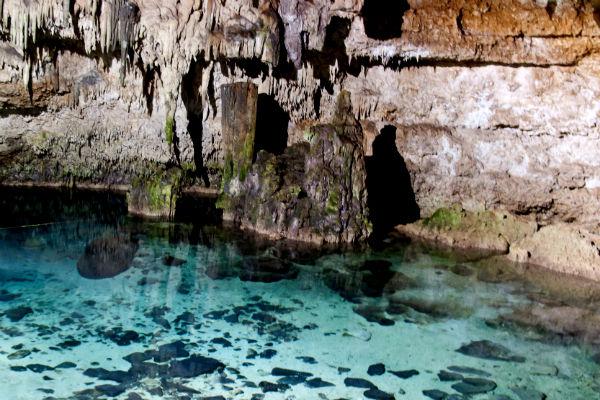 Image: Luis Miguel Bugallo Sanchez (CC BY-SA 3.0)
Visitors to the Yucatan Peninsula will almost certainly want to visit the ruins of Coba, an ancient Mayan city with all kinds of fascinating features including a 42 metre pyramid which visitors can climb. While you're in the Coba area, take the chance to discover the secluded Cenote Choo-Ha. This is an underground cenote, and lacks many of the touristy features that are common around most of these water holes, but that adds to the appeal. Stalagmites, stalactites and dazzling blue waters await those who descend the wooden steps into Choo-Ha.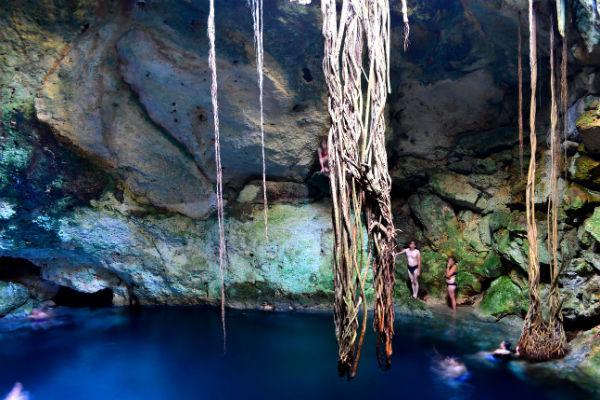 Image: Cristopher Gonzalez (CC BY-SA 2.0)
When you head to Cuzama, about 45 kilometres southeast of the city of Meridia, you essentially get three cenotes for the price of one. Each of these cenotes are mostly located underground, so it's best to start your visit in the late morning, for maximum sunlight. Good footwear will definitely be a plus, as you'll be descending either steep wooden stairs or a wooden ladder to reach the deep blue-green waters of these cenotes. To find your way there, go all the way into the Cuzama town centre, then take the road for Chunkanan until you come across an old hacienda, where horse cart tours to the cenotes start.
Almost all of the spots on this list are places to cool off, but at Homestead Crater in Midway, Utah you can actually indulge in a luxuriously warm swim. This is a natural hot spring which has gathered a rock dome over itself over the millennia thanks to the slow build up of minerals. In the past, you would have to rappel down into the crater but during the 90s a tunnel was created allowing easy access to the spring. The combination of the rising steam with the limited natural light gives Homestead Crater an otherworldly atmosphere which adds mystique to an already amazing experience.
Image: Curtis & Renee (CC BY-SA 2.0)
Also known as Jardin del Eden (Garden of Eden) this place really is a natural paradise. This cenote is open to the sky so you get the full benefit of the sun all day long, unlike underground locations. While you have to be properly qualified to scuba dive here, if you bring your own snorkeling gear you can still glimpse some incredible underwater views - keep your eye out for turtles! You should note that Ponderosa is closed on Saturdays, but is open to the public for the other 6 days of the week.
Got a little bit of daredevil in you? Aztec Falls might be just the place for you. The swimming hole itself is one of the very best you can find for miles around but what really draws people in is its many ledges, ranging from a mere 5 feet to over 40 feet, from which you can jump into the water below. If you do decide to take the plunge, always carefully check the area beneath the drop first - rivers can change over time, so it's always worth double checking for safety. It's worth mentioning that summertime draws large crowds to Aztec Falls, so consider scheduling your trip for a shoulder season.
These are just a handful of the best swim spots in the U.S. and Mexico - both of these countries are absolutely brimming with hot escape destinations. Pick up a United States RV rental to give yourself the chance to explore at will, without being tied down to your accommodation, and you'll find all sorts of little known treasures.
---
It's funny how motorhome memories stick with you. I can still recall a motorhome vacation my family took when I was five years old and how awesome I thought I was, tucked away in a loft bed above the cab. From revealing unique destinations to providing tips and tricks, it's my mission to help others build great motorhome memories too.
It's funny how motorhome memories stick with you. I can still recall a motorhome vacation my family took when I was five years old and how awesome I thought I was, tucked away in a loft bed above the cab. From revealing unique destinations to providing tips and tricks, it's my mission to help others build great motorhome memories too.
---
---