3 incredible long weekend motorhome trips in the South Island
Our country is famed for having some of the most incredible scenery on the planet, but how many of us have truly experienced what New Zealand has to offer? Often our own backyard is the last to be explored, leaving the tourists to enjoy it as we put it off for one more year. And then one more after that.
Work and responsibilities seem to pile up and get in the way of holidays, but the truth is you don't have to commit to weeks at a time to explore your surroundings. You can put a dent in that bucket list and experience our nation's most beautiful places one long weekend at a time. Hit the road for a mini getaway and fall in love with New Zealand's exquisite nature when you book a campervan for just 3 or 4 days.
Head to the ocean for a peaceful retreat and fall asleep listening to the waves. Discover New Zealand's most prestigious mountains where glacier blue lakes lead you to breathtaking peaks. Gaze up at stars at one of the best spots in the world to see the heavens. Plan your long weekend escape today by hiring a motorhome for a short holiday to New Zealand's most epic spots in the South Island; you won't be disappointed.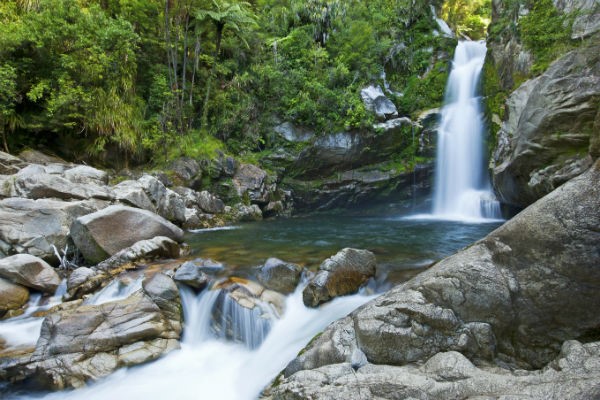 Untouched paradise
A long weekend getaway in the top of the South Island is the perfect opportunity to explore the rugged beauty of Abel Tasman National Park. Spend your first day kayaking around caves, through crystal clear water and along untouched, golden beaches. Granite cliffs loom above where the famous Abel Tasman Coast Track winds around the bays. Spend all weekend here or head to Golden Bay to visit Wharariki Beach and Farewell Spit.
Extend your trip
Adventure through Nelson Lakes National Park and hike in the vast forests or continue down the west coast to Queenstown visiting the glacier region and Mt. Aspiring National Park.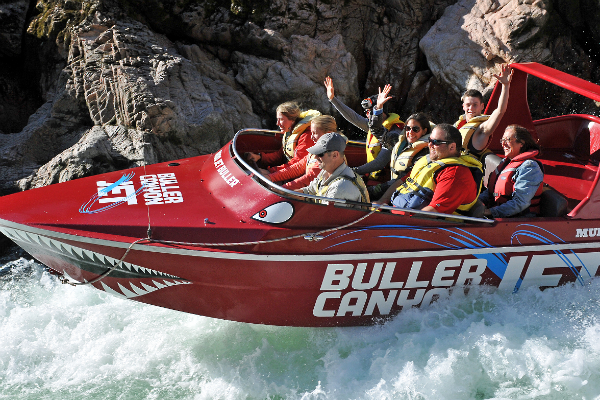 Soothing spas and adrenaline activities
Pick up your motorhome rental in Christchurch and drive two hours to Hanmer Springs for a dip in the thermal hot pools. This resort town is worth visiting year round with nearby mountains for skiing, towering forests and a delightful main street full of cafes and shops. Go hiking, mountain biking, horseback riding, bungy jumping and more in Hanmer Springs. Book ahead at this popular weekend hot spot.
Next, carry on for another two and a half hours to Murchison. Those with a thrill seeking bent will find themselves in heaven here, with canyon jetboating and a zip line which will have you shooting across the canyon at high speeds.
Extend your trip
Head to the west coast via Arthur's Pass, one of the most beautiful drives in the country. Follow our itinerary to Queenstown and stop by glaciers, blue pools and more.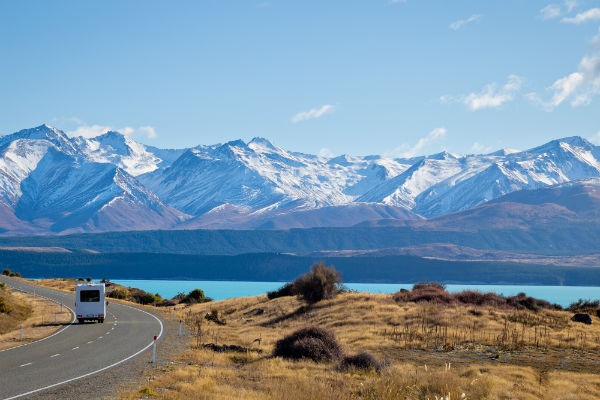 Wake up in the mountains
The Mackenzie Region in the South Island is breathtakingly dreamlike and when you see the vibrant, turquoise water surrounded by majestic mountains for the first time you may need to pinch yourself. The Southern Alps rule this area with New Zealand's tallest mountain, Mt Cook/Aoraki towering above. Drive to this region from Christchurch (in 4 hours) or Queenstown (in 3 hours) and prepare to be wowed.
On the way, pass Lake Pukaki, a glacier lake that glistens bright blue. Park at White Horse Hill campsite and hike the Hooker Valley Track (an easy 3 hour return walk) to catch the best view of the mountain. Spend your getaway exploring the stunning park or make a stop at Lake Tekapo, another mesmerising glacier lake that offers the best stargazing in the country. Camp next to the lake and stare up at the sky all night long.
Extend your trip
Continue south to Dunedin for a chance to encounter yellow-eyed penguins and camp in Catlins National Park. Head across the island following our itinerary to the magical, mystical Milford Sound.
Three days not enough? Check out our itineraries for discovering the best of New Zealand in a Motorhome Republic rental.
---
---