Hobart road-trip – Seven Days
Be ready for an epic Australia Motorhome Rental adventure when you touch down in Hobart and pick up a motorhome! Tasmania is an island of wilderness and scenery with pockets of civilisation, and it is the perfect spot for a week of freedom with your own wheels and accommodation.
Day 1: Hobart to Freycinet National Park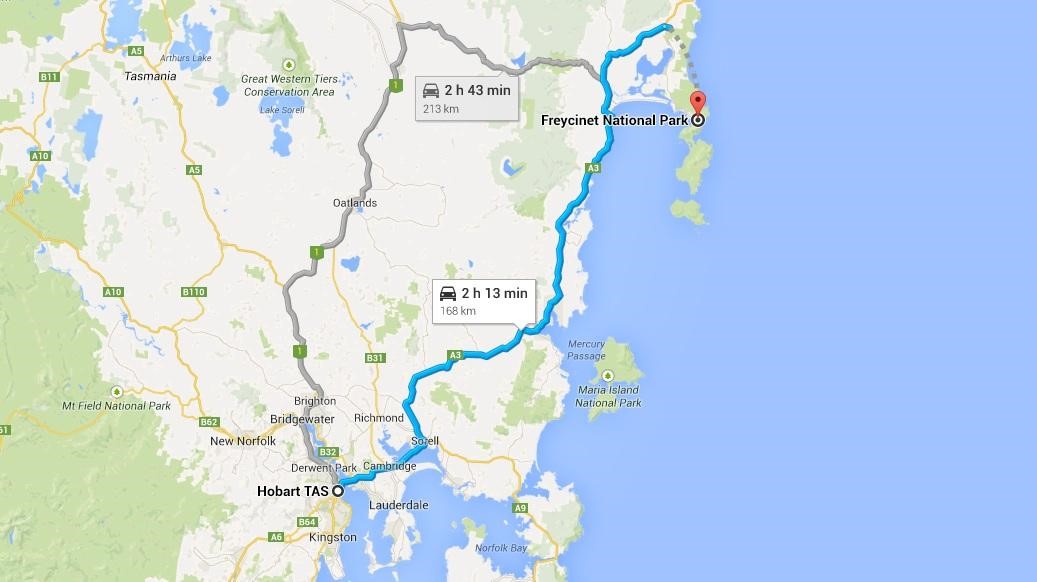 Pick up a campervan hire Tasmania from Hobart and hit the road towards the fabulous Freycinet National Park. Take the Tasman Highway out of the city: this passes straight past Hobart's International Airport, so those with airport pick-ups should have no worries finding their way.

The road hits the coast at Orford, a peaceful east coast village and fishing town which has some great beaches for swimming and surfing. There is also a golf course, where keen players can get in a picturesque nine holes.

Triabunna is the next township and biggest in this part of the island. It holds a lot of history from the colonial period - it was once a garrison town for the penal settlement on Maria Island. The Discovery Walk, which starts at the Triabunna Visitor Centre, is a great way of becoming acquainted with the story of the town.

Mayfield Bay Coastal Reserve is another place to stop on your journey, with a sandy beach and toilet facilities for picnickers. At Swansea, the road heads inland. Turn off onto Coles Bay Road to head towards Freycinet.

You will need to plan well in advance to camp at the official National Park campground which is found in the dunes of Richardsons Beach. Ballots are drawn to allocate sites for the peak summer season in early August. Non-peak period bookings can be made through the Freycinet Visitor Centre. This is a fabulous experience, but there are other options if you miss out. The township of Coles Bay is home to the Big4 Iluka Holiday Park, which has all the amenities one could wish for. Alternatively, stay in Swansea which is a 45-minute drive.
Day 2: Freycinet Fun
Freycinet National Park is one of the highlights of Tasmania, so stay a day and explore. This beautiful place has plenty to keep you entertained.

Wineglass Bay should be first on the list. This scenic cove is often included on lists of top 10 beaches and is a flawless curve of white sand meeting the turquoise water of the Tasman Sea. Here you can swim, fish, sail, take a bush walk or just lie on the beach and enjoy the view. It is a short walk from the campground at Richardsons Beach, or a short drive from the township of Coles Bay. You can also walk from the National Park carpark, which takes around one-and-a-half hour's return.

At Friendly Beaches Airport, you can take a scenic flight over the area to get oriented, and closer to earth you can abseil in the pink granite peaks called the Hazards, take an ATV tour over hills and along beaches, or tackle a longer hike in one of the various parts of the park. Fishing charters, sailing cruises and food and wine tours mean there is something for everyone.

Seafood is the star of the dining scene in the Freycinet Area. Freycinet Marine Farm grows its own oysters and here you can BYO wine and enjoy shellfish, lobsters and abalone. Madge Malloys has its own fishing boat, which catches the evening fare. Great takeaways, including the classic fish and chips, can be found at Seafood Munchies. Both of these are on Garnet Avenue in the Coles Bay township. For a friendly pub atmosphere, head to Iluka Tavern.
Day 3: Freycinet National Park to Launceston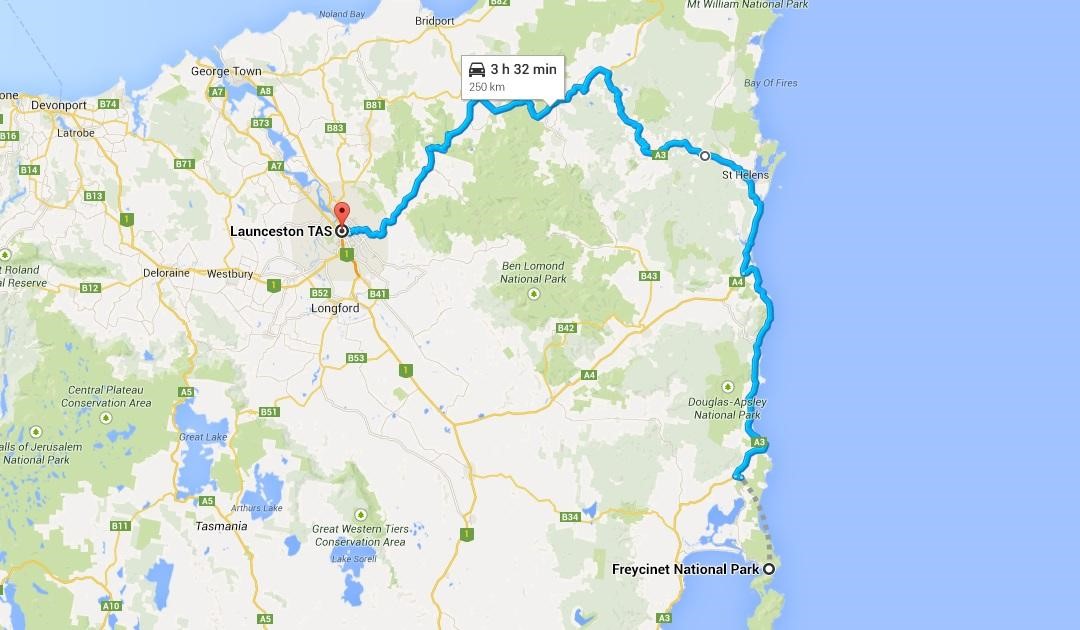 Take the long way to lovely Launceston and head up the coast on the Tasman Highway, past Bicheno and stunning beaches such as Maclean Bay and Four Mile Creek. The road turns inland at St Helens, the largest coastal town in the area, which is often used as a base to visit the amazing Bay of Fires. Drive half an hour north to visit this spectacular bay with orange-hued granite rocks. The underwater vistas are as beautiful as those on the surface, and diving and snorkelling are popular in the Bay and nearby inlets and lagoons.

After St Helens, the Tasman Highway enters the mountains, winding past waterfalls and areas of rainforest along with several former mining towns. Scottsdale is the major town along the way, a friendly place in a beautiful agricultural setting. There is a supermarket here and a number of cafes, where you can take a break before continuing through the mountains to Launceston.

Situated on the Tamar River, Launceston is the second-largest city on the island and has some wonderful architecture which recalls the early years of settlement in Tasmania. The Tamar Valley is a renowned wine region, so try a glass of the local product while you're in town!

There are a number of holiday parks in Launceston to park park up for the night. The Discovery Holiday Park in Hadspen is 15 minutes out of town, and the Island Cabin and Tourist Park is around 20 minutes to the north. If you prefer to stay in a more central location, Treasure Island Cabin and Caravan Park is in south Launceston.
Day 4: Launceston to Strahan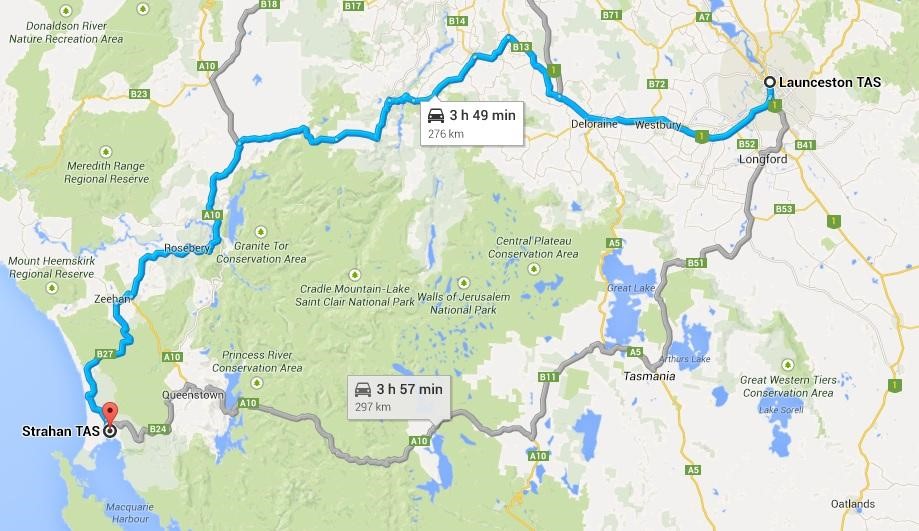 Leave Launceston and head west on the Bass Highway, turning off on Sheffield Road and Claude Road to enter the mountains after the Gowrie Park Wilderness Village. Mount Roland is a spectacular sight, a conglomerate peak with bare rock sides which glow in the early morning and late afternoon. At the T-junction with Cradle Mountain Road, turn left, and at the next turn left again onto the Murchison Highway. This part of the island is largely untouched and beautiful. Take time to stop along the way and enjoy the wilderness.

Roseberry lies along the Murchison Highway, an active zinc-mining town which has some lovely waterfalls within easy walking distance - Montezuma Falls and Stitt Falls. The next town along is Zeehan, home to the lovely restored Gaiety Theatre which entertained the region's first pioneers.

Head through the Mount Dundas Regional Reserve to Strahan, on the edge of Macquarie Harbour. This town was once a penal colony and is now a centre for tourism in Tasmania's wild south-west. Also pay a visit to the long and desolate Ocean Beach, an amazing stretch of sand bordering the Southern Ocean.

The Strahan Holiday Park and Discovery Holiday Park both offer shelter and powered sites to nomadic motorhome travellers. There is no shortage of places to eat in the town, and like many places in Tasmania, seafood is the star of the show. The fish cafe is a local favourite, with fancy fish and chips. For a bit of fine dining, try Risby Cove on the waterfront.
Day 5: Strahan-Southwest Lakes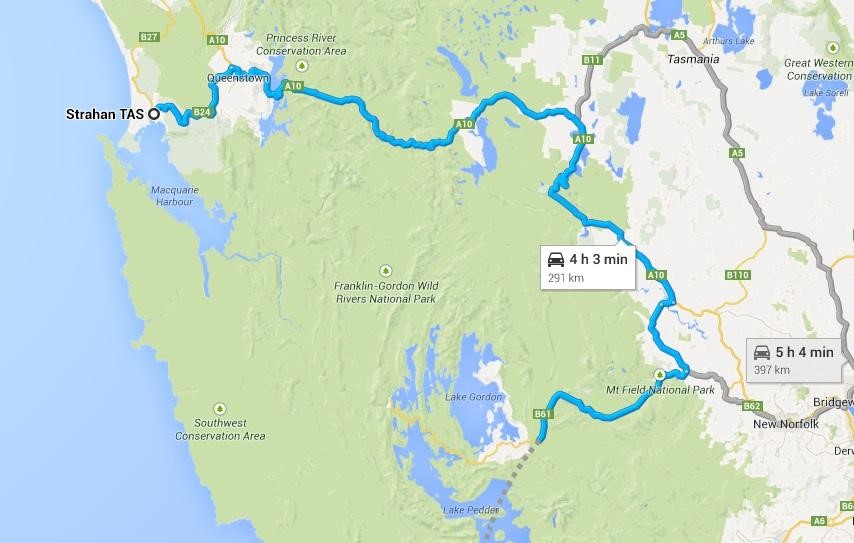 Head out of Strahan on the Lyell Highway through the native forests, before arriving in Queenstown - not to be confused with New Zealand's adventure capital. This one is another historic mining town, complete with 19th century pubs. Continue over the Lake Burbury Bridge and into some true Tasmanian wilderness. The area has many lakes, and around these you will find multiple bush walks. Get up close and personal with native forest and wildlife.

Winding roads are a fact of life in this part of Tasmania, so drive slowly and carefully.

At the tiny community of Westerway, get on Gordon River Road heading into the National Park area. There are several campgrounds which take caravans and motorhomes: Ted's Beach campground, Edgar Campground and Huon Campground. Ted's Beach is on the main road, while the others are a little more remote down Scotts Peak Road. Book early during peak periods.
Day 6: Explore the Southwest National Park
Covering 600,000 hectares, this is Tasmania's biggest national park by far. Along Scotts Peak Road you will find the fascinating Creepy Crawly Nature Trail, a 20-minute walk which is great for the kids. For a longer hike, try the Eliza Plateau walk from the Condominium Creek carpark about 21km along Scotts Peak Road. This takes five or six hours, so be prepared with food, warm clothing and a cellphone at the very least.

For picnicking, there are plenty of day visitor facilities along the Gordon River Road. Tables, toilets and rubbish bins are available at The Needles, Wedge River, Teds Beach and of course the campgrounds. It is recommended that you bring fuel stoves for any cooking, although some barbecues have firewood available.

You need a licence to fish in Lake Gordon and Lake Pedder. An angling licence permits you to fish for trout using artificial lures only, but you are not permitted to fish in any river or stream. Buy one on the Inland Fisheries Service website. Boating and kayaking is also popular, and those without their own vessel can join a tour group with an outdoor recreation company such as Tassie Bound.
Day 7: Southwest Lakes to Hobart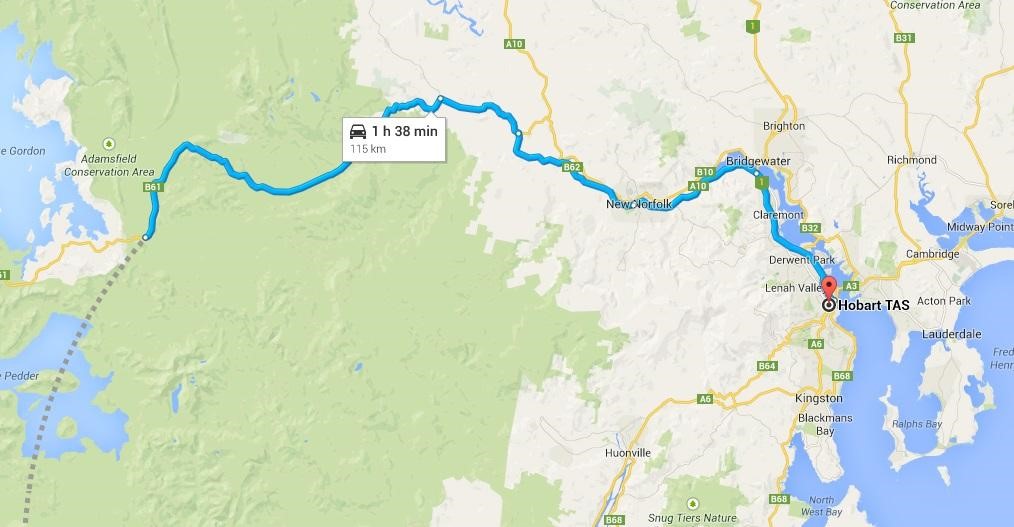 This return journey is a short one at less than two hours, giving you plenty of time to explore Hobart before returning your motorhome. Head out on Gordon River Road towards Glenora Road and the Lyell Highway. These will take you back to Hobart along the River Derwent, through New Norfolk.

Have a look around Hobart, starting at the historic Battery Point area which is full of interesting architecture in the local golden sandstone. The Salamanca Market takes place nearby every Saturday morning. A short drive from Battery Point are the Queens Domain and Royal Tasmanian Botanical Gardens, great for walking. Also close by are the Hobart Aquatic Centre and War Memorial.

Museums in Hobart tell the history of both Hobart and Tasmania. These include the Tasmanian Museum and Art Gallery, Maritime Museum of Tasmania and Museum of Old and New Art. There are also art galleries, especially concentrated around Salamanca.

The Port Arthur Historic Site is a great place to visit if you have a little time, located just over an hour's drive from the city. This is one of Tasmania's former convict settlements and a significant historic site. With numerous restored buildings, walking tours and harbour cruises, exhibits and activities, there is enough here to keep you entertained for a whole day or more.
And that's your Hobart seven-day itinerary. Book now, because demand for this wonderful destination is on the increase. Happy camping!

Other popular Australian options include a Campervan Hire from Melbourne, Perth, Sydney or alternatively a trip over to the land of the long white cloud, and grabbing a Campervan Hire in New Zealand.
---
A journalist and editor for nearly two decades, I am originally from London but proudly call New Zealand home. Having travelled the South Island in a campervan, I know exactly how liberating motorhomes and campers can be. It's a great opportunity to be part of Motorhome Republic, as we look to educate and encourage people to hit the road in what is, essentially, a portable hotel! I will be creating interesting industry articles, travel itineraries, road-trip ideas, movies and so much more. Come along for the ride!
A journalist and editor for nearly two decades, I am originally from London but proudly call New Zealand home. Having travelled the South Island in a campervan, I know exactly how liberating motorhomes and campers can be. It's a great opportunity to be part of Motorhome Republic, as we look to educate and encourage people to hit the road in what is, essentially, a portable hotel! I will be creating interesting industry articles, travel itineraries, road-trip ideas, movies and so much more. Come along for the ride!
---
---