What you need to know when picking up a motorhome in Auckland
Auckland's location at the top of the North Island of New Zealand makes it easy to strike out and head south to visit destinations throughout the country on an epic motorhome road trip.
Auckland is the City of Sails, and New Zealand's 'big city'. That said, most international visitors will still consider this as a small city, and it's certainly got a lot of heart and soul that you'd never find in major centres around the world. The central city's K Road and Queen Street are filled with chic and funky cafes, shops and restaurants, while the waterfront area is a lively and exciting place to explore away an afternoon. And you needn't go far to get a taste of some of New Zealand's epic scenery, with Bethells Beach and the Waitakere Ranges less than an hour from the CBD.
Kick off your travel plans with this handy guide to picking up your camper in Auckland.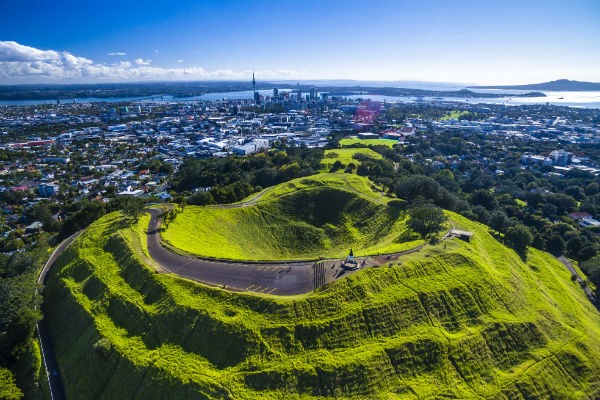 Where to pick up your Auckland motorhome
Auckland Airport
Many travellers will be touching down in New Zealand for the first time at the Auckland International Airport. This area offers a large number of major motorhome rental companies, such as Walkabout RV, Apollo Motorhomes, JUCY Rentals, Maui Campervan Hire, and Wendekreisen Campervan Hire.
Central Auckland
If you're planning to spend some time in town before picking up your camper, a CBD depot may be more convenient. JUCY Rentals has a depot in the downtown area, but keep in mind that some companies, such as Discover NZ Campervan Hire, don't have listed depots, so will simply arrange a handy collection point with you instead.
Henderson
Heading north? It's likely you'll be taking the North-Western Motorway to start your holiday. Kiwi Autohomes is an RV rental company that you'll find just off the main drag on Tony Street in Henderson, which could be ideal for those heading in this direction.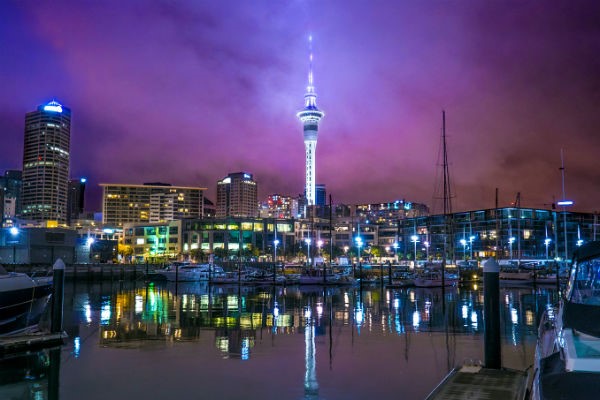 What to do in Auckland
Visit Waiheke Island
Waiheke Island is known for its wine, beaches, and laid-back lifestyle, and it's just 40 minutes from Auckland central via ferry. It's a haven for wine fans, with vineyards and cellar doors dotting the island. You can book in for a winery tour, or you can use taxis or public buses to move around the island and visit a few of these stunning estates for tastings and decadent meals. A wander through the small township to visit the stores and art galleries is a must, and you can even pump up your adrenalin with a zip line tour through the island's lush canopies.
Go up the Auckland Sky Tower
The Auckland Sky Tower is arguably the most iconic building in New Zealand, and it is a defining feature of the Auckland skyline. There are a number of activities you can do when you pay a visit, from simply taking the elevator up to the two viewing levels for an incredible 360 degree walkaround at the top, to dining on an exquisite meal at the rotating restaurant. For thrill-seekers, you can also try the SkyWalk, where you take a stroll around the building 192 metres above the ground on a walkway that's just 1.2 metres across. Or, for the ultimate thrill, try the SkyJump to launch yourself off the edge and plummet toward the ground (and landing safely, of course).
Explore the Viaduct Harbour
Auckland's Viaduct Harbour is the lively water's edge precinct that's brimming with trendy bars, restaurants and cafes. If you're in town and looking for somewhere to dine, simply stroll along the waterfront and read the menus from some of the best restaurants in the city, such as Soul, Kermadec Ocean Fresh Restaurant, and O'Hagans. Check out the Auckland events calendar to see if the Viaduct is hosting any festivals during your time there, or simply take it easy and walk around the harbour to look at the luxury yachts. And if boating is a real passion of yours, consider taking a spin on one of the old America's Cup yachts with Sailing Auckland.
Visit Kelly Tarlton's Sea Life Aquarium
Kelly Tarlton's Sea Life Aquarium is an Auckland must-do whether or not you have little ones in tow. There are more than 80 species on display here across 30 exhibits, including the world's largest colony of sub-Antarctic penguins, and the world's largest stingray species. The tunnel walkthrough is a truly special experience, where you'll watch as sea creatures swim and play all around you. Take the time to check the schedule for daily feedings, as divers will head into these tanks and offer the sharks, fish and turtles their lunch as you watch. For those who have always wanted to swim with sharks, you can also tick this adventure off your bucket list here.
Handy petrol stations in Auckland
New Zealand is made for motorhome road trips, so there are countless petrol stations around Auckland and on roads all over the country. Just remember to top up during the day, as many of the quieter towns shut down their tanks for the night; and don't forget that you'll need to fill up before you drop your motorhome back at the depot in Auckland.
Mobil Massey Road

: This is one of several petrol stations near the airport which could be useful for filling up as you return your campervan.

Z Quay Street

: If you're looking to top up in the city centre, Z on Quay Street by the waterfront is nice and convenient.

BP Southern Motorway South

: Most road trips from Auckland will begin by heading south, which is why the BP station just off the motorway makes a good first stop.

Mobil Wairau Road

: Should your travels take you north out of the city, turn off the main motorway to fill up on Wairau Road.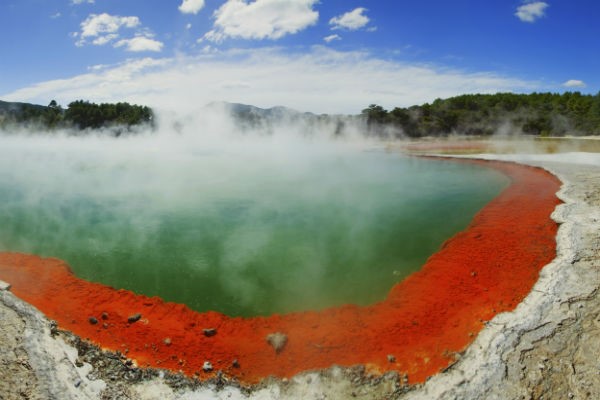 Top road trips from Auckland
Auckland is one of the best places in the country to begin a New Zealand road trip, as it has all the services you need to begin or end a fantastic journey. You can easily make your way around the entire North Island, or jump over the strait on the ferry with your motorhome to discover the South Island as well.
Auckland to Queenstown: New Zealand in a nutshell
The quintessential New Zealand road trip, this itinerary will take you from the tip of the North Island right down to the adventure capital of the country in the South Island. You'll be blown away by mountainous scenery, sparkling lakes and incredible beaches as you visit top destinations such as Hobbiton, the capital city of Wellington, Kaikoura and its whales, picturesque Queenstown and so much more.
Auckland to Auckland via Northland
Dare to be different and head up instead of down, taking a trip up to New Zealand's exquisite and remote far north. This region almost feels like an entirely different country, as the landscapes become warmer and drier and you move away from the cities into smaller rural towns. You'll visit the Te Paki sand dunes, historic Waitangi, and the incredible Cape Reinga at the very tip of the island.
Auckland to Auckland: First to see the sun
New Zealand's east coast is the first place to see the sun of the new day out of anywhere in the world. This road trip will give you plenty of morning sunrises to appreciate this phenomenon as you travel around the eastern tip of the North Island, all before heading back up through the outdoor adventure capital of Rotorua and back to Auckland.
---
---