Picking up your motorhome rental in Denver 101
Denver is the exciting and adventure-filled capital of Colorado, known for its outdoor pursuits, craft breweries, and world-renowned musicians. Surrounded by mountains and adventurous hot spots in every direction, it's an ideal place to pick up a motorhome rental.
Denver is known as the Mile High City as it is exactly 5,280 feet (one mile) above sea level, which also makes it the highest major city in the United States. Explore it all and then continue your motorhome adventures to one of the nearby outdoor wonderlands. If it's your first time in the States, have a quick read on what you can expect from your visit and then browse on for some great campervan road trip planning advice.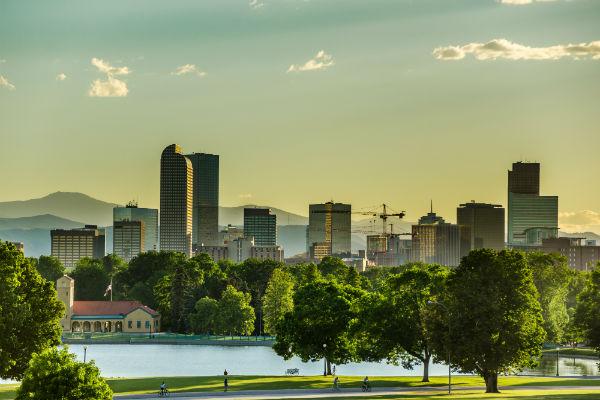 Denver Airport
If you're keen to hit the ground running as soon as you arrive, picking up your motorhome near Denver International Airport will get you off to a good start. Apollo Motorhome Rentals and Star RV (same depot) are two of the closest options, just 15 minutes from the terminal. Britz Rentals, Star Drive Motorhomes, and Road Bear RV Rentals are the next closest at 25 minutes away, just north of the city.
Central Denver
For those who are staying in Denver for a few days before heading away, picking up your campervan near town will provide the most convenient option. Around the Park RV, Rocky Mountain Campervans, and Ride the West RV Rentals are all not far from the CBD.
South Broadway
You'll find Cruise America RV Rental on South Broadway is an ideal location if you're heading straight out of the city and south in the direction of Colorado Springs.
What to do when you're in Denver
Drive the Mt Evans byway
Mt Evans towers over the Denver skyline, and a trip to the top can make for a gorgeous day out. The Mt Evans byway is 60 miles from Denver and is the highest paved road in the United States. You'll gain 9,000 feet in elevation as you navigate the scenic and winding road to the top, and once there, you'll have the chance to take in jaw-dropping views of the surrounding region.
Explore the Denver Botanic Gardens
Covering 23 acres, The Denver Botanic Gardens is a hot spot for a summer's day. Check out the sunken amphitheatre, themed garden areas, conservatory, and calendar of events that hosts concerts throughout the warmer months. The gardens are split into three areas, and together they are host to the largest collection of plants from cold temperate climates in North America.
Hit up Red Rocks Park and Amphitheatre
A stunning rock formation just on the outskirts of Denver creates an incredible natural amphitheatre, where open-air concerts are held. Check out what shows are on during your visit for a one-of-a-kind musical experience. During the day, take to the Red Rocks Park trails for a gorgeous day of exploration.
Shop and dine in Union Station
The Denver Union Station isn't your ordinary train station. This social hub is 100 years old and while it does function as a train station, it is also the centre of a vibrant dining and shopping scene. Pick up a few souvenirs for yourself and presents for friends back home and fill up on a tasty meal made with local ingredients before continuing on with your travels.
Watch a game at Coors Field
Denver is known for its love of sports, and this is never more evident than during a game at Coors Field. This baseball pitch is the home field for the Colorado Rockies, and has the largest outfield in Major League Baseball. Even with such a large space, it's still renowned for seeing plenty of exciting home runs. While you're there, pay a visit to the Blue Moon Brewery at the Sandlot, which is a restaurant and microbrewery on site.
Pro tip: Head to Coors Brewery for a tour
Discover history at Larimer Square
Larimer Square is a historic city block brimming with buildings from the 1800s, which today offer some of the best fine dining to be found in the city. Larimer Street boasts the largest number of celebrity chefs on the same block anywhere in the country, and it's a fantastic place to enjoy an evening of dinner and drinks while you're in town.
Convenient gas stations in Denver
Denver is well equipped to deal with road trippers, so you won't have any problems filling up your tank before hitting the road in your motorhome. Don't forget that you'll need to top it up before you take it back to the depot at the end of your trip as well.
Bradley Petroleum and Diamond Shamrock on East Alameda Ave: These two stations are across the road from one another just down the road from Washington Park in the city centre.

7-Eleven on West Colfax Ave: Heading west? Stop by the 7-Eleven as you head out of the city to fill up and grab a few treats for the road.

Diamond Shamrock on Broadway Street: Broadway Street is just off the Interstate 25, so is a good spot if you're heading north out of town.

Phillips 66 and 7-Eleven on Debbie Lane: Turn off the Interstate 25 at Castle Pines south of Denver to refuel before or after any trip down towards Colorado Springs.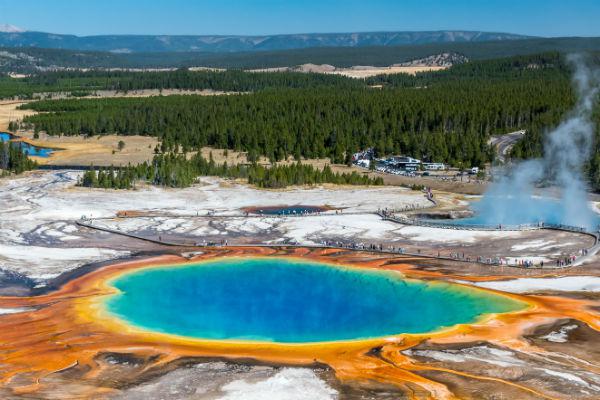 Top motorhome road trips from Denver
Choose from the following epic road trips starting or ending in Denver, or chop and change to create one of your own.
If surreal landscapes, wonders of the world, and ancient sites interest you, this Denver to San Francisco motorhome road trip will deliver all of that and more. You'll pass through Colorado into the incredible topography of Utah, stopover in Las Vegas for the bright lights of the city and the wonder of the Grand Canyon, then travel through to sunny California and up along the Golden State's gorgeous coastline.
Make your way south then west as you travel through the incredibly diverse and uniquely beautiful states of Colorado, New Mexico, Arizona, Nevada, and California. Pack your sunscreen and prepare for a road trip that will wear out your camera as much as your hiking boots as you admire the awe-inspiring and ever changing scenery, taking every chance to jump out and explore the mountains, desert, beaches and more, by foot.
Colorado's Great Sand Dunes are a natural national treasure, and they're only 384 kilometres from Denver. It can be a fun and quick road trip getaway if you don't have much time but want to see something spectacular.
Drive to Yellowstone National Park
At over 800 kilometres, the drive from Denver to Yellowstone National Park isn't a particularly short one - but it is a truly scenic one. Head up via the I-25 through Cheyenne and Casper to arrive in one of the most famously stunning parks in the entire world. The wildlife, geothermal activity and stark beauty makes a visit to this park an experience you'll never forget.
---
---