It's easier than you think.
Finding the perfect motorhome rental isn't about searching for some paragon of travel perfection. There's no one vehicle that's going to suit everyone. Perfect means perfect for you and your particular holiday plans.
So how is it possible to figure out which model or deal is right for you? Well, there are a handful of important things to consider when browsing your motorhome rental search results - and once you've figured out where you stand on these key points, you'll be well on the way to finding exactly the right deal for you. Don't risk renting a motorhome that's less than perfect for your next trip. We'll help you sift through the options to make sure that your motorhome journey starts off on the right foot.
Size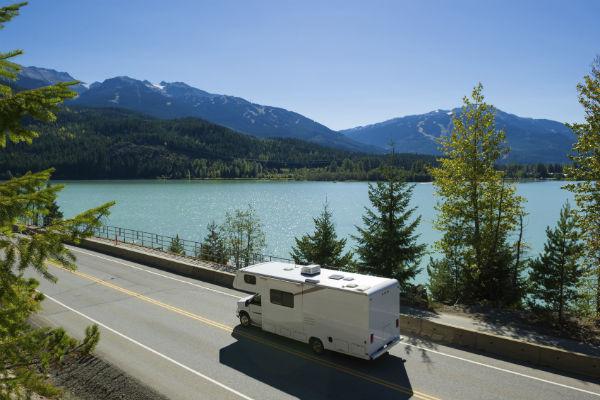 This is one of the most important considerations you need to make when searching for a motorhome rental. It's not so much the actual length/width that you need to watch out for (although if you're heading for particularly narrow, winding roads then a smaller motorhome can be easier to handle) but it's the amount of berths which really counts.
A berth is essentially a bed or sleeping spot - if you see a motorhome listed as '4 berth' it means that it can sleep 4 people overnight. But deciding on the amount of berths you need isn't quite as straightforward as just counting heads and matching the number. There might be only two of you, but you'd prefer a spacious experience - try a 4 or even 6 berth. If you're a family of 4, you could scrape by with a 4 berth, but a 6 will be better at fending off cabin fever.
On the other hand, if you're holidaying on a budget and just setting out by yourself or with one other, a 2 berth sleepervan might be all you really need. Another budget saving alternative for 3-4 people is to book a 2 berth motorhome and bring along a tent - this can be especially helpful in the warmer summer months.
Price
From a practical standpoint, price will be one of the first factors that you'll want to take into account when searching for a campervan rental. It will come as no surprise that the price of a motorhome rental tends to go up as you add more berths, but that's not the only factor when it comes to cost.
The time of year you're travelling can also have a big impact on both availability and whether you can find a cheap motorhome rental. High season will vary from country to country, though it usually coincides with summer in temperate regions and dry season in more tropical places. If you don't have a lot of flexibility in your travel dates, try to book your vehicle as far ahead of time as possible - this can often help you secure deals which sell out closer to the time.
When searching for a motorhome rental on Motorhome Republic your results are automatically sorted with the lowest priced deals first, so bargain hunters already have a head start.
Self-contained vs Non-self-contained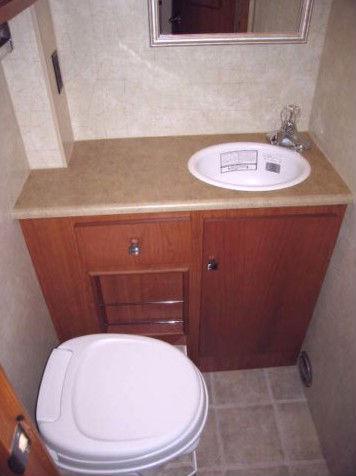 Some travellers may not mind too much which of these two categories their motorhome rental falls under, but for others it's a crucial factor. Technically, a self-contained motorhome is a vehicle that is capable of functioning as holiday accommodation without outside resources. In plain language, that essentially means it has a toilet.
A self-contained motorhome hire will also have waste containment facilities which can take care of grey water (used sink and shower water) and septic waste. Many places which allow freedom camping (parking overnight for free in places that aren't an official campground) only permit those travelling in self-contained vehicles to do so, so this might tip the scales between which you'll choose. Many self-contained motorhomes will also feature a shower, which adds an extra level of luxury and home-comfort to any holiday.
The majority of large motorhomes are self-contained anyway, so if you're planning to hire a 4 or 6 berth, chances are this is already covered. Paying a bit extra for this class of campervan hire can mean you save money along the way, as you may be able to skip paid campgrounds for at least part of your trip and find your own spot to camp under the stars. Ultimately, a self-contained motorhome hire gives you an extra measure of flexibility.
If you're planning to stay overnight in campgrounds for most of your trip, then you may find that a non-self-contained campervan suits you just fine. There's no need to pay extra for toilet/shower facilities if you're going to have access to these wherever you stay.
Tech Specs

Once you've gone through the points above, you'll be beginning to get a pretty good idea of what kind of vehicle you're after, but there are still a few more things you might want to consider before locking in your campervan hire.
Transmission type is a deal breaker for some, especially for those who prefer to drive only automatics. If this is you, make sure to select the 'Automatic' checkbox under the Feature drop down menu when searching for a motorhome on Motorhome Republic.
For others, the ability to head offroad safely and discover amazing sights and activities off the beaten track is a priority. Most motorhomes aren't built for rough roads, but there are a handful of suppliers who offer 4WD options. These tend to be hardy utility vehicles with some sort of accommodation built into the roof. Motorhomes like this tend to be labelled as 4WD but if you're not sure whether the vehicle you're eyeing up works for your intended itinerary, get in touch with the experts at Motorhome Republic and they'll help you out.
Fuel type is a feature that's easy to gloss over, but it's an essential detail that savvy travellers should take into account. To figure out which kind (petrol or diesel) will work best for you, roughly calculate the distance you'll be covering in your motorhome then check up on the current petrol and diesel prices in whichever country you're travelling to. One important point to note here is that some countries have a road user tax for diesel vehicles - this is usually based on mileage, which makes it easy to account for. Fuel type is rarely a deal breaker, but it's certainly part of the motorhome rental picture that you don't want to ignore.
Cooking facilities is another feature which some people really prefer to have available. If you can't see whether a specific model has a stove or fridge in your initial Motorhome Republic search results, click 'Full Specs' to see more details on what's included for that particular motorhome.
After running through the list above, you'll have a pretty good idea of which motorhome rental is perfect for you. From there, it'll only take a few minutes to secure the motorhome of your dreams, then you can go back to planning the rest of your amazing holiday. Easy as that.
---
It's funny how motorhome memories stick with you. I can still recall a motorhome vacation my family took when I was five years old and how awesome I thought I was, tucked away in a loft bed above the cab. From revealing unique destinations to providing tips and tricks, it's my mission to help others build great motorhome memories too.
It's funny how motorhome memories stick with you. I can still recall a motorhome vacation my family took when I was five years old and how awesome I thought I was, tucked away in a loft bed above the cab. From revealing unique destinations to providing tips and tricks, it's my mission to help others build great motorhome memories too.
---
---