Check this out before you lock in your motorhome holiday
Before you drive off into the sunset on your next amazing motorhome road trip, there are a few essentials you have to sort out first. Booking a cheap motorhome rental (or a deluxe one - up to you) is one of the very first things to get locked down before your road trip plans can come to life, so it's best to tick this off your holiday planning list as soon as possible. However, there are a few fundamental things to remember when searching through deals and organising your motorhome rental booking which will make your life easier, help your trip run smoothly and cut out any possible confusion. We've outlined the most important of these points so you can make your booking without encountering any awkward surprises.
Book Early

We can't emphasise this one enough: get your motorhome hire locked in as soon as possible. This provides peace of mind of course but it also means you're far more likely to secure a vehicle that's perfect for your upcoming journey. This is particularly essential during peak season (usually summer or the dry season), over public/school holidays and while major events are on, like music festivals and sports matches. Motorhome rental supply can dry up surprisingly fast, so it's never too early to find and secure your ideal vehicle.
Your Driver Licence
You might be wondering whether your current driver licence allows you to drive such a large vehicle as a motorhome. The answer, in 99% of cases, is yes. The vast majority of motorhome rental vehicles can legally be driven by anyone with a standard full driver licence. There are a few exceptions to this rule, in the case of particularly huge vehicles. If you're not sure whether your preferred motorhome can be driven on a standard licence, select 'Full Specs' in the vehicle results to find out more about the particular vehicle which has caught your eye.
Manual vs Automatic Transmission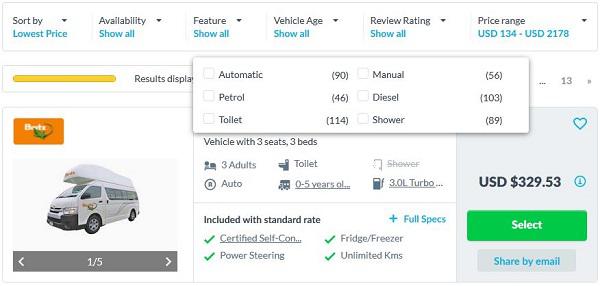 When searching for a cheap RV rental, an important consideration is whether the vehicle has a manual or automatic transmission. If you're equally happy driving both then this section isn't so important to you, but if you have a preference then you need to specify that choice early on. Once you've done a search on Motorhome Republic, refer to the bar above the results where you can narrow down your options. Select the 'Feature' drop down, and you'll see both 'Automatic' and 'Manual' tick boxes. Choose one of these, and your results will streamline to only include vehicles with your transmission of choice. If neither of these options are selected (or they both are) you'll need to compare the details of each vehicle you're interested in to find out whether they're manual or auto.
Self-Contained vs Non-Self-Contained
One of the most important things to note when you're selecting a motorhome is whether or not it's self-contained. Certified self-contained motorhomes are at minimum equipped with a toilet and waste storage system, but will also often include a shower, a fridge and in-motorhome cooking facilities. Not only does this allow you to holiday in style and embrace self-sufficiency without sacrificing comfort, it also means you have the choice to try freedom camping. Freedom camping means parking up your campervan for the night in areas which aren't dedicated campgrounds. This means you get to stay for free, but each country has their own regulations around freedom camping so even if your RV rental is self-contained, be sure to research the rules and camp responsibly.
Insurance

Everyone hopes that things will go smoothly on their motorhome road trip but every now and again accidents can happen. The insurance excess (even on a cheap motorhome rental) is fairly large, often in the $2000-$3000 range (ie. this is the amount you could have to pay in the event of serious vehicle damage) but you can take that weight off your mind with one easy step. Protection Plus Refund Insurance ensures that you're reimbursed for any vehicle damage costs up to NZD$3000, and this includes conditions which rental suppliers often exclude: Single Vehicle Accidents, Tyre, Windscreen, Undercarriage, Overhead (roof) and Third Party Damage are all covered. You can wipe one more worry off your list with Protection Plus as soon as you've selected your vehicle. Find it under 'All inclusive packages & upgrades' when booking with Motorhome Republic.
Additional Charges
It's worth noting that in some cases, the amount that you pay upfront when booking a motorhome rental is not the full and final amount you'll owe. For example, there is a mileage-based charge when renting in the US or Canada - some Australian suppliers will also charge for mileage, especially if you're heading into the vast expanses of the Outback. Keep an eye out for mileage packages under 'extra items' when booking, for the chance to seize some savings. New Zealand has some mileage-based charges too, but only for diesel vehicles. On the plus side, diesel is cheaper than petrol, so the costs often even out. Be sure to check the engine/fuel type next to the fuel icon when searching through vehicle results on Motorhome Republic. A general rule of thumb is that the larger a motorhome is, the more likely it is to run on diesel.
Bond

One aspect of motorhome rental that often catches people out is the bond. This is a hold (as opposed to a charge) that the motorhome rental supplier puts on your credit card. This means that the reserved funds will be unavailable to you until the hold is released after you return the motorhome. Fortunately, depending on where you're travelling and which motorhome supplier you're renting from, there are ways to avoid the hassle of a bond altogether. In some cases, selecting the Protection Plus Refund Insurance from Motorhome Republic will reduce the bond to $0, streamlining your travel experience.
Hopefully the points above will clear up any confusion when you're browsing deals to book your next motorhome rental but just in case you still have any questions, you can always get in touch with the passionate motorhome specialists at Motorhome Republic to sort out any issues that you might have. After all, planning a motorhome road trip should be exciting and inspiring. Let the experts at Motorhome Republic take all the hassle out of your next trip, so you can focus on all the adventures you're about to have.
---
It's funny how motorhome memories stick with you. I can still recall a motorhome vacation my family took when I was five years old and how awesome I thought I was, tucked away in a loft bed above the cab. From revealing unique destinations to providing tips and tricks, it's my mission to help others build great motorhome memories too.
It's funny how motorhome memories stick with you. I can still recall a motorhome vacation my family took when I was five years old and how awesome I thought I was, tucked away in a loft bed above the cab. From revealing unique destinations to providing tips and tricks, it's my mission to help others build great motorhome memories too.
---
---