Belgium: a comprehensive guide
Nestled in the heart of Western Europe lies the hidden treasure that is Belgium. From romantic rivieras and canals to historic cobbled streets, ranging to enchanting fairytale-esque forests and the ultimate comfort foods as local staples, this small country is bursting with things to see and do. Exploring Belgium in a motorhome is the perfect way to experience this stunning country. So if you're thinking of renting a motorhome in Belgium, or even if you weren't, here's a complete list of the top 6 reasons why you should.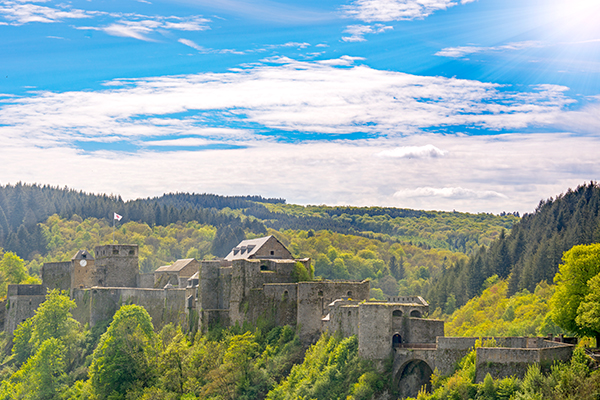 1. More castles than you can count
Belgium has over 3000 castles, and it's been said that there are more castles per square kilometre than anywhere else in the world. So when it comes to seeing castles and chateaus, in Belgium you're spoilt for choice. Our top pick: Château de Bouillon. The castle is situated high up on a rocky spear of land within a sharp bend of the Semois river, and looks like it wouldn't be out of place in a tale of knights and dragons. The castle has a rich history, not to mention some amazing views of the region. Château de Bouillon is exceptionally large, so make sure you plan plenty of time to explore it properly on your motorhome itinerary.
A close second on our list would have to be The Castle of the Counts in Ghent. Known by locals as Gravensteen Castle, this mysterious castle has a turbulent past, and is the only remaining medieval castle in its vicinity that still has a moat. Gravensteen Castle is also home to a museum of torture devices and weaponry, a chilling reminder of the castle's darker past.
If you're after a lesser-known castle to explore, our top recommendation would have to be Beersel Castle. Another moated castle, Beersel is one of the few castles in Belgium that remains pretty much exactly the same as when it was originally built in 718. So if you're seeking a more authentic experience, then this fortified castle is the one for you. Guests are allowed to wander the beautiful castle grounds freely with no corner off limits, and the castle is only a short drive from Brussels in your motorhome.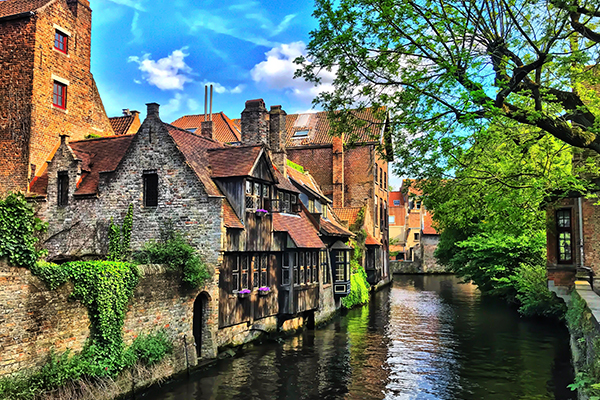 2. Instagram-worthy destinations
Bruges is so much more than just a Colin Farrell movie. The city boasts picturesque canals that are Instagram-worthy, cobbled lanes and striking medieval buildings, with a surprisingly colourful palate that makes the city look like somewhere plucked straight out of a fairytale. The so-called 'Venice of the North', it's unsurprising that Bruges is one of the most popular destinations to visit in Belgium. But don't let the tourists deter you from exploring this magical city. Park up your motorhome and explore it's UNESCO-listed old town, and immerse yourself in a city that boasts some of the most beautiful gothic architecture in the world. Explorer tip: try to find De Garre, it's concealed pretty well down a narrow alleyway in Bruges, and a definite hidden gem in our books.
If you're feeling the romantic atmosphere in the air, make sure you visit Minnewater in Bruges, the 'Lake of Love', and take a walk across Lovers Bridge. Not only is this dreamy spot tucked away at the southern end of Bruges, it's home to a multitude of swans and the perfect spot for a photo. Local legend has it that if you walk across Lovers Bridge with the person you love, your love will become eternal.
Special mention: the historical town of Leuven. This ancient town is a prominent brewing centre for Belgian beer (more on that later) and has an unmistakably creative vibe that we love.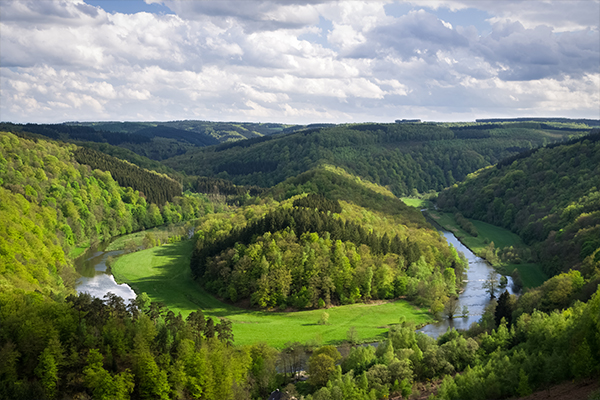 3. The Ardennes, a.k.a the wild rugged landscapes of your dreams
If you haven't heard of the Ardennes before, get ready to add this Belgian region to your must-see list. Picture this: unspoilt ecological reserves, vast forests of broadleaf and fir, rolling hills and powerful surging rivers. The Ardennes is located down in the south of Belgium, and is the perfect destination for travellers that love the outdoors. On your motorhome trip you can expect to encounter picturesque villages, lush valleys, castles, forts and citadels - the region even includes the world's self-proclaimed smallest town, Durbuy. There's a lot to see and do in the Ardennes, so we recommend planning at least a few days in the region to properly explore in your motorhome.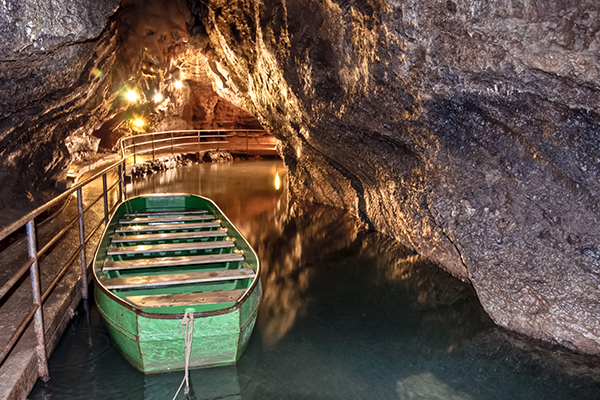 Our top pick: the caves of Han-sur-Lesse, more commonly known as the Caves of Han. This might seem a little tourist-like, but just trust us on this one. Access to the complex of caves is only by a century-old tram, which will take you into what is arguably one of the most beautiful caves in all of Europe. If the limestone caves aren't enough to entice you, then the natural domain they are located in just might. Including a canopy walkway 5 metres above the ground and thrill-seeking activities, the domain is also home to wild deer, wolves, lynx, brown bears, bison and horses.
When it comes to picturesque towns, in the Ardennes there's no shortage of them. Our favourite would have to be Dinant. Dating back to the Middle Ages, this gram-worthy town is the hometown of Belgium's most famous beer, Leffe, and is easily the best place to try it - just make sure you've sorted out who's driving first.
A close second in our book: Spa. Yes, we know what you're thinking - it is where the term 'spa' comes from. Situated in a valley in the Ardennes, the town is known for its mineral-rich thermal waters. Park up your motorhome and treat yourself to a spa in Spa.


4. Chocolate and waffles... need we say more?
Foodies unite: if you've got a sweet tooth, you'll know that Belgium is a definite foodie destination. The country has a rich history with chocolate, with the trade dating all the way back to the 17th century. While there are 'chocolate box' villages dotted across the country, some of the best in Belgium can be found in Sablon, Brussels. The Sablon neighbourhood is perched atop the historic upper town of Brussels - literally, it's up a hill - and has more chocolate shops than you could possibly count. If you're a chocoholic, sign up for one of the local chocolate workshops and learn firsthand how they make their truffles and chocolate slabs taste so damn good.
Another chocolate hot spot in the country is Bruges, a chocolate utopia in its own right. Home to the flagship store of The Chocolate Line - inventors of the chocolate lipstick and known for their outrageous chocolate flavours, this is a must-see chocolatier that pushes the boundaries of what chocolate lovers tend to expect.
Chocolate isn't all the country is known for; when it comes to waffles there's good reason why Belgium is world famous. Available at almost every food truck in the country (and there are plenty), it's fair to say Belgians take their waffles pretty seriously. There are a few different versions of Belgian waffles, with the liege waffles being the most common. Explorer tip: for the best waffles head to Brussels, where the aroma of waffles wafting through the air will greet you down almost every street. It's hard to pick just one spot to visit, but one of the most popular amongst locals would have to be Maison Dandoy. Established way back in 1829, their waffles are guaranteed to melt in your mouth.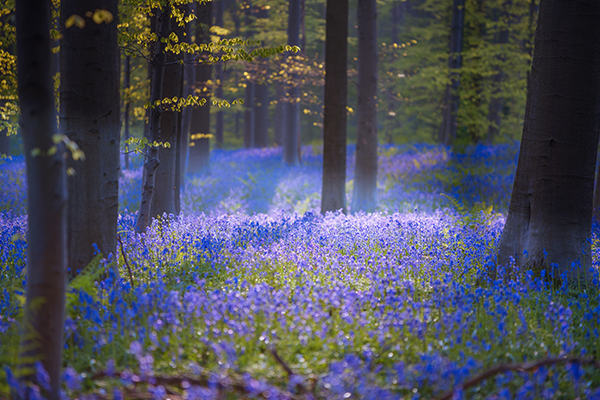 5. This forest that looks straight out of a fairytale
No, it's not photoshop. Hallerbos, or 'The Blue Forest' as it's sometimes called in English, is an absolute must-see on your motorhome trip in Belgium. This mystical forest just outside of Brussels will make you feel like you've stumbled across a real-life fairytale. The ground of Hallerbos is covered in a breathtaking dense carpet of bluebells, with the forest itself said to be incredibly ancient. There are several walks of varying lengths and difficulty, with the longest walk taking just over an hour. Explorer tip: to see the millions of bluebells blooming, you'll need to visit Hallerbos in Spring. April is usually the most ideal month to see this tapestry of bluebells but this does change year to year. Even if you miss out on the magical carpet of bluebells, this lush forest is still well worth parking up your motorhome and exploring.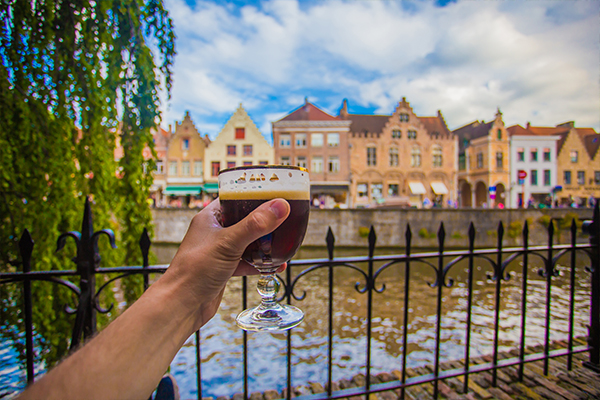 6. Monastic Trappist Breweries. You heard me.
The history of beer and Belgium is a long one, but perhaps the most quintessential part is the breweries run by Trappist monks. The best part? A large part of the Trappist breweries profits go to charity. If you're keen to try an authentic Belgian beer, we highly recommend giving St. Sixtus Abbey in Westvleteren a visit. Beers from the monastery are almost impossible to buy anywhere else, and while they don't produce many, their beers have been declared some of the best in the world. Don't believe us? Drive up to the monastery in your motorhome and find out if it's true for yourself. If visiting a monastery doesn't sound like your pint of beer, then check out Rose Red cafe. Located in the heart of Bruges, the cafe's specialty is Trappist beer. If you're wondering where they got the name from - the cafe is famous for hanging red roses from it's ceiling. Sounds perfect to us.
So what do you think? Are you keen to rent a motorhome in Belgium? Do you think there's anything we've missed out? Let us know in the comments below.
---
An explorer at heart, Sarah loves all things travel related and the magic of seeing the world from a motorhome. You can usually find her sharing the wanderlust and travel #inspo on our Instagram.
An explorer at heart, Sarah loves all things travel related and the magic of seeing the world from a motorhome. You can usually find her sharing the wanderlust and travel #inspo on our Instagram.
---
---