Motorhome trip 4 day Auckland to Rotorua itinerary
One of the best things about renting a motorhome in winter is the price. You pay a fraction of the cost of renting the same vehicle in the height of summer, yet the scenery along the way hasn't changed. Queen's Birthday weekend in New Zealand is a public holiday that falls on the first Monday in June - as such it represents a great chance for New Zealanders to escape day to day drudgery and get out into nature. Our General Manager did just that and we felt it might be a good idea to share the experience for our local customers as well as those international visitors who are looking for a good deal.
Day 1 - Auckland to Miranda
Getting ready
We arrived at Maui's depot by Auckland Airport at around 2pm. We had heeded our own advice and made sure to pack soft shelled luggage and to give ourselves plenty of time
to check in and get familiar with our vehicle. As it turned out, this was the first positive about travelling in winter that we came across - no queues at the depot! As you can imagine, with all of the comings and goings of customers in the middle of summer, the check-in process can get both hectic and lengthy. No matter how many staff the rental provider rosters on, there is always the chance that you will have to wait a while to get your keys and most importantly, to get shown through the vehicle. There were no such concerns concerns for us, and it was reflected in the way we were looked after at the branch. The staff were pleasant, the show through was thorough and most importantly the process was fast. In fact the majority of our time was spent unpacking our belongings, knowing that it would likely be growing dark by the time we arrived at our first destination.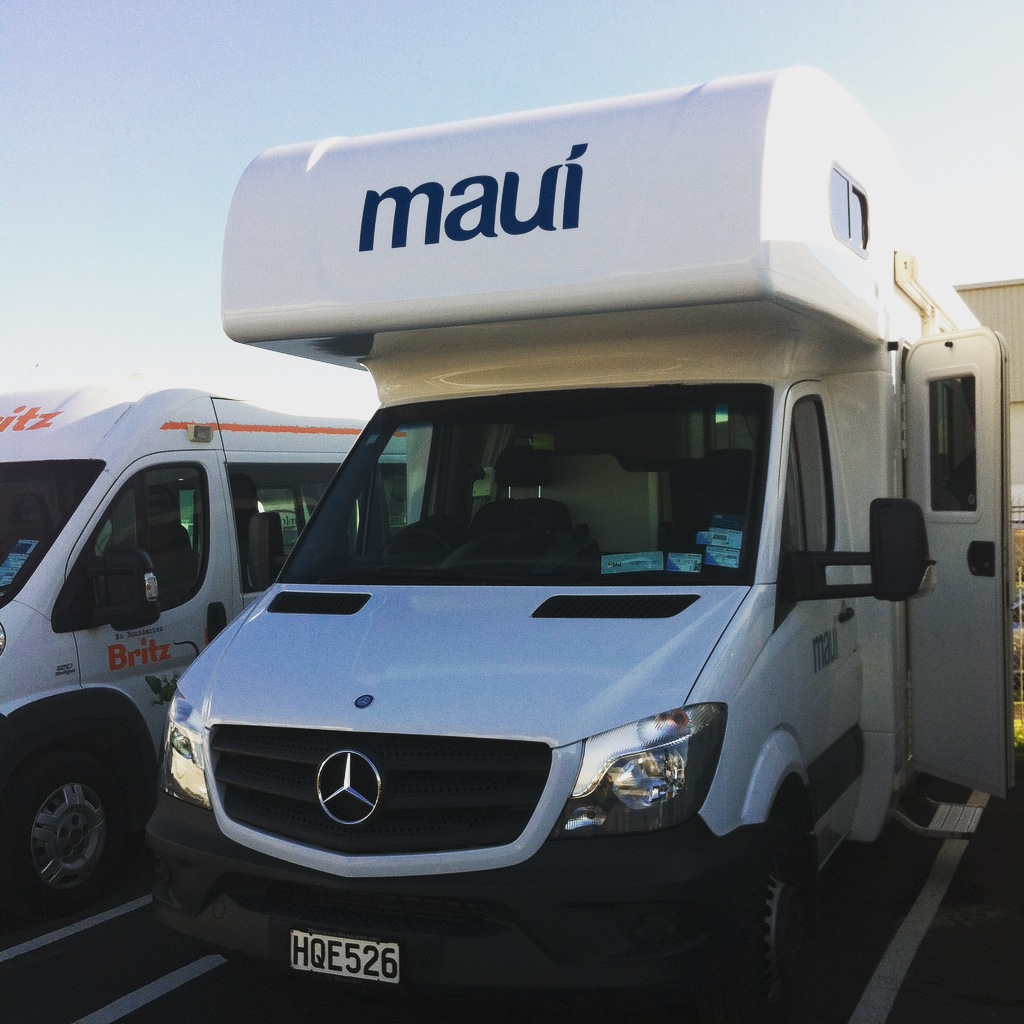 We booked the 6 Berth Platinum River with Maui, the largest vehicle they operate - it was a purposeful decision and one that we were very happy with. With four of us travelling, including my four year old twins, we wanted to have that extra space and to be able to leave the dinette set up as a table instead constantly converting it backwards and forwards to make a bed. By 3pm we were on our way, the kids were happily buckled up in their booster seats at the dinette table in the middle of the van; we'd brought along a selection of DVD's and a laptop as they have been known to suffer from motion sickness in the past.
Setting out
We elected to skip the supermarket stock up on the first day and just get on the road. We'd brought with us some breakfast supplies for the morning, plus nearby Miranda, our first night destination on the Seabird coast, is a pretty good fish and chip shop which would be good for dinner. We got under way having plugged our destination into the GPS and headed east to reach the Southern motorway. Driving any unfamiliar vehicle is always a slightly nervewracking experience - when that vehicle is 3 metres high and 7 metres long, you tend to multiply that anxiety a little. As it turns out however, the Platinum River was really easy to drive and the journey became very relaxed very quickly. The vehicle is built on a Mercedez Sprinter chassis and has plenty of power, heaps of visibility and is nicely configured with split mirrors meaning you have almost no blind-spots.

We caught the start of Auckland's famous rush hour traffic; it's especially common on Fridays prior to long weekends, as the rest of Auckland evacuates the city for greener pastures. I will give you a great insider tip here: there are two lanes on the South Western motorway that connect to the Southern motorway just after Manukau city. Make sure to stick in the left one of the two lanes. These lanes feed into a signal controlled merge onto the Southern motorway and you will find that the left lane splits in to two lanes, one specifically designated for trucks and carpooling vehicles. This will get you to the head of the queue in record time and you'll be on your way.

Within a short while we had traded Highway 1 for Highway 2 and headed east towards the Firth of Thames. As the traffic thinned and I found a little more space on the road, I had to keep reminding myself that the speed limit for these full size motorhomes is 90 kilometres per hour instead of the signposted 100 km/h. Again, it's quite easy to forget that you're driving such a big vehicle as the ride is so smooth. It's one of the reasons that we recommend for international visitors to always spend the first night in a hotel or motel instead of just picking up the vehicle on arrival after an international flight. You need to keep your wits about you and being fresh certainly helps in that regard.

According to the GPS, the journey to Miranda is a little over an hour from Auckland Airport but in reality we were closer to an hour and a half with traffic, which saw us arrive at the coast as the sun was getting low in the sky and creating some great colour contrasts with the hills and coastline. We missed our turn off to Miranda; it's one of those funny ones on the GPS where you can't quite work out if straight is straight to the right or straight to the left. This time though it didn't matter as we headed on up the coast to Kaiaua to pick up dinner. The detour added 20 driving minutes onto the journey and about 10 minutes waiting for our food but it was well worth the detour. By Kaiaua we saw quite a few motorhome owners parked up right on the coast, it's obviously a nicely guarded secret not often shared with inbound visitors, so don't tell them I sent you! We had already booked and paid for our first night accommodation, we wanted the surety of getting used to the vehicle's features in a holiday park rather than taking the plunge straight into freedom camping.


We arrived at Miranda Holiday Park at around 5pm. The check-in was simple and, surprisingly, so was getting the vehicle set up. There's a lot to listen to at the vehicle briefing and I tend to have a poor memory at the best of times but everything was fairly intuitive. We were plugged in and munching dinner within no time and as the sun set we even had time for a swim before bed. Miranda Holiday Park has its own hot mineral pool on site heated to 38 degrees Celsius (100F to our American friends), it's the perfect way to end a day that was actually a lot less stressful than first anticipated. The kids had an absolute blast sleeping above the cab, we were happy that there was a protective net to stop them falling out, they were happy that they had a protective net to keep annoying parents away. I think that's the true definition of a win-win situation.
Day 2 - Miranda to Rotorua
A long and winding road
After a great sleep, probably due to the soak in the hot pool followed by a couple of wines, we woke up ready to push on to Rotorua. Before that though we kicked off the day with another swim. The temperature overnight had dropped to around 5 degrees which meant the hot pool came complete with its own fog; once again another hit with the kids. We then had time for a quick tricycle around the holiday park before we stowed our things, latched the cupboards shut and got on our way.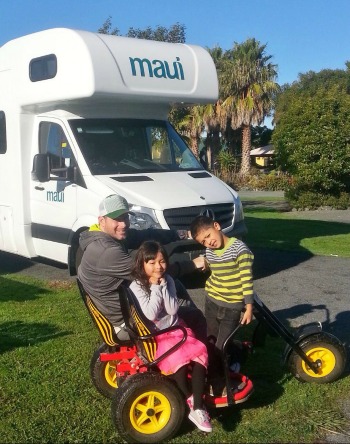 The journey to Rotorua is 156km and so was expected to take around 2 hours. We had factored in a little more time but even with photo stops along the way we actually reached Rotorua in about 2 hours 15 minutes. Most of this leg of the journey was along quiet minor highways. The downside is that there is only one lane in each direction with no protective barrier, but that is the case throughout most of New Zealand. The positive is that there was very little traffic along the way. We never held anyone up and I only needed to pull over to clear 3 or 4 cars behind me on 2 occasions.

Again this is another benefit of travel outside of the summer months. My tip for driving on the highways is simple: stay in control and stay confident. Ninety kilometres per hour is fine, you will hardly have any traffic bearing down on you if you maintain that speed and even if you do, don't panic. There are fairly frequent passing lanes where cars can pass you if they so desire but what I found is that often times they are just happy to sit behind and won't even overtake on the passing lanes. If you are creating a bit of a traffic jam, wait for a straight stretch of road and indicate well in advance before pulling over to the side. Let that backlog past and then continue on your way. The reason I suggest a straight stretch of road is that it is much easier for you to get back under way and up to speed, especially if you're travelling in an older or slower vehicle than the one we rented. My last tip would be to pull over briefly on the way out of small towns. You will have been travelling up with the speed of the traffic at the urban speed limit of 50 km/h, once you get out of town you will have a different speed limit to the rest (90 km/h vs 100km/h), if you pull over and clear any backlog you create a very positive image of a courteous motorhomer.
Thrillseeker's paradise
When we arrived at Rotorua, we headed straight up the gondola. Being a public holiday, this place was very busy. They have a number of campervan parking spaces, but most of these were taken up by cars when we arrived. Luckily we found a spot, queued up for our tickets and then took the 5 minute cable car ride to the top. The views were stunning looking out over the crater lake and the children in particular were awestruck. Cue multiple questions about geology, volcanoes, thermal springs and a raft of other things I would be unqualified to answer for anyone other than my own children.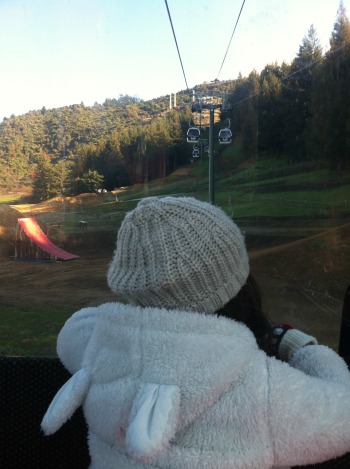 I don't think I sent them too far wrong, but Google definitely comes in handy with inquisitive 4 year olds. The set up at Skyline Rotorua is great and definitely an attraction worth visiting. We were interested in the luge; a kind of toboggan on wheels where you can choose different tracks down the hill based on your skill and adventure levels. You then hop on a chair lift back to the top ready for your next run. This was one of the initial attractions here and as attested to by the crowds, it remains as popular as ever.

Rotorua is making a name for itself as New Zealand's North Island adventure capital and Skyline Rotorua contributes to that with a world class mountain bike set up encompassing 6 runs of varying difficulty over a vertical rise of 200 metres. The longest track is 2.3km and will take you around 5-6 minutes to complete. When you're at the bottom, you simply take your bike into the cable car with you and quietly contemplate which run you will tackle next. If you prefer a more sedentary adrenaline fix, the Skyswing may be for you. You and up to two friends can get strapped into a contraption that is then hoisted 50 metres up the hillside, as you hang from your harness, you control the release and embark on a 150 km/h swing out towards the crater lake and back again.

Other attractions are the Zoom ziplines, a 4D cinema as well as both a buffet restaurant and a more simple cafe to help curb the appetite you've built up.

After a few hours of excitement it was time to head to our Holiday Park for the night, but first up a visit to the supermarket to get supplies for the next couple of days. We reached the All Seasons Holiday Park after dark - this was a good thing however as we'd chosen this place with a specific surprise in mind. My son is a huge fan of dinosaurs and this holiday park has a trail of 18 large dinosaur models spread throughout the grounds. So after dinner we headed out with torches in hand to find out what "that mysterious sound was"! Suffice to say the whole thing really captured his imagination and once again Google came in handy when explaining the differences between the Cretaceous and Jurassic periods.
Day 3 - Rotorua
A window into the past
All Season Holiday Park also has a heated swimming pool with a retractable roof, this one is heated to 33 degrees and was again a great way to start the day in the middle of winter. With no long haul driving on the agenda today and no serious plans in mind, we decided over breakfast that a visit to the geyser at Te Puia would be a good idea.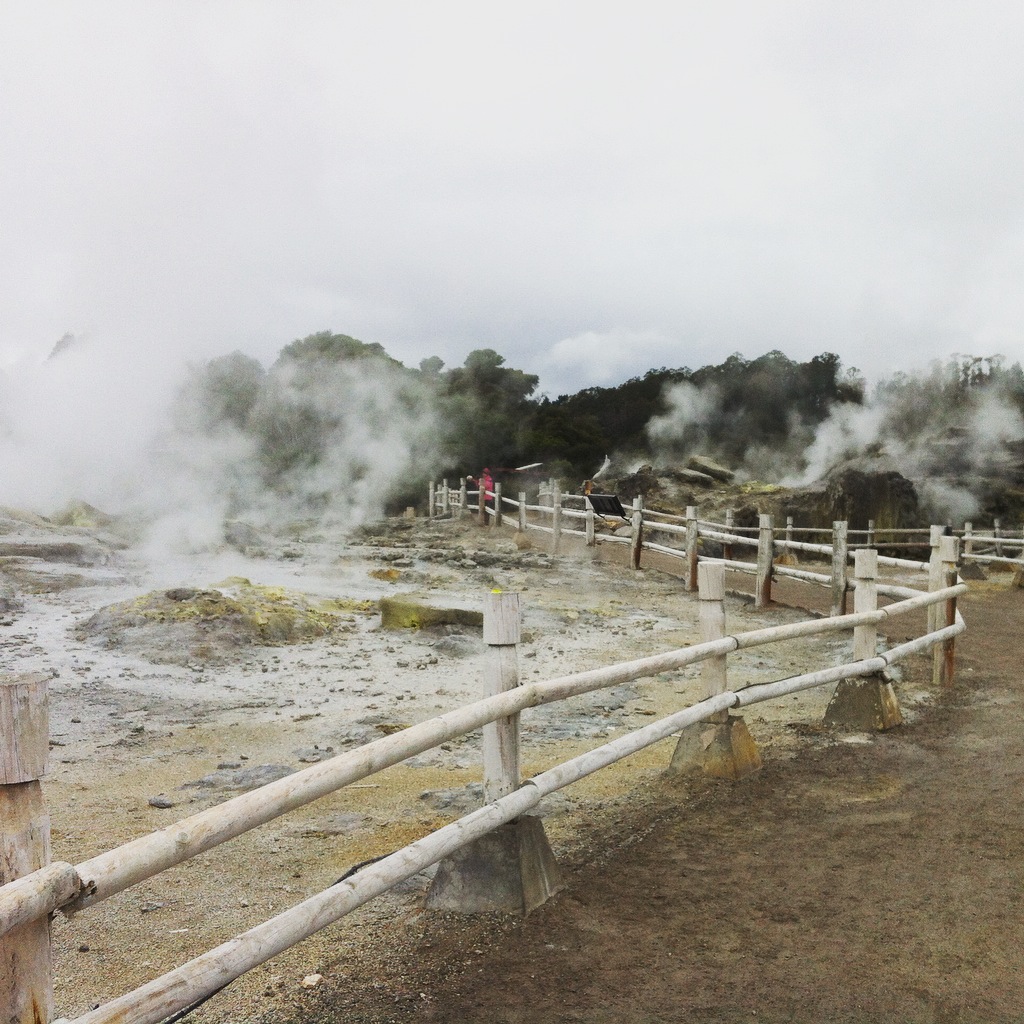 It was actually really close by and took only around 10 minutes to get there. It's easy to see why Rotorua is so popular with foreign visitors; as kiwis it can be quite easy to take some of the unique aspects of our country for granted.
The thermal wonderland here is a classic example; it is so easy to overlook natural wonders in favour of man made highs, but the visit to Te Puia really brought that home. A fascinating trail of walks getting you up close and personal with ancient geological structures that boggle the mind when you try to comprehend nature's forces at work. Geysers, bubbling mud pools and thermal hot streams all serve as a window back in time to the origins of the planet and are well worth a look.

We then headed back across town to Rainbow Springs, a man made theme park that gets you up close with New Zealand birds and fish. It wasn't quite the high that we'd experienced earlier in the day but the children enjoyed the rides and a bit of time to blow off steam (see what I did there? Steam, get it?).
Day 4 - Rotorua to Auckland
Home again, home again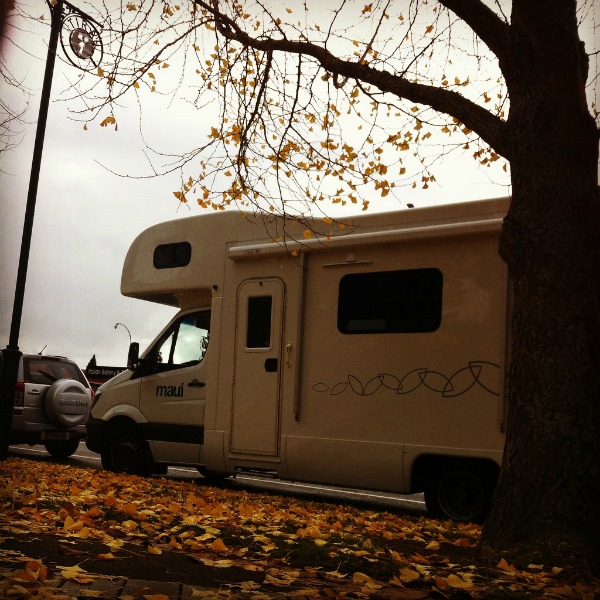 Though our long weekend was coming to an end, we still had time for another swim before embarking on our leisurely journey from Rotorua toward Auckland. A bit of a GPS failure sent us winding around the back of Rotorua which was pretty but also slightly unnerving in such a large vehicle, as the road was quite narrow in places.
We pushed on back to the main highway and decided to stop off in the quiet town of Tirau. Obviously, being a public holiday, the sleepy town was not so sleepy and it became apparent that a traffic build up on the way home was entirely possible. The decision to make an early departure turned out to be a wise one as traffic was indeed particularly heavy. Rain had set in and road works along the way meant that instead of arriving at 3pm, an hour and a half before the depot closed, we actually arrived at 4pm after filling up with fuel.

The drop off process was seamless once again however and we were greeted with the same smiles as when we had departed. The motorhome was fantastic for the duration, the heater was extremely handy at night and ensured that we didn't notice overnight temperatures approaching freezing. The much feared cleaning of the tanks was actually surprisingly easy, the grey water was a simple hose that you connected to the drain and pulled a lever. The black water tank was of the cassette variety and was smell free as well as being clean and simple to empty. Driving was actually a pleasure throughout and never at any stage did the vehicle feel underpowered.
A journey to be repeated
All in all we had a fantastic trip. And if you don't believe me, how's this for an unbiased glowing reference - it came by way of my son who usually has to be forced to thank anyone for anything. We got back to the depot, at which point of his own volition he said - "Daddy, thank you so much for this campervan holiday. I had such a great time, do you think we can do it again one day?". It brought a tear to my eye and an affirmation that we would most certainly do this again. Winter brings its own challenges like reduced daylight hours and variable weather conditions, but it also allows people to get out and explore New Zealand without throngs of tourists clogging the roads. Even more importantly for some, it is substantially cheaper, allowing you to stay for longer or spend more money on other things throughout the journey. A motorhome holiday in the New Zealand winter is a great experience and one I will certainly be repeating. I hope to see you on the roads some day too. I'll make sure to give you a friendly toot and wave.

To show you how affordable this trip really is, I thought I'd sign off by sharing the costs of this four day trip.
Vehicle Rental
Motorhome Base Rental (Platinum River 6 Berth): $480
Maui Premium Package (Reduce excess and free items): $275
Subtotal: $755
Food and beverages
Night 1 Fish and Chips: $16
Day 2 Breakfast in motorhome: $5
Day 2 Lunch at Skyline: $59
Day 2 Dinner at campsite: $24
Day 3 Breakfast in motorhome: $5
Day 3 Lunch in motorhome: $17
Day 3 Dinner in motorhome: $34
Day 4 Breakfast in motorhome: $5
Day 4 Lunch at Tirau cafe: $56
Subtotal: $221
Accommodation
Night 1 Miranda Holiday Park: $74
Night 2 All Seasons Holiday Park: $56
Night 3 All Seasons Holiday Park: $56
Subtotal: $186
Attractions
Tricycle hire at Miranda: $5
Skyline Gondola plus Luge rides: $96
Te Puia entry: $135
Rainbow Springs: $99
Subtotal: $335
Fuel
Full tank of diesel: $97
Grand total:
$1594

That's less than $100 per person per day for a fairly full on itinerary. I think that represents some pretty good value. I'd be interested in your thoughts.

Motorhome Republic has plenty of rental options available. Our NZ landing page has the rest covered whether you want to begin your roadtrip from Tauranga, Wellington or further afield in the likes of Christchurch.
---
Involved in the travel industry for over 15 years, I draw on that experience regularly in my position here at Motorhome Republic. As a motorhome holiday enthusiast I have done plenty of travelling in New Zealand, Europe, Southeast Asia as well as North and South America. I'd like to add Africa to my list- but I think I will wait until my kids are a bit older first! Until then I will be creating interesting travel related articles to help give you the information you need to plan your next big motorhome adventure!
Involved in the travel industry for over 15 years, I draw on that experience regularly in my position here at Motorhome Republic. As a motorhome holiday enthusiast I have done plenty of travelling in New Zealand, Europe, Southeast Asia as well as North and South America. I'd like to add Africa to my list- but I think I will wait until my kids are a bit older first! Until then I will be creating interesting travel related articles to help give you the information you need to plan your next big motorhome adventure!
---
---