Stay in one of New Zealand's most scenic campsites
Ah, New Zealand. Land of majestic mountains, flowing rivers, crystal clear lakes and breathtaking beaches. Whether you're taking a motorhome road trip around the North Island or the South, wake up to some of New Zealand's most scenic landscapes every morning.
North Island
The North Island of New Zealand has beautiful beaches, spectacular lakes and impressive mountains, so no matter what scenery you're after, you're sure to find it. Pick up your motorhome in Auckland, Wellington or Taupo and hit the road.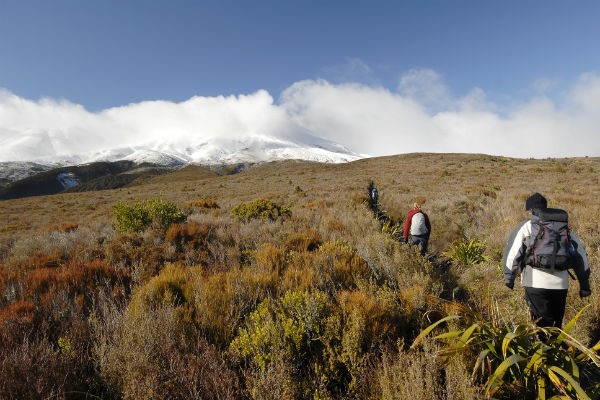 Let the sound of native birds sing you to sleep, and wake to one of the most spectacular sights in the North Island: the three peaks of Mt Tongariro, Mt Ngauruhoe, and Mt Ruapehu. Tongariro National Park is an explorer's dream; take to the mountains (summer or winter!), trek through native bush, and discover cascading waterfalls. Powered sites are available starting at $21 per night, with a nearby amenities block.
Rotorua may be famous for its geysers and thermal activity, but tucked into the surrounding hills are the striking twin lakes of Tikitapu (Blue Lake) and Rotokakahi (Green Lake). When you open your campervan door in the morning you'll be greeted with the shimmering waters of Tikitapu, mountains rising up from all sides, and perhaps even a little sulphur smell; don't worry, you'll get use to that quick enough. Powered site rates begin at $45 per night, including all amenities.
It's not often you can park your motorhome right on the edge of a grassy green hill overlooking the never-ending horizon of the North Island's west coast. But in Taranaki you can. Spend your days lounging in the sun by the stunning Tasman Sea, and watch the sun set over the shores in the evening. Powered site rates begin at $24 per night, with access to amenities included.
Other North Island suggestions:
South Island
Whether you'd prefer to camp under towering mountains, or emerge from your RV to tranquil lake views, New Zealand's South Island has it all. Pick up your motorhome from Queenstown, Christchurch or Dunedin and begin your adventure.
Fall asleep to the sound of ocean waves crashing on the shore, and wake to magnificent limestone cliffs. Just a minute's walk down to the beach, and a short drive away from Paparoa National Park and the famous Pancake Rocks, it's safe to say this campsite has some of the best views on the west coast. Prices start at $20 per night for a powered site, with amenities included.
Few places in NZ have scenery like that of Franz Josef. Step out of your campervan into another world. Surrounded by spectacular mountains and towering glaciers, Franz Josef is a dazzling place to make camp. With the remarkable Fox Glacier right on your doorstep, taking a walk or tramp beside pristine icy rivers is so irresistible you might find yourself booking a few extra days. Prices for powered sites begin at $48 per night.
The town of Wanaka is a popular place with tourists and locals alike, and it's easy to see why. Stand in awe of the breathtaking mountain ranges in the distance, swim in the sparkling crystal waters of Lake Wanaka, and spend an afternoon wandering through the delightful township nearby. Spacious powered campsites are available for $20 per night, with all the amenities you need.
Other South Island suggestions:
Explore New Zealand by motorhome
The campground vistas are beautiful no matter where you go in picturesque New Zealand, so get your camera ready and your pack your bags. Book a campervan with Motorhome Republic and hit the road.
---
---