Unbelievable New Zealand: See it for yourself with a motorhome hire.
Google autofill would indicate that a significant number of people have searched "does New Zealand exist?" and "is New Zealand real?" Evidently, it's a place that must be seen to be believed.

What is it about this small island nation that leaves people wondering about its existence? It might be the jaw dropping scenery which looks like it was made for a postcard rather than for real life. Maybe it's the fantastic movies filmed there, causing people to mix it up with Middle Earth. Or perhaps it's the dry humour of the laidback locals, who are perfectly happy to perpetuate the confusion.

You can discover for yourself the reasons for the doubt surrounding the Land of the Long White Cloud, with a road trip from Auckland to Queenstown. A New Zealand motorhome hire allows you to get up close and personal with this mysterious land, and determine its veracity with the surety born only of experience. Motorhome Republic has not only some of the best motorhome hire rates to be found online, but a suggested ten-day itinerary which will answer the question once and for all.

Before you set out on your noble quest, take a look at our guide to motorhome camping in New Zealand! All you'll need to know to find a good spot to park up for the night.

Day 1: Auckland adventures
If New Zealand is a magical and mysterious land, Auckland is the portal to it. The vast majority of international flights land here, and it is a very convenient place to begin your road trip. Pick up your motorhome which you pre-booked on Motorhome Republic (they call them campervans there) and let the good times begin.


Spending a day in Auckland, New Zealand's biggest city, will ease you into the journey of discovery with a little reassuring familiarity. Close your eyes downtown, and you might be in Sydney with colder weather, or London with more kiwi accents (but only slightly more).

There are plenty of options to occupy a day. Find a park downtown and enjoy the waterfront restaurants, the museums, the harbour and the great shops and cafes of the inner suburbs. If urbanity is not your thing, Auckland has many beaches where you can swim, and many dormant volcanoes to climb. Delve right into the craziness of the kiwi landscapes by crossing the Waitakere mountain range which frames Auckland to the west, and visit the black-sand surf beaches which lie less than an hours' drive from the CBD.


Day 2: Auckland to Tauranga via Hahei

Depart Auckland in your rental campervan and head south in State Highway 1, then east on State Highways 2 and 25 towards Hahei on the Coromandel Peninsula. Now might be a good time to note that many of New Zealand's main highways are single carriageways, and do not bypass small towns but pass through them - so be prepared to slow down in built-up areas. You will also encounter many mountainous roads and need to adjust your speed for safe cornering. This New Zealand driving guide might be of help to first-time visitors.


From the pretty beach town of Hahei, you can walk 30 minutes along the coast to Cathedral Cove, a stunning inlet with fantastic rock formations, a natural stone arch and a waterfall right on the beach which serves as a fresh-water shower for swimmers. You might also recognise it as a particularly scenic part of Cair Paravel featured in the Chronicles of Narnia films.
If the tide is low, drive the few minutes from Hahei to Hot Water Beach, where a natural hot spring lies under sand exposed at low tide. You can buy spades at the dairy (corner store) and dig your own personal spa.

Once you have had your fill of Hahei, continue on State Highway 25 down the coast towards Tauranga, where you will find plenty of campsites and holiday parks to take you in for the night. The busy port offers up some great nightlife and a Riviera-style beachfront in the suburb of Mount Maunganui.


Day 3: Tauranga to Taupo via Rotorua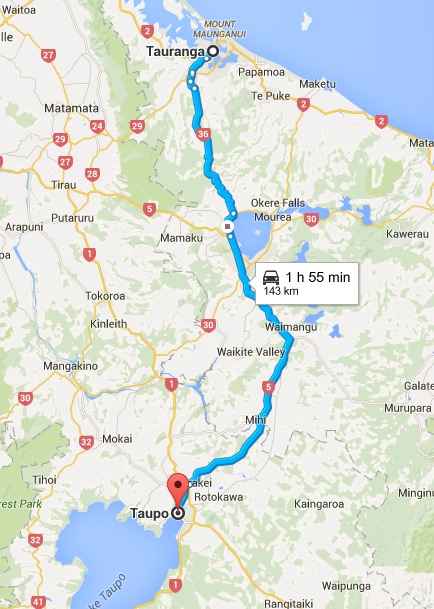 This trip includes only two hours of driving, allowing plenty of time to stop and enjoy the many attractions packed into New Zealand's smelliest city. Take State Highway 36 out of Tauranga and you will be entering Rotorua in no time.

Malodorous Rotorua might be, but it is not due to anything nasty like rubbish, pollution or overcrowding. The scent in the air is sulphur, released by the thermal activity which bubbles to the surface in and around the city. Geysers, hot pools and bubbling mud provide a variety of things to see and do there, and Rotorua has also become a centre for Maori cultural performances and exhibitions which are a valuable experience for visitors to New Zealand. Whakarewarewa Thermal Village is a good place to start.

State Highway 5 will take you from Rotorua to Taupo, another lakeside city. In fact, this is THE lakeside city for the North Island, with a tourism industry based around the scenery and recreation offered by Lake Taupo which is New Zealand's largest. Try a spot of sailing, a bungy jump over the Waikato River or a parasailing adventure; you can also attempt to win money by scoring a hole in one on the golf barge anchored just offshore.


Day 4: Taupo to Whanganui via Tongariro National Park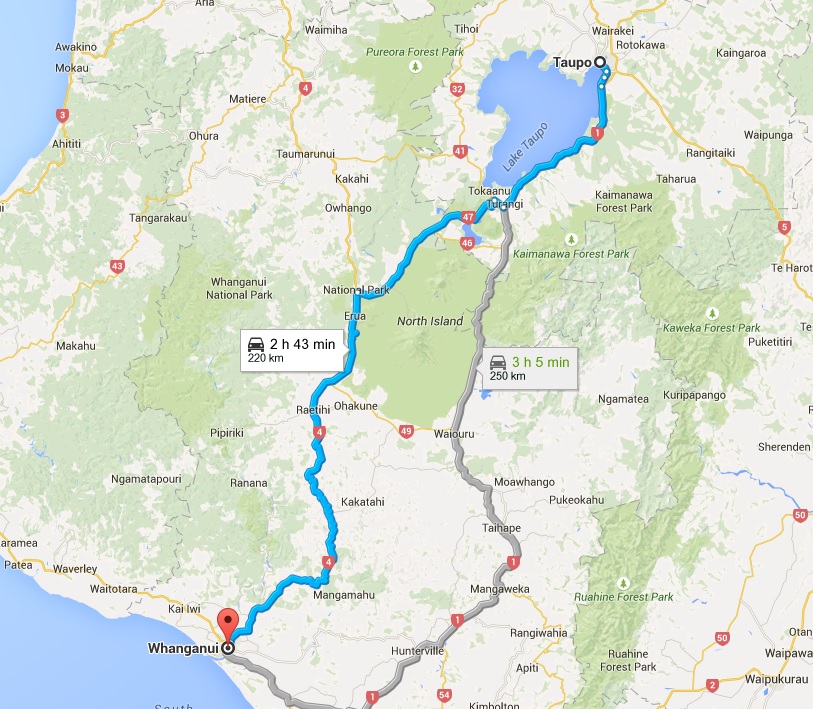 Leave Taupo and begin a day filled with formidable New Zealand scenery, the type that makes people wonder if the country is just Middle Earth in an unconvincing disguise. Heading south, State Highway 1 hugs the shore of Lake Taupo and leads you towards the Central Plateau and Tongariro National Park.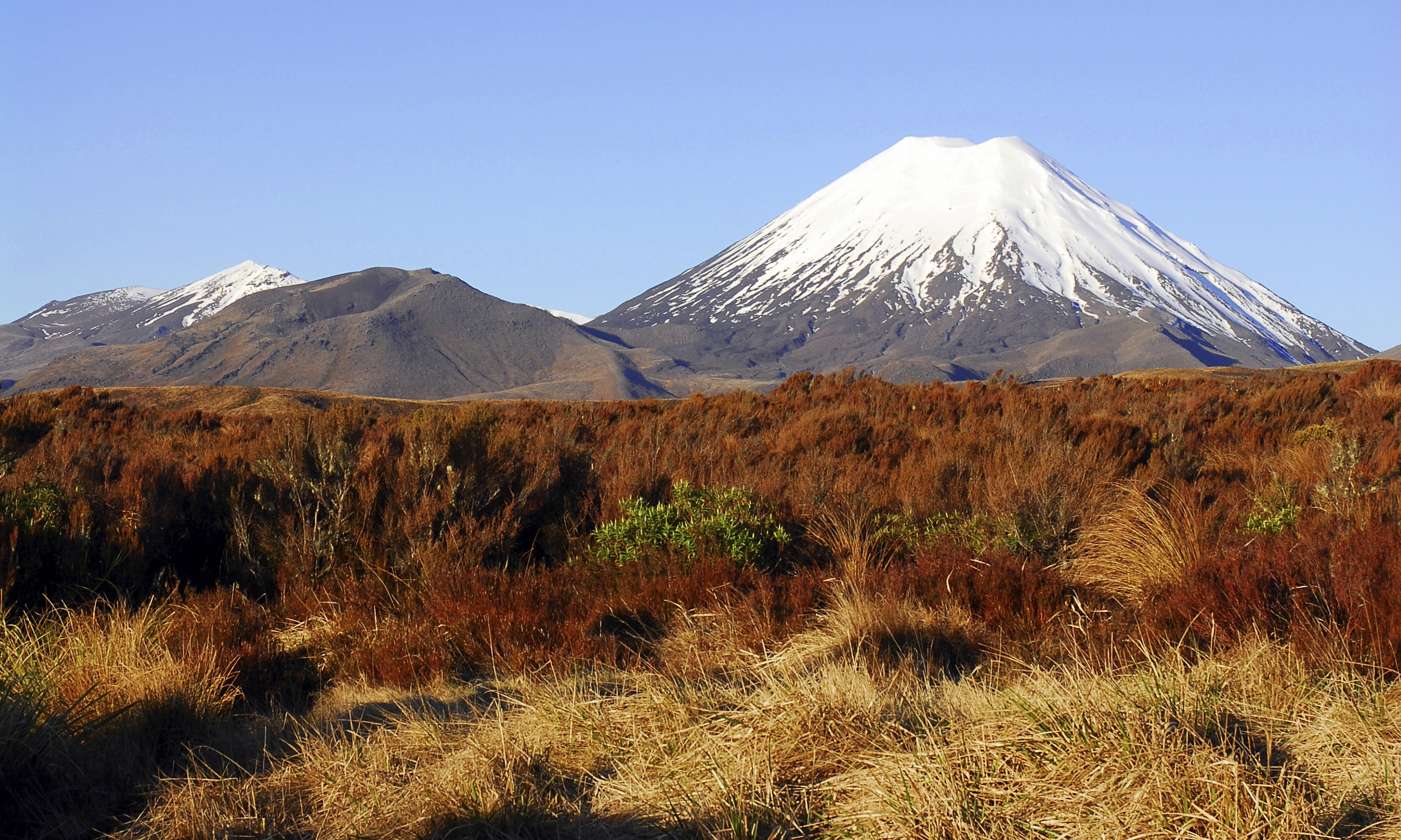 The park comprises three mountain peaks which rise from a plateau. You will feel the air become colder, and the environment more alpine, as you climb on State Highway 47. Mount Tongariro, Mount Ngauruhoe and Mount Ruapehu are an impressive sight from the road, and an other-worldly environment up close. The Emerald Lakes on Tongariro are a particularly incredible sight, accessible via the Tongariro Crossing which is a day-long hike. There are two ski slopes on Mount Ruapehu, and you might enjoy the many short walking tracks in the area. The village of Whakapapa, home to the stunning Chateau Tongariro, is a good place to start for those seeking information, maps and advice.

If you see something that looks suspiciously like Mount Doom, don't fall for it. We promise that Mount Ngauruhoe is a real mountain that was only acting as a fiery volcano.
Whanganui lies at the southern end of State Highway 4, on the banks of the river by the same name. Here you can enjoy the art and history of one of New Zealand's first settlements. The river is a significant part of local history - the longest navigable river in the country and a vital vein of transport and communication for both Maori tribes and early European settlers.
Day 5: Whanganui to Wellington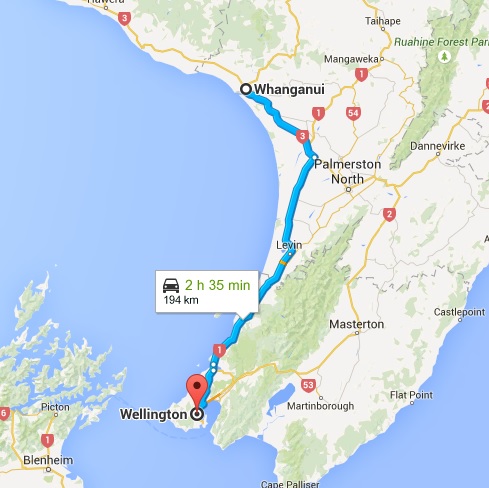 After a night spent in Whanganui, hit the road bright and early to make your way through Manawatu farmland and down the west coast towards the bottom of the North Island. The highway hugs the coast for several kilometres after Paekakariki, affording some great views of Cook Strait and Kapiti Island.

Less than three hours of driving will see you in Wellington, where suburbs climb the hills overlooking Wellington Harbour. Much smaller than Auckland, the city was once named by Lonely Planet as the "coolest little capital in the world." It is not only the seat of government but considered the arts, culture and culinary capital too. Spend the day in explorations, with a ride up the cable car to the Botanic Garden, a visit to the national museum (Te Papa), and a stroll along the waterfront at Oriental Bay. This is the place to splurge on a bit of fine dining and to try a local craft beer.

Day 6: Across Cook Strait to Collingwood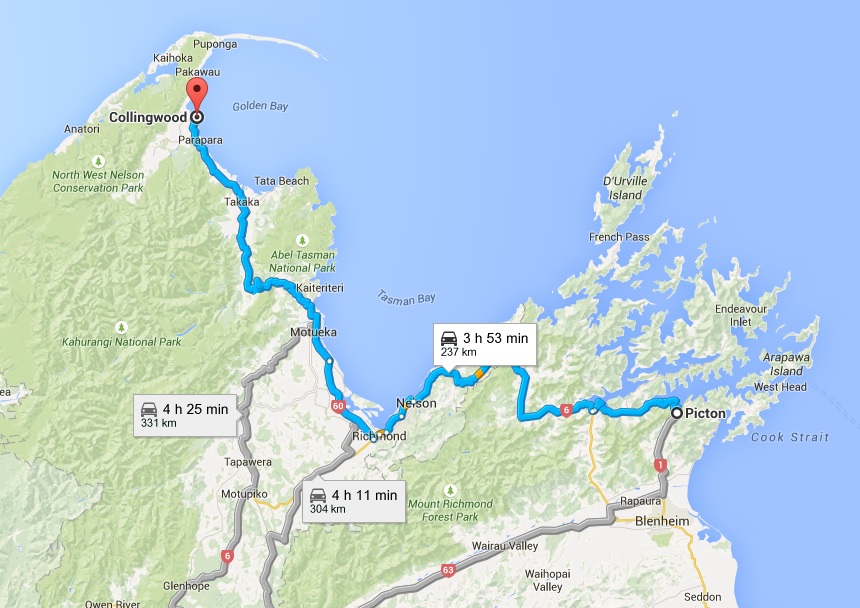 The Interislander car ferry, which will take you on the next portion of your journey, departs from downtown Wellington and will have you in Picton in three hours. It is visually a very pleasant trip, particularly when you get into the Marlborough Sounds which are a network of drowned valleys to rival the fjords of the Northern Hemisphere.
Enter triumphantly into the alleged South Island, a destination which graces many a road trip bucket list.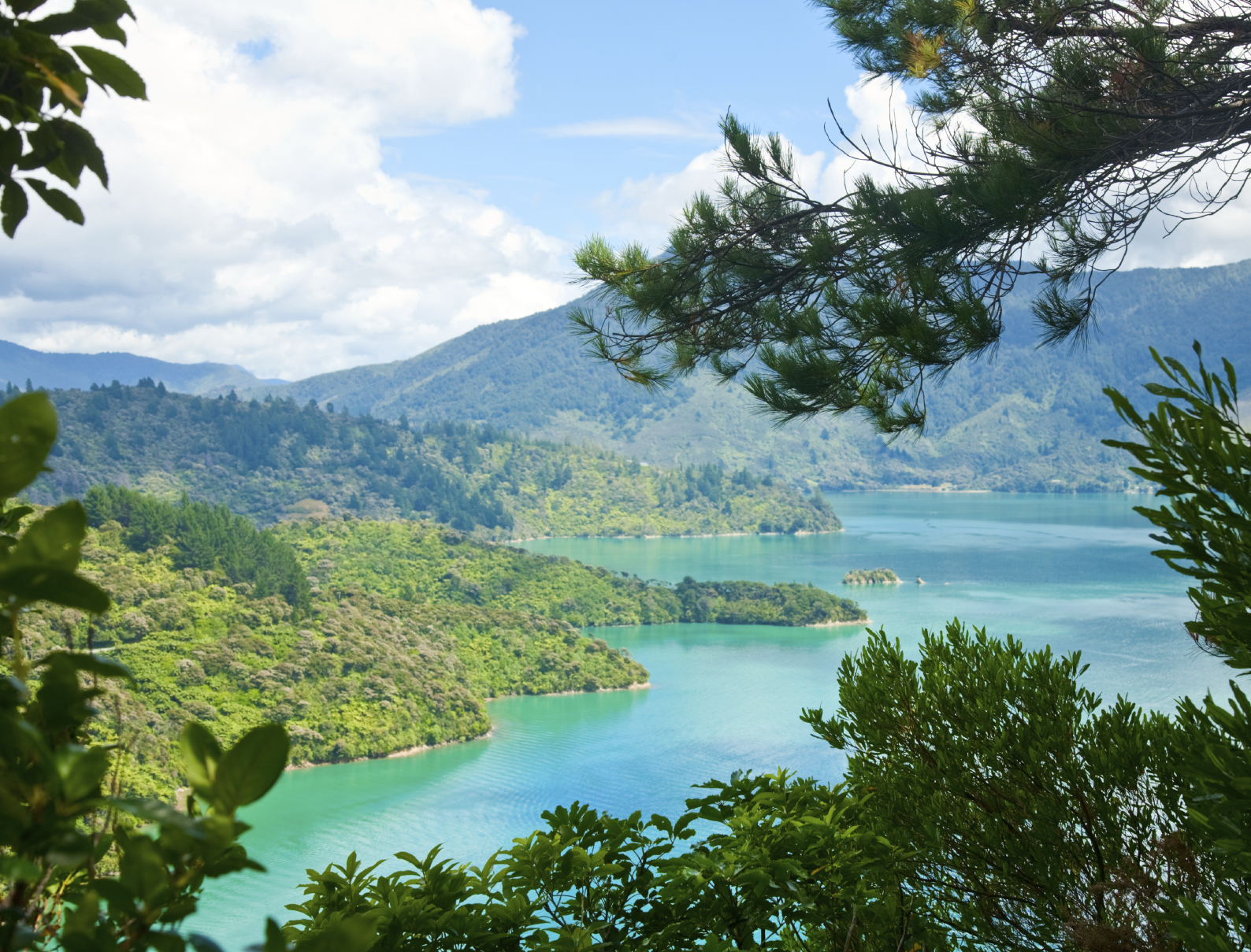 Picton lies at the head of the Queen Charlotte Sound, a charming little storybook town with a front-row seat to the big boats which come and go regularly. From there, buckle yourselves in for a circuitous but incredibly scenic drive west along Queen Charlotte Drive. Don't forget to stop every now and then to enjoy the views, and to take the photos you might need as proof that they exist.

After the Sounds, only the sunny city of Nelson and a the big Takaka Hill lie between you and Golden Bay, a paradise for lovers of nature and art. Along the way you might stop and visit the Abel Tasman National Park, a coastal gem with golden sand beaches and emerald-green native bush. Hiking and kayaking are popular ways to get around there, and there are multiple tour companies who can provide equipment and guidance for an Abel Tasman adventure.

Follow the curve of Golden Bay past the many small, mellow towns to Collingwood at the western terminus of State Highway 60. This is your chance to experience small-town New Zealand life for an evening - pick up some fish and chips to enjoy on the beach, and pop in to the pub for a beer later on. It is also a good base for outdoor recreation activities in the area, and a short drive to the bird sanctuary on Farewell Spit.



Day 7: Collingwood to Greymouth via Nelson Lakes and Punakaiki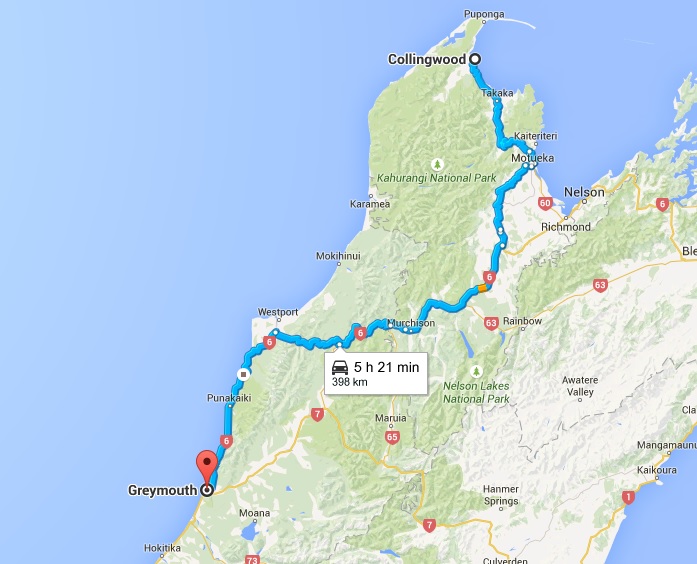 Head back over Takaka Hill and to Motueka, where you can turn onto the Motueka Valley Highway and then State Highway 6 towards the Nelson Lakes and the West Coast. Drive carefully today, as the trip takes six hours total and traverses the foothills of the Southern Alps.

The Nelson Lakes National Park is a beautiful alpine landscape with a myriad of walking tracks which range from long hikes to lakeside rambles. It's a good idea to take a detour to St. Arnaud, which is the base for activities and information in the Park.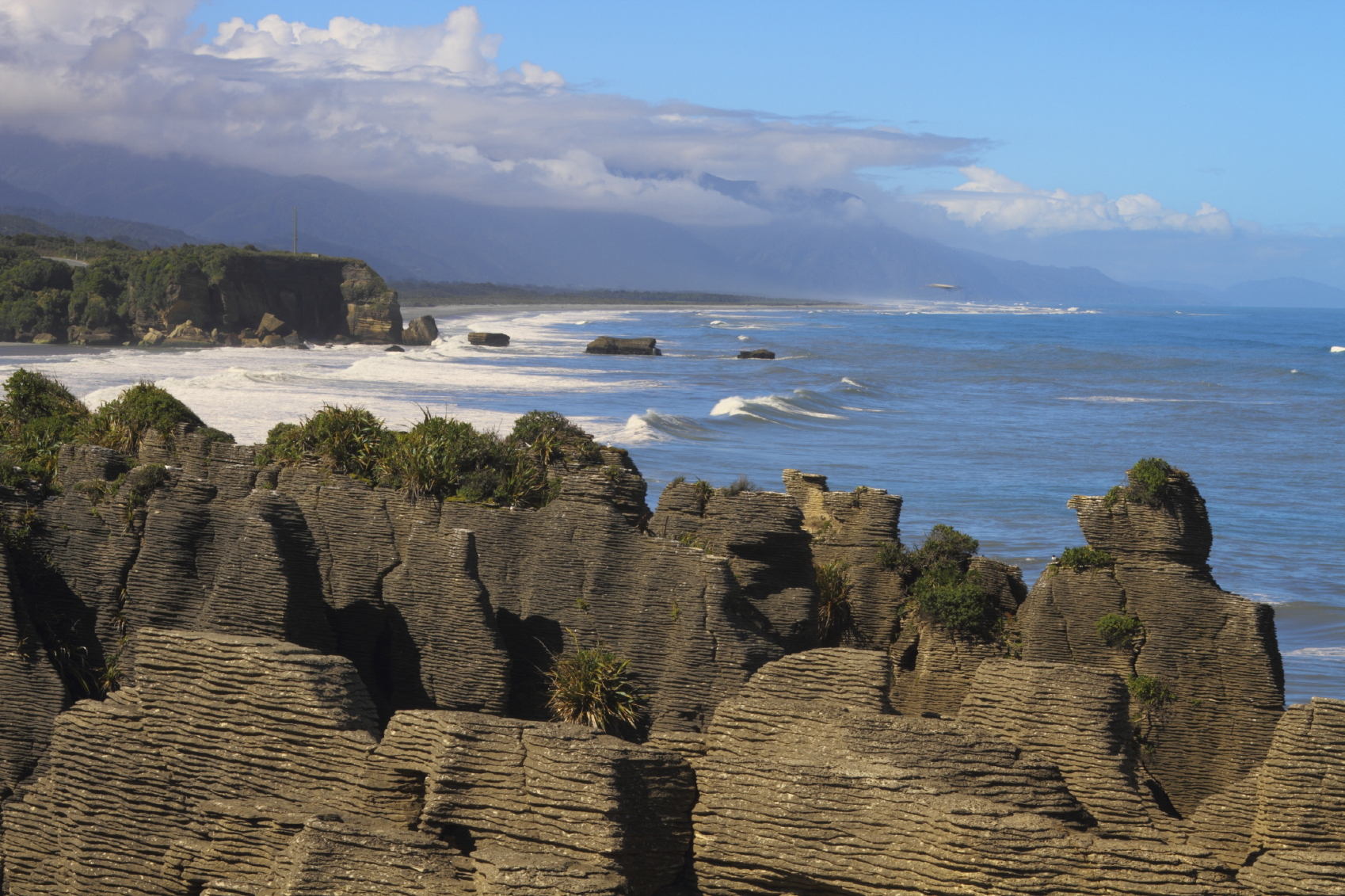 Once past the Lakes, continue on State Highway 6 to the wild west coast, a place of desolate beauty and minimal civilisation. Punakaiki is a natural pitstop on your journey, home to the intriguing Pancake Rocks formation. This is another part of New Zealand which looks suspiciously like it has been digitally enhanced. You'll have to go there and see for yourself. Just park near the Paparoa National Park i-Site Visitor Centre and walk the 20-minute loop to the rocks.

Greymouth is a former gold mining boomtown, now a handy place for travellers to rest their weary heads. It is also home to one of New Zealand's oldest brewing companies, Monteith's, a fine place for a pint and a hearty meal. Make sure you park up for the night before you hit the town!



Day 8: Greymouth to Christchurch via Arthur's Pass

Once out of Greymouth, turn onto State Highway 73 at Kumara Junction and head for the hills. The Southern Alps stands between you and Christchurch, but don't worry - you are on one of the three roads which passes over the great divide. It follows the valley of the braided Taramakau River as far as possible, turning at the Otira River to begin the climb.

Arthur's Pass is the name of a mountain pass, a national park and also an alpine village which is one of the highest settlements on the country. We recommend you stop and stretch your legs on the Arthur's Pass Walking Track, which showcases the best of the area in a short hike of one to one and a half hours return. See the Bridal Veil Falls, alpine shrubland, beech forest and some spectacular mountain views with your own eyes, to make very sure that this is a real place and not just something they dreamed up for the postcards.

Once across the mountain range, you will enter the Canterbury Plains, its flat landscape a stark contrast. Enjoy the easy drive through patchwork farmland towards Christchurch, on the shores of Pegasus Bay. A mythical winged horse for a mythical city? You'll soon find out.

Christchurch was considered the most English of New Zealand's urban centres, but the peaceful city on the Avon River was shaken to the core in 2010 and 2011 by a series of devastating earthquakes. The resilient atmosphere is unmistakeable, as is the innovation displayed in the effort to restore the city centre. A particular highlight is the mall made entirely of shipping containers in the city centre.


Day 9: Christchurch to Tekapo via Timaru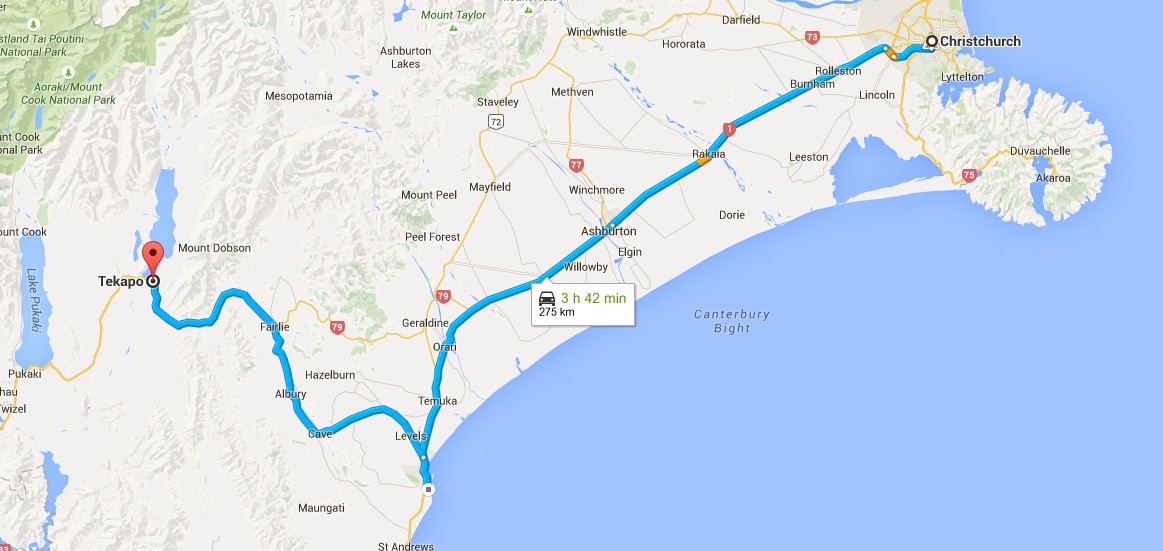 The main drag, also known as State Highway 1, will take you from Christchurch, across the beautiful braided Rakaia River and through the lush Canterbury farmland towards Timaru. The view of the Southern Alps in the distance spices up the drive.

Timaru is a small beachside city (more of a large town really) with a safe swimming beach backed by parkland- a great spot for a picnic. History and architecture buffs might enjoy perusing the Victorian and Edwardian buildings which are constructed in the local volcanic bluestone.

State Highway 8 will take you from Timaru over Burkes Pass and into Mackenzie Country, an intermontane basin with many lakes and braided rivers which is traditionally used for sheep farming. Strangely, some of the best sightseeing here is to be done after dark. It is a centre for astronomy in New Zealand, with dark skies unspoiled by light pollution (Mount John Observatory is the place to go for stargazing). Or perhaps the darkness in close proximity to thousands of sheep is simply New Zealand trying to pull the wool over your eyes? You can come to your own conclusions. Continue on and find a spot for the night.

On the shores of Lake Tekapo is the town of Tekapo. The town itself is a relatively normal cute tourist town, augmented by a charming lakeside stone church . However, raise your gaze a little and you will see what attracts so many visitors to the place. The backdrop of blue lake, green hills and snowcapped mountains looks like it is painted on. How suspicious.


Day 10: Tekapo to Queenstown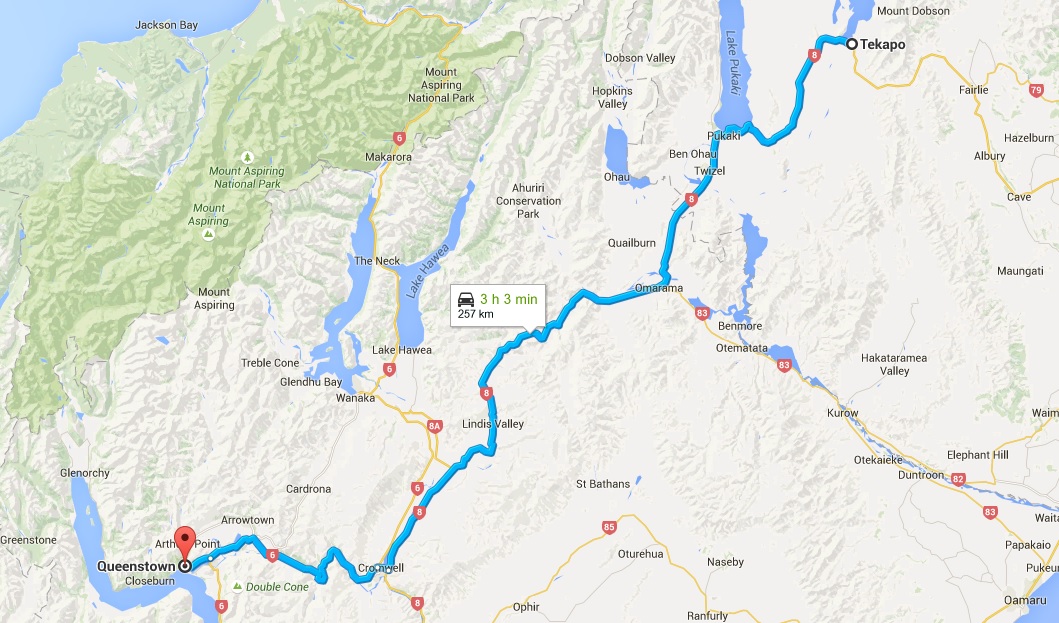 Prepare yourselves today for more than three hours of driving through some spectacular scenery. However, you might have to suspend your disbelief just for a second if you pass Lake Pukaki on a sunny day - there's a good chance it's just a mirage. Real lakes don't tend to come in that stunning shade of pale turquoise, that's for sure.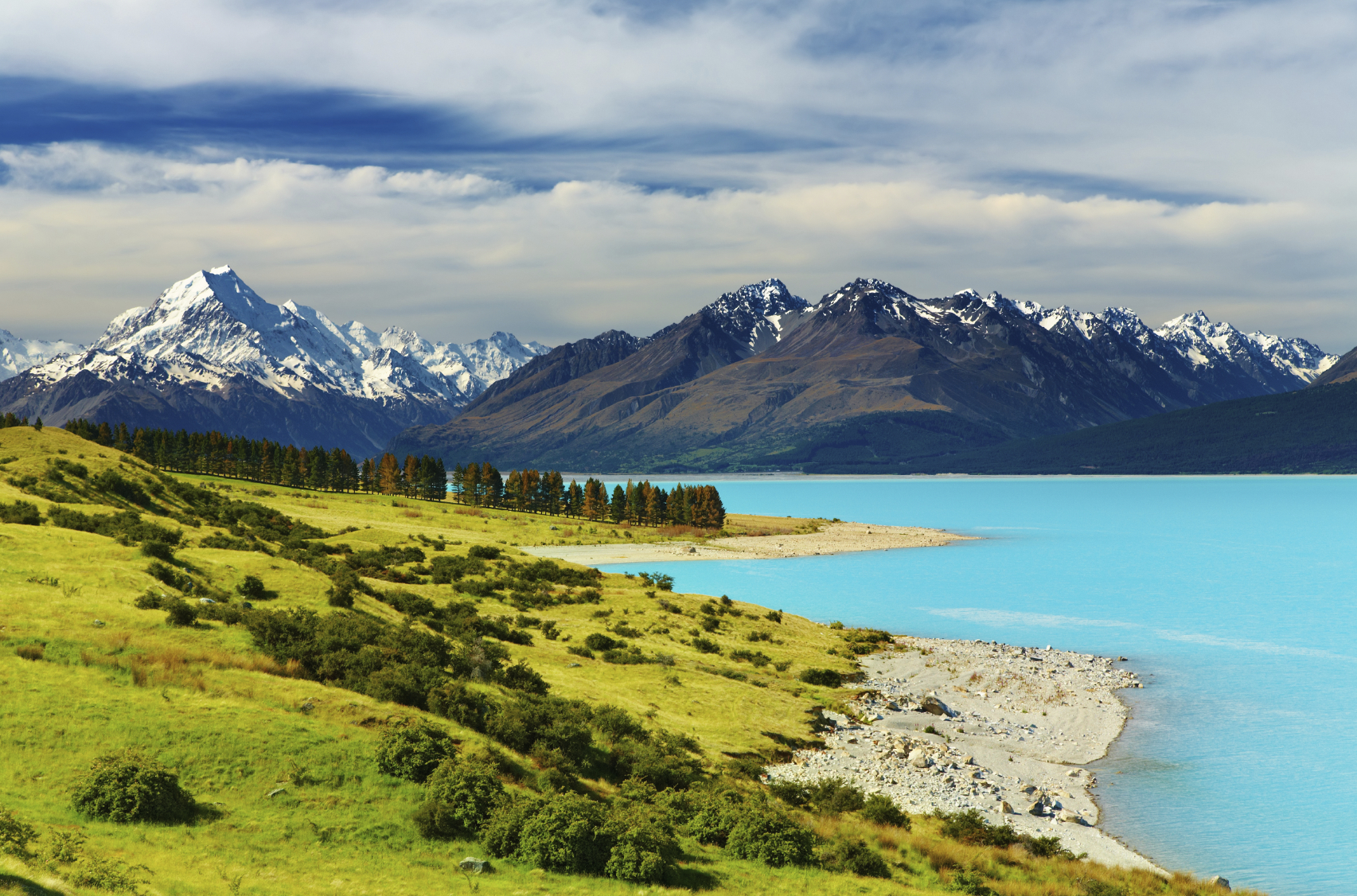 Continue through the Mackenzie Basin, which bloom with wild lupins in the late spring and early summer, through Twizel and Omarama, and into the steep country of the Lindis Pass. The grass-covered hills give way to trees in the Lindis Valley, and before you know it you are driving alongside Lake Dunstan, a man-made lake created by the Clyde Dam. This is orchard country. If you are travelling in the summertime you are likely to stuff yourself with cherries and apricots, and it will be glorious.

At Cromwell, turn off onto State Highway 6 and make your way through the Kawarau Gorge to Queenstown. The 40-minute drive is a stunning one, with the steep cliffs of the river gorge on one side and rolling hills on the other. If you have the time and inclination, call in to one of the wineries along the route, or the famous Roaring Meg power station.

Queenstown is your final destination - but the fun doesn't end here! It isn't known as Adventure Capital of the World for nothing, and Queenstown's inhabitants are more than willing to throw you off a bridge, out of a plane or down a mountain (with the appropriate means of slowing your descent where necessary) to distract you from the dubious nature of New Zealand's status as a Real Place. There are also more low-key pastimes for those who prefer them. Consider a cruise on the gorgeous Lake Wakatipu aboard the TSS Earnslaw steamship, more visits to the aforementioned wineries, a gondola ride up the hill for a view over the town, lake and mountains, or a meal in one of the many great restaurants.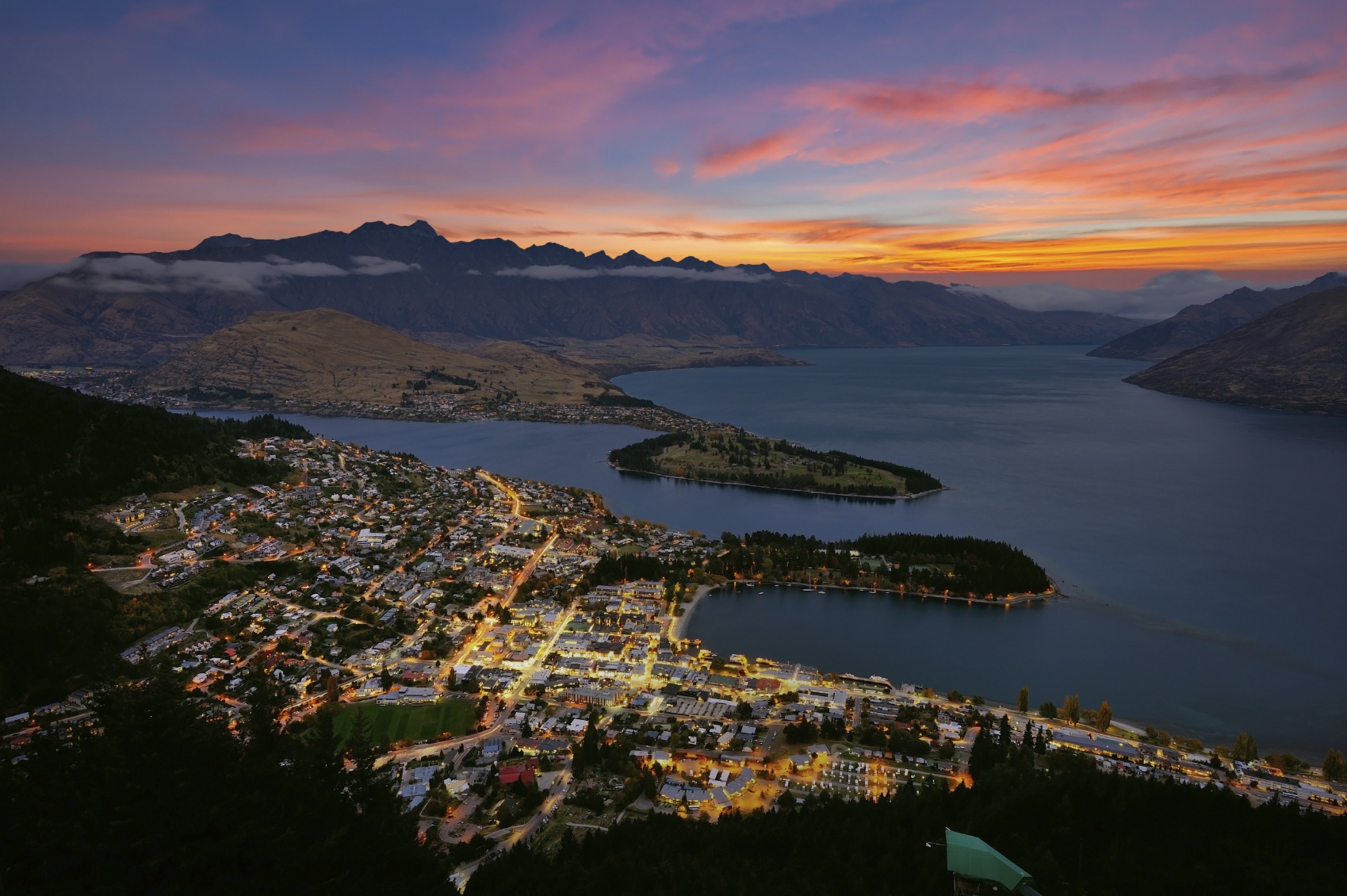 Your journey of discovery needn't be limited to our itinerary- you might also need to determine the veracity of the beaches that lie to the north of Auckland, the vast vineyards of Hawke's Bay, the Fox and Franz Josef glaciers on the west coast, stunning Milford Sound and Aoraki, the country's highest peak. A New Zealand motorhome hire from Motorhome Republic means that the power is in your hands, and you have the freedom to roam where you wish. Make the most of your NZ road trip by motorhome, and safe travels. Don't forget to look out for hobbits.

---
I love travelling, and a motorhome is such a great way to get around and get up close and personal with a new country or city. My top motorhome memory is driving a small sleepervan through the highlands of Scotland- a stunning nation and one of my favourite spots on earth! I hope to help you plan your next road trip with handy tips and information. Happy motoring!
I love travelling, and a motorhome is such a great way to get around and get up close and personal with a new country or city. My top motorhome memory is driving a small sleepervan through the highlands of Scotland- a stunning nation and one of my favourite spots on earth! I hope to help you plan your next road trip with handy tips and information. Happy motoring!
---
---