Enjoy Welcoming RV Friendly Towns In Australia
In Australia, one of the best aspects of a campervan holiday is stopping off in towns along the route of your itinerary. This is where you get to see the true face of the country and get to know the landscape and the people.
That's where The RV Friendly Town™ programme comes in. Towns all across Australia are stepping up their motorhome game to ensure that they're welcoming and supportive of campervan visitors.
So what exactly is The RV Friendly Town™ programme?
The RV Friendly Town™ programme is run by The Campervan and Motorhome Club of Australia (CMCA). The club is an initiative aimed at ensuring that RV holidaymakers have multiple options when it comes to accommodation, suitable rest stop facilities along the way and good access to national parks.
How does a community go about gaining the title of RV Friendly Town? They'll get stamp of approval and a great 'RV Friendly Town' sign when they adhere to certain criteria.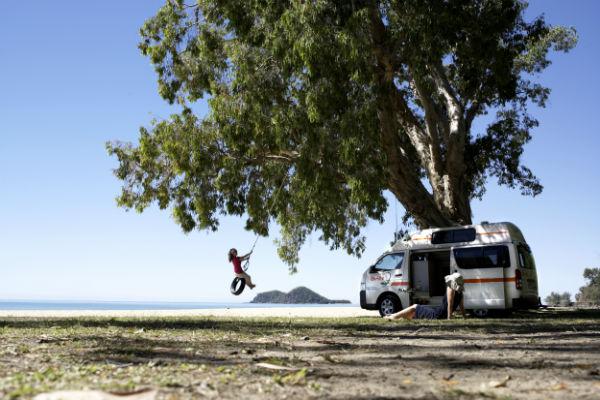 The essentials
RV Friendly Towns absolutely must comply with the following:
Parking in the centre of town must be available for even the largest of motorhomes, with access to produce shops to stock up their RV fridges.

Low cost, short term parking needs to be provided for self-contained vehicles, and must be as close to the CBD as it can be.

Motorhome users must have access to water, and a free dump point.
The desirables
Preferred but non-essential RV Friendly Town criteria is as follows:
Long-term parking for campervans which are self-contained.

Easy access to medical and emergency services, as well as pharmacy facilities.

An Information Centre (with appropriate parking available) that provides a helpful map of the town with clearly labelled campervan facilities.

The RV Friendly Town™ sign is placed within the town
RV Friendly Towns in Australia
Across Australia there are already hundreds of RV Friendly Towns in every state, and with more being added on a regular basis, the entire country is getting behind this brilliant initiative. There has never been a better time to hire a motorhome and road trip around this expansive country.
Image: Don Pugh
Recent additions to the ever-growing list
Branxton, New South Wales
Branxton, NSW has checked all the boxes to be called an RV Friendly Town. If you're heading inland from Newcastle, or north from Sydney, Branxton is a great stop. There is a short term 72-hour parking area for RVs, and access to rubbish bins and toilets. Nearby you'll find a source of drinking water and the all-important dump point.
Nhill, Victoria
Halfway between Melbourne and Adelaide, Nhill is a great pause-point for travellers road tripping the coast. Enjoy its self-contained vehicles car park for free, and spend up to 96 hours there. Toilets and rubbish bins are both available, and if your dog is on a leash, pets are welcome.
Geraldton, Western Australia
The addition of Geraldton to The RV Friendly Town™ list is great for travellers exploring WA, especially if you're heading along the coastal route north from Perth. You can find short term 24-hour parking, and both drinking water and a dump point are nearby.
Wondai, Queensland
Wondai, Queensland provides free 48 hour parking, and all the essential amenities. If you're going to be in the area for longer, $15 per night parking is available.
It's great news for motorhome travellers, so if you've been thinking about road tripping through Australia, there's no better time! Book a campervan with Motorhome Republic today.
---
---