Planning a road trip is no simple task. Drawing a line across a map is easy enough but as they say, the devil is in the details. If you've never travelled a route before, there will inevitably be a whole world of hidden opportunities along the way which you're in danger of missing out on - unless you have a trusty guide. Enter your very own road trip planner: Motorhome Republic's new itinerary series! With a great range of iconic trips at your fingertips and more being added all the time, these itineraries can serve as the ideal companion to your trip of a lifetime. Of course, one of the wonderful things about motorhome holidays is the flexibility they afford, so each of these travel itineraries can serve as a launching point for your own personalised route. Detour, mix and match, strike out for the unknown - how you travel is up to you; our itineraries merely open the door for your own creative road trip planning! Read on to find out a little more about this new free travel resource.
Planning your trip
You've probably planned a road trip or two in your day so you know how it works, but there's no need to do all the legwork if you don't want to. Motorhome Republic's new itineraries do all the boring stuff for you, like calculating how long it will take to get from place to place, figuring out what kind of supplies you're likely to need and giving you an estimate of how many days it will take to complete the whole trip.

Now that part's out of the way, it's time for the fun bits. Every leg of the journey has a few stand out features or attractions which will be highlighted at the top of the leg just to give you a taste of what's in store. If you're curious to learn more about any of them, you can click on the picture to get a little more info - though if you really want to get the in-depth story, it's as easy as clicking "Read More" on the relevant leg.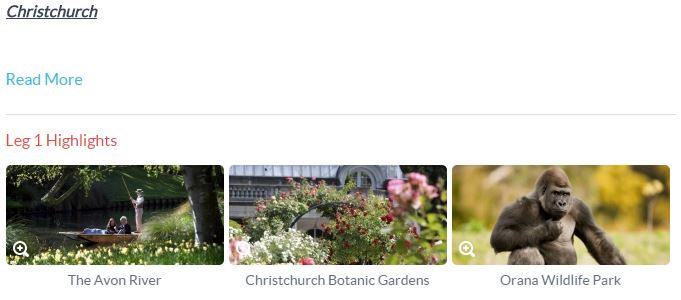 As you go along, you may find attractions that you'd like to learn even more about - perhaps you're curious about opening hours, or the exact address. Chances are, you'll be able to find a link to the official website in the leg's Helpful Links section. This gives you the freedom to decide for yourself whether this is something that you want to include in your road trip.

Worldwide options
At the time this article was published, Motorhome Republic is offering itineraries based in the United States, Canada, the United Kingdom, Australia and New Zealand. The imposing mountains of Banff National Park, the sparkling desert oasis of Las Vegas, the unsurpassed scenic beauty of New Zealand's South Island - these are just a small handful of the locations you can explore through a Motorhome Republic road trip planner. And this only the beginning. We have big plans for these itineraries. Not only are additional itineraries in the works for each of these countries, we're also in the process of adding even more countries to the road trip planner fold. Whether you're hunting for a trip through your own (metaphorical) backyard or plan to journey across the seas to distant shores, you're likely to find just the trip for you amongst these these itineraries.

Ultimate convenience
Motorhome Republic's new itineraries are made to be as easily accessible as possible. To make sure that everyone is able to craft the motorhome holiday of their dreams, each of these itineraries can found in its entirety online - absolutely free. Even if you're heading to a place where the internet is a little sketchy (which is entirely possible, given the amount of awesomely remote locations to discover) there's no need to write stuff down or try to remember it all - just download the itinerary to your smart device as a PDF file by clicking the red PDF button and you'll be able to read it there, offline, whenever you want.

Even if you need to send the itinerary to your fellow travellers, it's as simple as clicking the little envelope button to email it - and of course you can also share it via Facebook, Twitter and a couple of other social media outlets.
The team at Motorhome Republic have done their best to create itineraries that are straightforward, informative and easy to use but like with any new feature, it's possible that there are some creases that need to get ironed out. If you have any questions or issues with the itineraries please let us know and we'll get things sorted as quickly as possible.
Otherwise, feel free to explore the many wonderful travel opportunities that are now right at your fingertips.