How to do Queenstown Winter Festival right with a motorhome
Queenstown's annual Winter Festival is a yearly celebration of the arrival of the winter season, and all the glorious scenery and activities it brings. Usually kicking off around the shortest day of the year (June 21), the festivities last for four days, and one of the best ways to experience it all is with a motorhome rental in Queenstown.
Here are your three steps for experiencing New Zealand's biggest winter festival with a campervan rental!
1. Know what's on
The festival is an amalgamation of awesome events and activities occurring all over the city. Your first step is to check out the calendar and pick a bunch of them to attend!
The Monteith's Dog Derby is one of the longest running (and popular) events, where competitors and their pups race down Coronet peak or The Remarkables on foot for a hilarious and adorable run through the early season snow.
The SkyCity Ball is a chance to dress up, while the Old Mout Dodgeball Tournament is a chance to dress down (onesies are common attire).
The Birdman challenge is another popular attraction, where brave competitors dive into the icy waters of Lake Wakatipu - all in their best costumes, of course.
You can also check out ice hockey matches, suitcase races, a raft race, comedy nights, quiz nights, a free waterfront concert with fireworks, and so much more. Naturally, this popular event brings in the crowds, which fills up the local accommodation options in a heartbeat. That's why a motorhome rental is your best bet for securing a place to stay and helping you get around all the attractions you've got your eye on.
Of course, ski bunnies can also get up into the mountains for some of their first runs of the year - after all, it is all about the snow. Coronet Peak, The Remarkables, and Cardrona are all nearby, and you can easily jump in a shuttle to get you there (motorhomes are not usually compatible with the gravel access roads). If it's fresh lines and unbeatable mountain views you're after, the heli-skiing opportunities in Queenstown are world-renowned.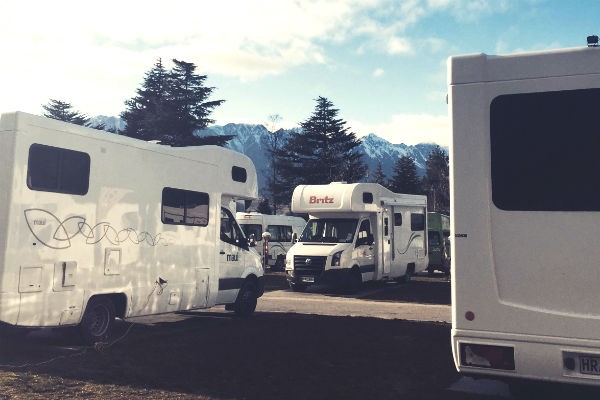 2. Book your Queenstown campervan park
A spot in a Queenstown campground will give you a place to park, a power connection, and a number of facilities such as WiFi, BBQ areas, communal kitchens and bathrooms, and even playgrounds for the kids.
You can expect to pay NZD$30-50 for a powered site per night, or less if you just need a place to park without the electrical hookup. Check out a few of the options below to find a place that might work for you:
3. Get out of Queenstown
One of the main benefits of staying in a motorhome is that it's incredibly easy to pack up and visit somewhere new anytime you like. Queenstown, as New Zealand's adventure capital and one of the most stunning cities in the world, is the ideal place for starting campervan adventures.
Arrowtown, an historic gold mining town, is just half an hour from Queenstown, and is a gorgeous spot to try your hand at gold panning and take a wintry stroll. Glenorchy and Wanaka are both just an hour away and offer some incredible South Island scenery, or you can explore Central Otago within a couple of hours of driving.
Don't forget, you can always pick up a campervan in Queenstown, check out the Winter Fest, then take a road trip and drop off the motorhome somewhere else.
Check out a few of our carefully crafted New Zealand itineraries for inspiration:
---
---