The Glastonbury Festival is arguably among the very best music festivals in the world, attracting many campervan travellers over the years who have had the luxury of coming back to a sheltered haven at the end of a long, amazing and often extremely wet and muddy day, but of course Glastonbury wasn't always the darling of the music festival circuit. This festival has had an extremely colourful history, from its humble roots in the 70's right through to the current decade. Despite the event's popularity, there are a handful of little-known Glastonbury tidbits that provide a fascinating insight into the history and evolution of this fest and are essential trivia for anyone planning a road trip to Glastonbury 2016, or are just curious to discover more about this world leading entertainment event.
1. In its very first incarnation in 1970, the fest was called Pilton Pop, Blues and Folk Festival and held at Worthy Farm, near Pilton in Somerset. The event came about as a result of organiser Michael Eavis being inspired by a Led Zeppelin-headlined open-air concert at nearby Bath. Held the day after Jimi Hendrix died, it cost just one pound to attend the 1970 Pilton Festival, which even accounting for inflation (about £13.95) seems like a mere pittance to modern festival-goers. This bargain even included free milk!

2. Since the 1980's, the Glastonbury Festival has been held on a regular, annual basis, barring what are known as 'fallow years'. These years, in which no festival takes place, provide a rest year for the organisers, the community, and the land itself. These fallow years usually take place every 5 years, although there have been some exceptions, such as when one was shifted from 2011 to 2012 in order to avoid clashing with the London Olympics.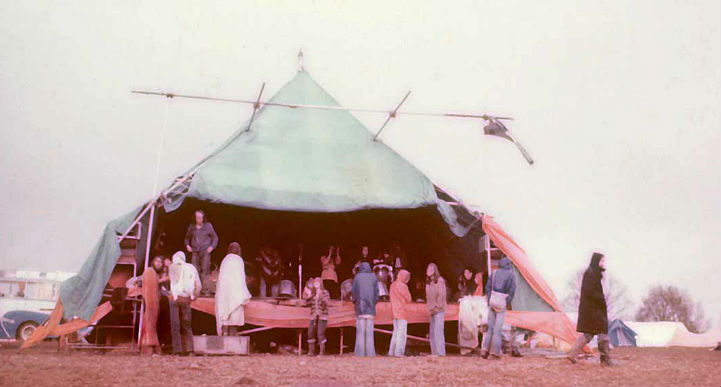 3. There was no festival planned for 1978, but it turns out that this minor detail wasn't enough to deter keen music fans. When a convoy of vehicles from the Stonehenge Festival was mistakenly directed toward Worthy Farm, it resulted in a small unplanned event on a makeshift stage. Previous to this, there had been no festival at Worthy Farm since 1971, but after this display of enthusiasm and dedication, the Glastonbury Fayre (as it was known at the time) was revived in 1979.

4. Like any large-scale event, the Glastonbury Festival has had to contend with crowd control and petty crime, but serious threats to the artists themselves have thankfully been rare. One exception to this took place in 1989. Friday night's headline performer Suzanne Vega and her bassist had received death threats but rather than refusing to take the stage, she instead chose to don a bulletproof vest and continue with her performance, which went without a hitch.

5. The 1990 Glastonbury Festival was marred somewhat by a clash between security staff and New Age travellers, a group who had traditionally been welcome at Glastonbury. After one drunk traveller who had been destroying the site was tackled by security, other travellers retaliated with a range of homemade weaponry. Security, for their part, responded with petrol bombs. The unfortunate incident has come to be known The Battle of Yeoman's Bridge, and the 1991 event was consequently called off to give organisers time to rethink the festival.

6. Gatecrashing was an unofficial (and unwelcome) tradition at the Glastonbury Festival for many years. While some felt this added to the 'free spirit' of the event, it also contributed to overcrowding and crime. To combat this, in 2002 a large steel fence was constructed to restrict attendance to the 140,000 people who had paid admission. While some criticised the change this brought about due to the smaller crowd size, many praised Glastonbury 2002 for its relaxed atmosphere and sharp drop in crime.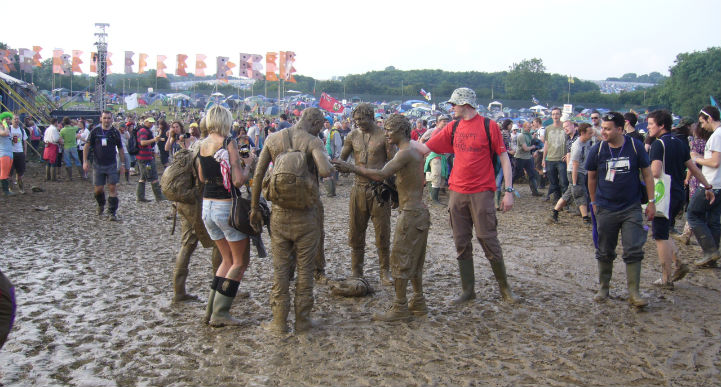 7. While festival goers are treated to hot, dry years on occasion, many Glastonbury Festival events are held during markedly less clement weather, leading to Worthy Farm becoming a massive mud pit. While this (almost expected) development never seems to dampen the enthusiasm of the music fans in attendance, it does mean that Wellington boots (also known as 'wellies', 'rainboots' or 'gumboots') are an essential part of festival attire. Hundreds of pairs of Wellington boots were left behind after Glastonbury 2015, which the organisers decided to donate to the migrant camp in Calais, a muddy encampment where asylum seekers are waiting for admittance to the United Kingdom.
Although tickets for Glastonbury 2016 have now sold out, it's highly likely that there will be a resale of cancelled or returned tickets, so keep a sharp eye on the official Glastonbury Festival website, or be super proactive and start planning your Glastonbury 2017 experience. One huge plus to planning ahead is the fact that you'll have a good chance to nab one of the coveted campervan tickets. This means you won't have to rough it in a tent, but instead can make the sub-three hour journey from London to Worthy Farm and live the life of motorhome luxury, escaping the capricious English weather to stay warm and dry (with the option of your very own toilet and shower!), while enjoying one of the greatest festival experiences on earth.