Motorhome rental holidays: A place to park
Planning a motorhome trip is a great way to explore any country, taking care of the two biggest needs for travellers- transport and a place to sleep. Unfortunately it won't cook your meals for you too, you'll need a cruise ship for that, but many of them do have a kitchen where you can prepare something to eat.
Once you have decided on a motorhome marathon, a campervan campaign or an RV ramble for your next holiday, your thoughts will turn to where you are going to park for the night as you make your way around the place.
In an attempt to confuse travellers, different countries have a range of different names for campgrounds. To add to the confusion, they do not all offer the same facilities- beyond a place to park a vehicle or pitch a tent, there is no consistency in what you can expect from the various categories of camping places across the globe. Don't get caught out - here's our guide to campgrounds worldwide.. or is that holiday parks? Campings? Caravan Club sites? RV resorts?
The U.S offers a wide range of camping experiences, from basic sites in wild locations to luxury RV resorts.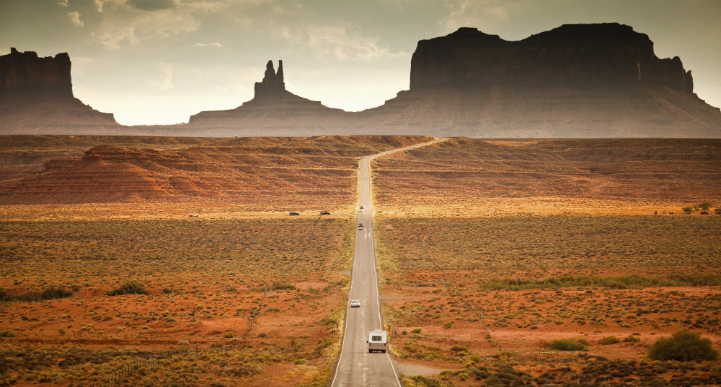 Campsites in the U.S. generally mean a basic camping ground for tents and (usually) RVs. They are often run by local or federal government, and are located in public places like state parks, recreation areas and national parks. Costs vary depending on the facilities - national park campsites are usually the nicest and most expensive, while others may just have running water and a picnic table. This word may also refer to a privately-owned campground in a similar style to a national park or state park campsite.
KOA stands for Kampgrounds of America. This chain of commercial campsites is a step up from most public campgrounds, and offers all kinds of RV sites with full hookups, along with cabins and tent sites. With more than 485 locations throughout the country, there's likely to be one where you want to go, and the KOA name is a guarantee of a decent standard of facilities which can make it easier to decide. There are three different types- Journey, with locations close to highways and pull-through sites which make it easy to come in late and leave early if need be, Holiday, with extra activities and deluxe cabins, and Resort, with patio RV sites, recreation staff, and often facilities like pools or mini golf. All categories have Wi-Fi, a pet park and bathrooms with hot water and showers. Some will have shared kitchen areas. Sites can cost anywhere between $40 and $100 per night depending on location, KOA category and type of site, and are charged by site rather than number of people.
RV Parks are privately owned campsites designed specially for RVs and motorhomes, and are usually well set up with laundry facilities, bathrooms, dump stations for grey and black water, full electrical, sewer and water hookups and more. Of course, available facilities vary between parks. WiFi, swimming pools, TV lounges, playgrounds, and general stores are common extras for RV parks, and there are many extravagant parks out there with restaurants, hot pools, golf courses, gyms and all kinds of luxuries. There is no real way to estimate the cost of an RV park, ranging as they do from simple to luxurious. Some are cost-effective, others will set you back almost as much as a hotel room would - especially if you are travelling alone or with just two of you.

Why not consider an RV Rental from Las Vegas or a San Francisco RV Rental for your US adventure.
The northern neighbour to the U.S., Canada's camping options are quite similar.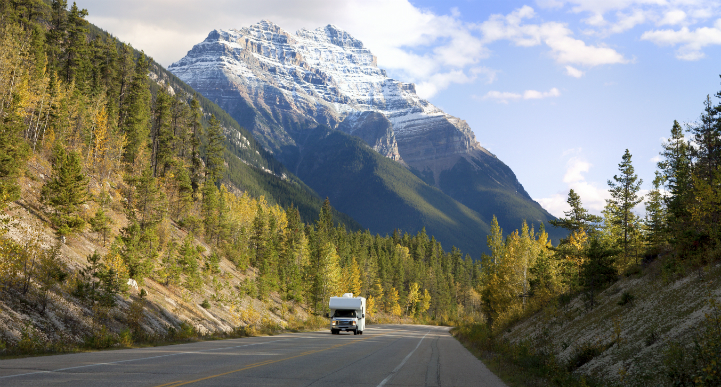 National park campsites offer the traditional camping experience across Canada, with a range of campsite types from serviced ones with RV hookups to unserviced sites with no hookups, mainly used for tent camping. Expect to pay somewhere around $10-$20 per night, and there may be extra fees for park permits. Provincial parks offer similar campsite services, and select campsites in both parks systems are bookable online.
KOA also operates in Canada.
RV Parks are also similar, with a huge range of facilities and creature comforts which make RV travel a breeze. Costs range widely as RV Parks are privately-owned.
Caravans have historically been the mobile home of choice in the UK, and caravan holidays by the seaside are almost part of the national heritage. Nowadays, they have a bit of a staid reputation, but motorhomes and campervans do not - and they are a great way to explore.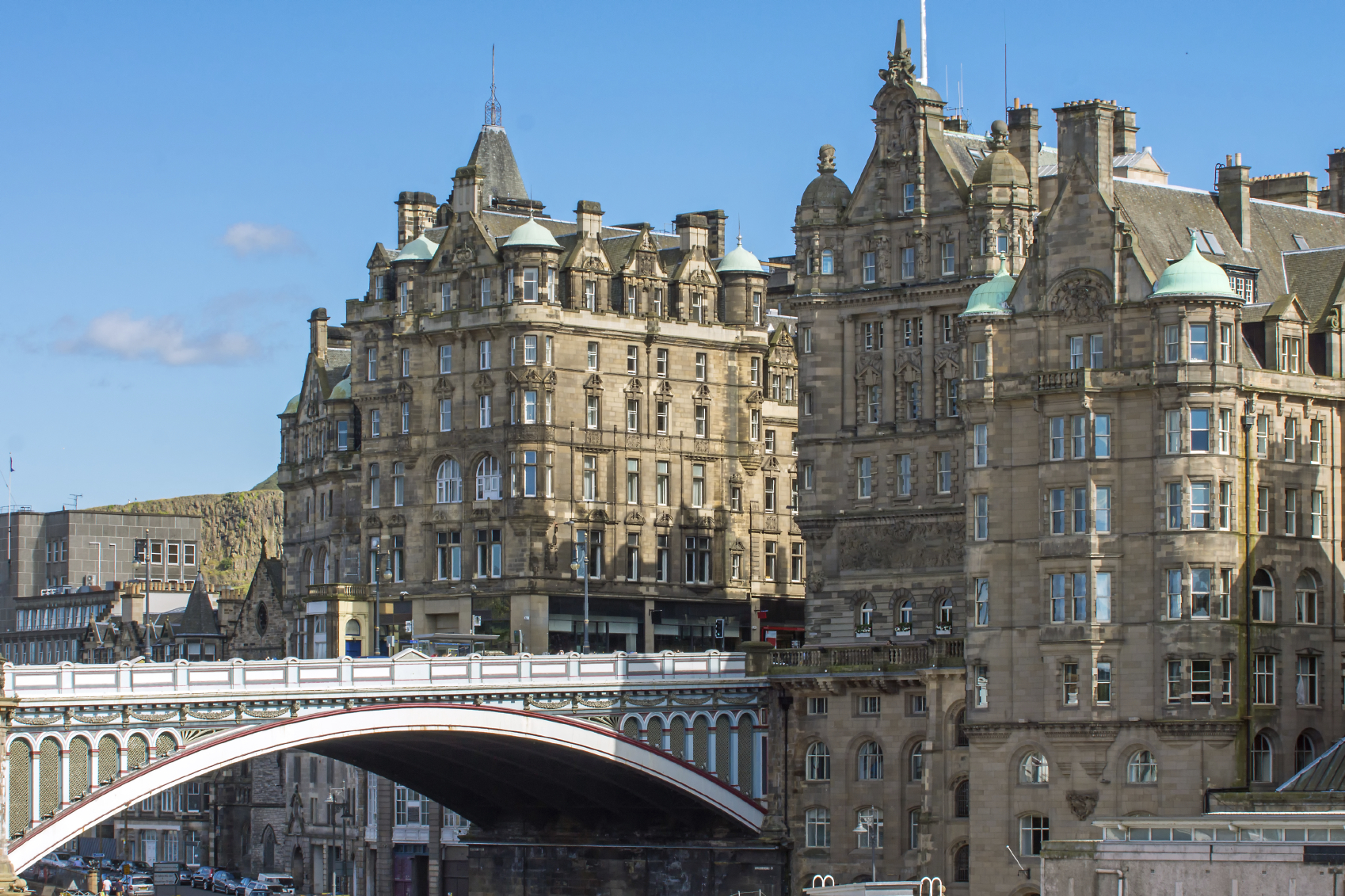 The Caravan Club owns 200 sites across the country which are open to members and non-members, with an additional 2,500 "Certified Locations" which are small private sites for members only. The main sites offer electrical hookups, except on economy pitches, and shared bathroom facilities. They are priced with a pitch fee, usually less than 10 pounds, and a per-person fee, generally slightly cheaper than the pitch fee. Reservations can be made at caravanclub.co.uk.
The Camping and Caravanning Club is a competing club with a similar system and facilities to the Caravan Club. It operates over 100 sites across the UK and many more small members-only sites. They allow tents as well as motorhomes or caravans. Book at campingandcaravanningclub.co.uk.
Holiday Parks, Touring Parks and Caravan Parks are the terms used for privately-owned campgrounds and holiday resorts with motorhome sites and hookups, sometimes tent sites, cabins and often leisure facilities too. They will generally have shared bathrooms and laundries. A few might have shared kitchens or outdoor cooking facilities, but most do not. These can range from simple to extravagant, the equivalent of RV Parks in North America.
Of course, campsites categories and facilities differ between the many countries of continental Europe. However, here are a few tips that should serve you well in the bigger countries on "The Continent."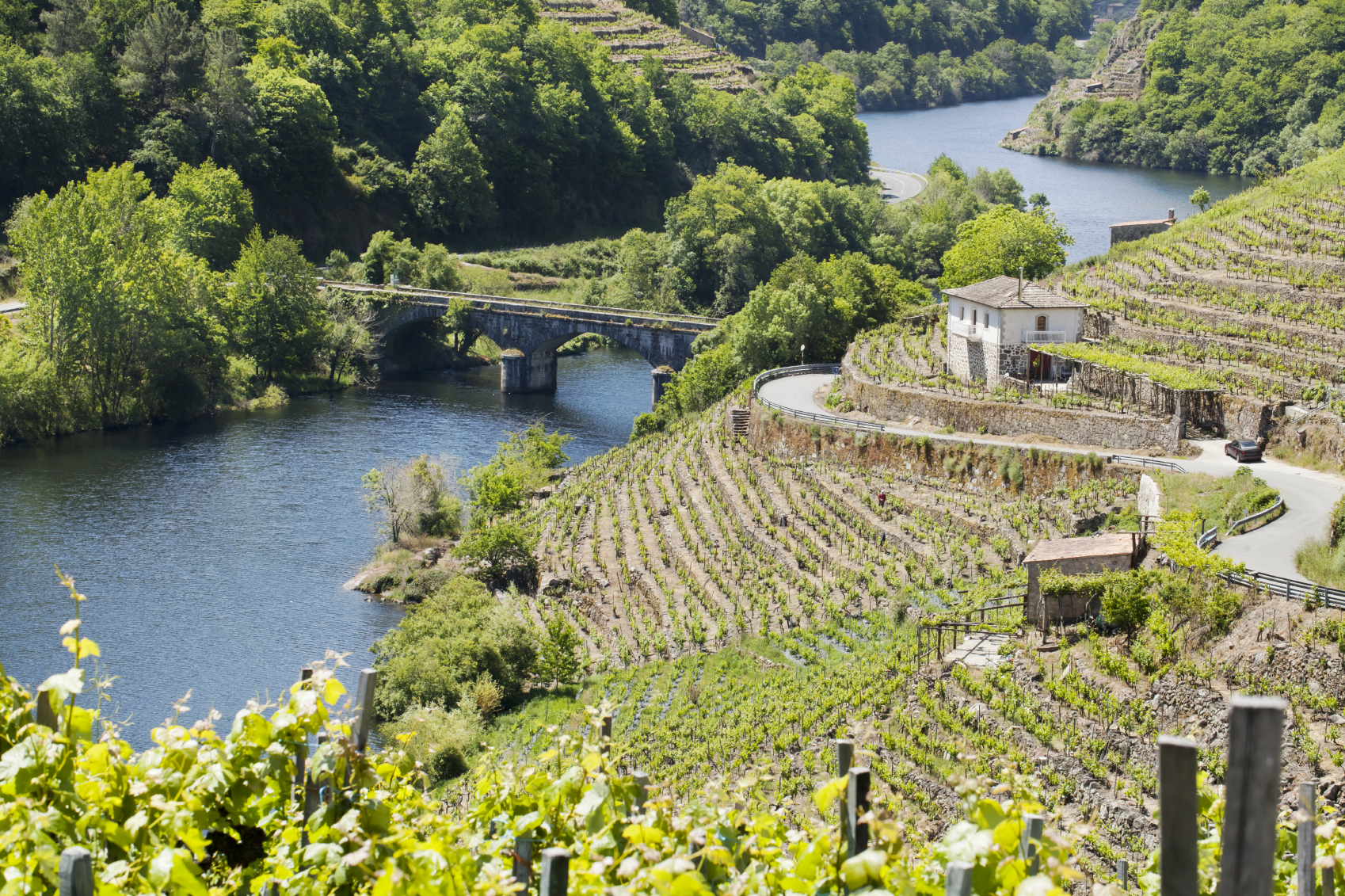 Campings is a term understood across many countries, although there are words used in each language- campingplatz, campeggio and the like. A "camping" is a campsite, but the term could refer to a simple field with water tap or a holiday resort with swimming pool and powered sites - you will have to do your research.
It's almost impossible to generalise what you might expect from a "camping" in Europe. It is interesting to note that they might not fit the view of a traditional campground- you will find them on the outskirts of cities and in many towns rather than in rural and remote areas only. Besides the most basic of sites, you can probably expect some powered sites available and shared bathroom facilities. At the other extreme, the name is also used for extensive holiday resorts in some cases. What you can count on is that a camping is a place where you can park your motorhome for the night!
Eurocampings.eu is a great way to find a site, and all campings on their site are inspected each year by an ASCI specialist to make sure accurate and unbiased information is provided.
Aires (aires de service) are motorhome stopovers found along the highways, in France, the Benelux region, Spain, Portugal and Germany. They may have different names in different places, but "aires" is a general term which is recognised all over. They are often marked with a motorhome logo, and offer dumping stations, water filling, perhaps even some electricity, and a place to park for the night for free. Only self-contained vehicles can use these.
These two countries in the South Pacific are famously great holiday destinations, and their wide open spaces are best explored by road. Motorhomes are widely called campervans in Australia and New Zealand, and they come in all shapes and sizes- with a tendency towards simpler B-Class vans rather than the big RVs favoured in North America.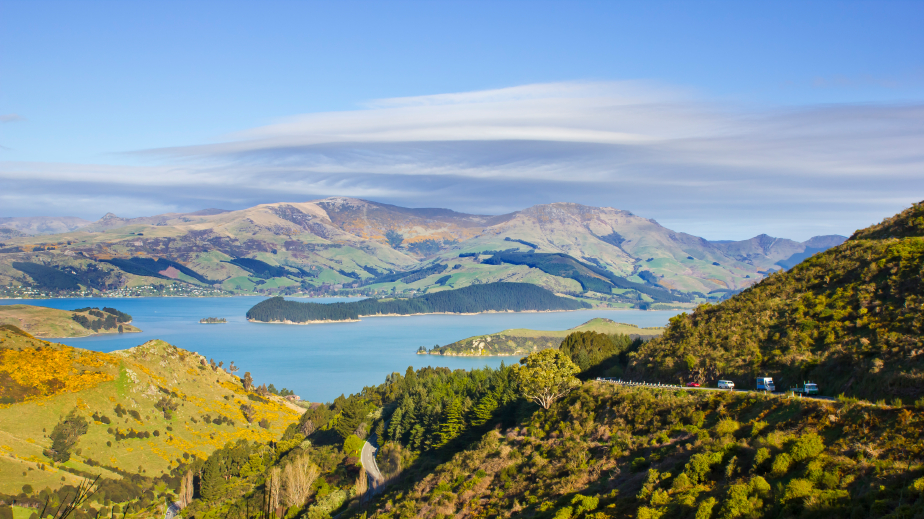 National parks in Australia are administered by Parks Australia or by the individual state governments in Australia. Many of them offer campsites ranging from basic (where you might have to purify your own water) to well-equipped with showers and toilets. You might even find powered sites in some places As such, fees range widely but are usually less than $20 for a site. Booking online is recommended, and each state has its own website and method of payment.
In New Zealand, national parks are all administered by the Department of Conservation which makes it easy to search and book them. The ones accessible by motorhome come in four categories, and can be booked at doc.govt.nz.
Basic Campsites have limited facilities- usually longdrop (pit) toilets and water from a tank, stream or lake. They are free to use.

Standard Campsites will provide longdrop or composting toilets, a water supply and the occasional added extra like cold showers, picnic tables, rubbish bins and BBQs. They incur a fee of $6 per night per adult.

Scenic Campsites are similar to standard ones facility-wise, but are popular and in high-use locations, often near a beach or a natural attraction. The fee is $10 per adult per night.

Serviced Campsites are the Ferrari of national park campsites in New Zealand, with toilets that flush, a kitchen or cooking bench, hot showers, rubbish collection and even the possibility of laundry facilities. Fees are $15 per night per adult.
Holiday parks, sometimes called tourist parks or caravan parks in Australia, are a great way to stay in the countries down under, especially for those in small vans which have a bed and not much else. They are privately owned campsites with a full range of facilities, usually offering cabins as well as tent sites and campervan sites. Some keep it simple, others have everything from games rooms to pools, playgrounds and restaurants. Prices vary accordingly- but a site (even a powered one) is almost always cheaper than motel accommodation
Australian and kiwi holiday parks differ from similar facilities in one notable way - as well as bathroom blocks, they almost all offer cooking facilities, and often full kitchens with fridges, microwaves, cooktops and ovens. This is likely a result of the trend for small and basic sleepervans with no cooking facilities or toilets.
If you are finding it difficult to pick a place, each country has a major chain of parks which can guarantee a standard of quality. Visit Big 4 for Australia holiday parks and Top 10 for New Zealand holiday parks.

Popular choices in Australia include a campervan rental from Melbourne and a Tasmania campervan hire.
Of course, this is not an exhaustive list of places you can camp in each country, but a guide to what you might expect from the various types in various places around the world. Enjoy the freedom that comes with an RV, campervan or motorhome rental, and happy travelling!
---
I love travelling, and a motorhome is such a great way to get around and get up close and personal with a new country or city. My top motorhome memory is driving a small sleepervan through the highlands of Scotland- a stunning nation and one of my favourite spots on earth! I hope to help you plan your next road trip with handy tips and information. Happy motoring!
I love travelling, and a motorhome is such a great way to get around and get up close and personal with a new country or city. My top motorhome memory is driving a small sleepervan through the highlands of Scotland- a stunning nation and one of my favourite spots on earth! I hope to help you plan your next road trip with handy tips and information. Happy motoring!
---
---