Discover the benefits of a New Zealand motorhome winter adventure
It's sometimes called Middle Earth, but there's no reason to walk your way around New Zealand like Frodo - a motorhome tour is considerably more convenient (and comfortable). The two main islands of New Zealand are perfect for a campervan trip, as they're big enough to offer an incredible range of scenery and experiences, but just small enough to tour by road. It's pretty much the Goldilocks 'just right' version of motorhome touring.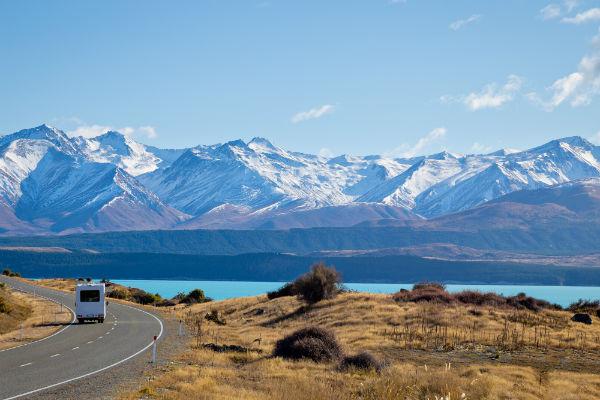 Why do a campervan road trip in winter?
New Zealand redefines winter. Instead of the bitter, frozen chills that shut down cities and offer a mere few hours of sunlight per day in some places, our winters are reasonably mild, often sunny, and always downright enjoyable.
Your experience will largely be determined by your itinerary, as even though it is a small country, the difference in climate between the tip of the North Island and the bottom of the South Island is vast. In the north, winters are mild and it's rare to ever see snow in any of the cities. In the south, it can get colder, but days where the mercury drops below zero are few and far between.
Of course, snow fiends need no convincing to take a motorhome tour in winter. The ski fields across the South Island - and the few in the North - are exceptional. Winter also means fewer cars on the road, more available spots at campgrounds, and cheaper prices on many of your experiences.
If you are driving inland anywhere south of Christchurch, you will need to pay attention to the weather reports and any road closures, as some passes can become snowy or icy during the dead of winter. And of course, packing your winter woollies is a must.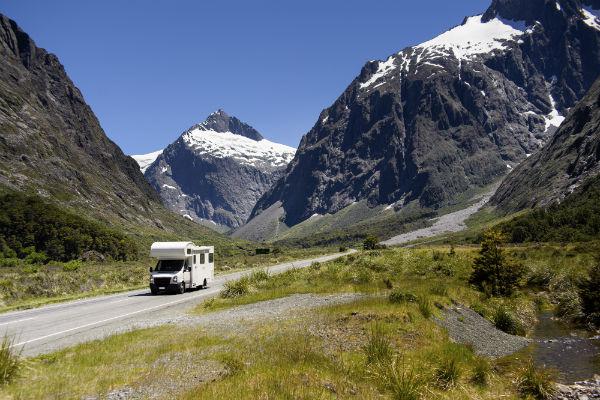 New Zealand's top campervan itineraries
As you'll most likely be arriving in New Zealand by plane, there's no better place to pick up your motorhome than right there where you land. International flights arrive daily in Auckland and Christchurch, but it's not at all tough or expensive to take a domestic flight to another centre such as Wellington or Queenstown to start your journey there.
If you're concerned about the cold, the North Island is for you. This Auckland to Wellington: Hobbit Houses and Hot Springs road trip is simply delectable. It guides you from one end of the island to the other, stopping at many of the country's top attractions such as the Hobbit homes of Matamata to the hot springs of Rotorua, all before finishing up in the coolest little capital on the planet. If a bit of wintry rain doesn't bother you, head up the South Island with the Queenstown to Nelson: A West Coast Odyssey tour, which will take you from the country's adventure capital, through the rugged wilds, and up to one of the sunniest, most relaxing spots in New Zealand.
Or, tackle as much of New Zealand as possible with the epic Auckland to Queenstown: New Zealand in a Nutshell tour. You'll visit just about every spot in the country that you can find on a postcard, from Hobbiton and the glow worm caves to the wineries of the South Island and the whale watching opportunities of Kaikoura.
If none of these road trips tickle your fancy, there are plenty more New Zealand motorhome itineraries from which to choose.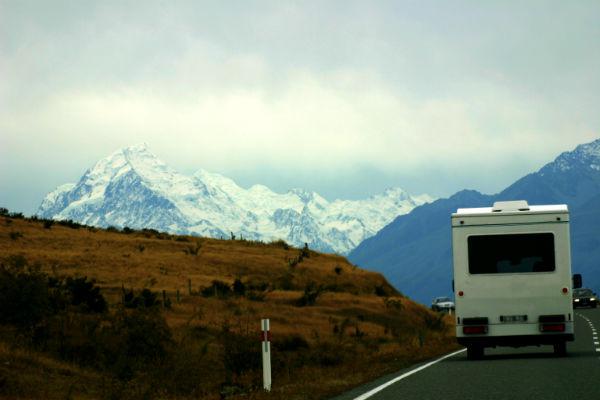 When to book - and when to go
The best time to book is generally as soon as possible. If you leave it to the last minute, you may miss out on the choice of motorhome you're after, and you might not get as good of a deal as you would by booking early. Plus, booking early will give you plenty of time to pick out your route, prepare for the trip and get beyond excited about seeing New Zealand by campervan. With that being said, travelling in New Zealand winter affords you a bit more wiggle room than a summer visit.
Tips for your New Zealand motorhome tour in winter
● Leave more time than you would think for driving on NZ roads
● Carry chains and know how to put them on
● Download our handy campervan app to help you on your way - it's free!
● Pay attention to road closures and weather reports
● Not all areas have cellphone reception, so take maps
Ready to explore? Book your New Zealand motorhome trip now.
---
---