Join the wave of people hiring RVs to take the surfing road trip of a lifetime
Picture this: you're planning the surfing road trip of a lifetime. You have your board waxed, wetsuit packed, and sunscreen safely stored. You've plotted your route using one of our great road trip itineraries, and you have your travel companions prepped and ready to go. Never before have you been so brilliantly organised.
Until you realise, that is, with the surf gear, luggage, and food, there's no room for your friends in your little 5-seater, and no matter how much you try, there's not enough rope in the world to safely secure your boards to the roof. To top it all off, you still haven't booked accommodation.
All the space you need in a campervan
Renting an RV is of course the answer. It's the solution more and more surfers are coming to discover. Space for your board, gear, luggage, food and your friends, there's simply no better way to pile everything in and hit the road. With accommodation sorted, there's no need to check into motels, or cram into hostels. Park up at beautiful campgrounds and spend the night close to nature. Wake up feeling refreshed and relaxed, all ready for another day on the waves.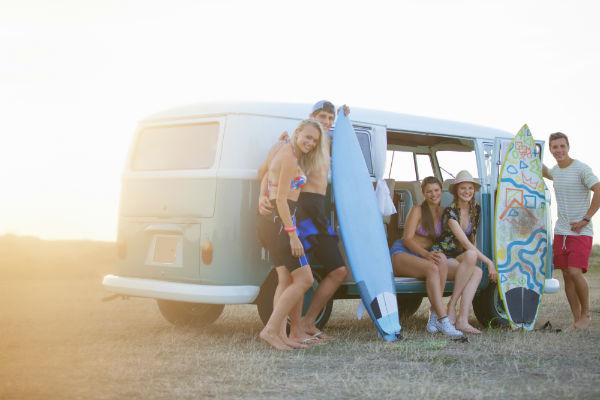 RV surfing road trips growing in popularity
Ever since the 1960s, the iconic camper-and-surfboard has been the subject of many beach scenes. While surfers used to strip down the interior of vans to create their own customised accommodation on the go, these days it's a lot simpler. RVs are already equipped for this sort of road trip and there's very little effort required on your part.
More and more people are taking the hint and it's so easy to see why. Waking up to the waves each morning, never worrying about leaving the beach at the end of the day; trading tips with other surfers at local campgrounds, and then moving on to the next hot spot at your own leisure. Or not. You might stay a few days. It's completely up to you!
The well-known surfer Dorian "Doc" Paskowitz was famous for taking what was certainly the longest surf road trip in history: 25 years on the road, adventuring around the coast in campervans with his family. But you don't need to go full "Doc" to get the appeal; a couple of weeks serve just as well.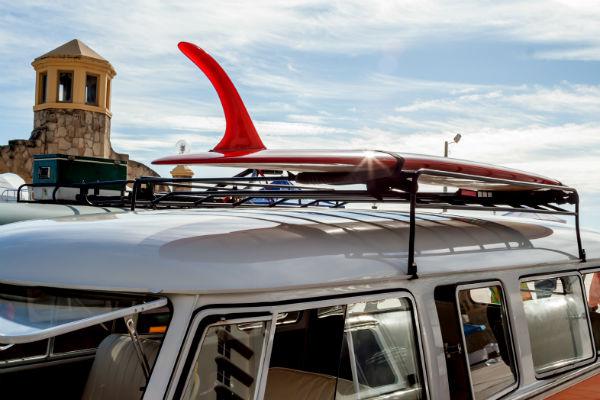 The cost of the coast
With the advent of Airbnb and the like, people are getting more creative with their holidays and finding ways to maximise the experience and save money at the same time. Like any adventure, there are costs involved with a surfing road trip but when you hire an RV you'll be surprised at how much you can save along the way.
Rental
Renting a campervan suitable for surfboards in the USA begins around US$100 per day, plus some additional costs such as added facilities, or one-way returns. Of course that takes care of your accommodation and transportation in one go, and the individual cost falls considerably with each additional person added to the group.
Camping & Fuel
If you park up at powered campsites it will cost you about US$30 a night. Fuel prices fluctuate but the average cost of gas in America is US$2.40 per gallon.
Food
With the added bonus of having all your things together in one place, you also save on food with the excellent kitchen facilities. Put together your own meals, store your own snacks, and stick to your own budget. A restaurant will cost upwards of US$20 - US$50, and while cafe meal might cost under $10, heading to the supermarket could save you money to splurge on something later on.
There are myriad ways to save on expenses - particularly when you're travelling with a group of friends.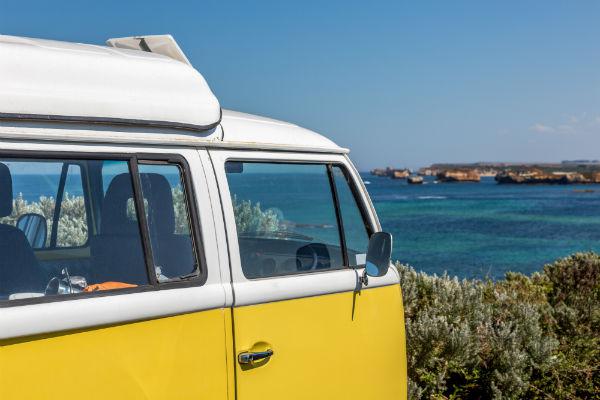 The ocean's your oyster
The good thing about having surfing as a hobby is that you're never short on places to go. Whether you road trip in the west from San Diego to Seattle, or New York to Miami in the east, or even do a loop of Kelly Slater's home state of Florida, there are hot surf spots all up and down the coastlines of America.
With a motorhome, it's also easy to add in stops at major points of interest along the way. Be sure to visit our Wild West Road Trip Itinerary and our East Coast Road Trip Itinerary for some adventure inspiration.
Surf photographer Roger Sharp said "Never drive away from good surf". While he was talking about the photography aspect of this exhilarating water sport, he definitely made a good point. If the surf is good, why would you leave? With never-ending beaches, the sounds of the sea, and the constant thought of 'just one more wave', you will have the time of your life when you take the surfer's dream trip along the coast in a motorhome.
---
---