7 Luxurious Glamping Locations in The USA
Glamping is the hot new trend that brings together the enjoyment of the great outdoors and exploring new places with having a stylish and comfortable bed to come home to at the end of the night. Even though your motorhome will come equipped with everything you need, there's absolutely no shame in wanting a 'real' shower and a little more space to sleep after a big day of adventures. Plus, the creative ways that people find to combine luxury and camping are worth the price alone.
Here are some of the best places to break up your RV road trip in the USA with a bit of indulgent glamping.
Glacier Under Canvas, Glacier National Park
Book a suite with Glacier Under Canvas at the Glacier National Park and enjoy a luxurious camping experience where you'll sleep in a king-sized bed, relax in a lounge area, and bathe in your own private bathroom with its own freestanding bath tub. The suites are also located in more sheltered and private areas than the rest of the camp, so you won't even have close neighbours.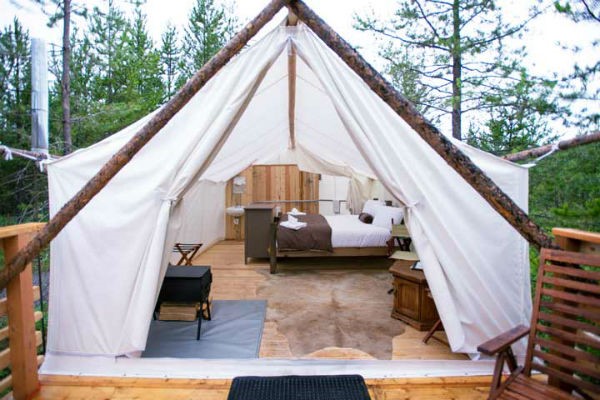 Beach Canyon Authentic Tipi, Topanga
Light, airy, and exquisite, these authentic tipis are more than just a gorgeous place to sleep. Your tipi comes with a hot shower, WiFi, a continental breakfast, a hot tub under the clear night sky, and even complimentary wine and cheese. Not to mention, the glampsite is situated on 1.2 acres of state park, so you can wake up and enjoy the hikes, horseback riding, and mountain bike tracks right on your doorstep.
Yurt Village, Falling Waters Resort
Stay at the Falling Waters Resort in Northern Carolina to sleep in an earthy yet elaborate yurt. Each one of these stunning circular structures features large windows, French doors, and a dome skylight so you can watch the stars float by. You'll also have the use of bathrooms, private decks, and a picnic area for cooking.
Amazing Stargazing Capsules, Sedona
Spend the night under the stars in your own bubble - literally. This glamping experience lets you sleep in an inflatable bubble that uses a silent air blower to provide a steady of stream of fresh air and keep the pod inflated. Each pod comes with its own mattress, pillows and night-light, with shared bathrooms on site.
Glamping Tree House, Santa Cruz Mountains
Even if you book the most luxurious RV on the lot, you still might prefer to spend the night in a luxury treehouse. It offers a small kitchen and bathroom, as well as a private hot tub that you can enjoy amongst the trees.
Sequoia High Sierra Camp, Sequoia National Park
It may be glamping - but you'll have to work for it. A stay in the plush Sequoia High Sierra Camp takes a one-mile hike sacrifice to get there, and the sweat is definitely worth it. You'll be staying in canvas tent cabins, and enjoying three cooked meals a day by an onsite chef who creates food you'd usually find in a city restaurant rather than out in the wilderness. A main bathhouse offers hot running water for those much-needed showers at the end of the day.
Paws Up, Montana
For the ultimate in luxury on a campsite, set your GPS for Paws Up in Montana. Here, you'll enjoy a tent with a private en-suite, as well as a camp chef to prepare a meal for you and a personal butler to look after everything from building a fire to planning your activities!
Ready to plan your itinerary? Book a motorhome today.

Feature image: Glamping Hub
---
---