Pohutukawa trees have been part of the NZ Christmas tradition for more than 100 years, and the long summer days around Christmas time are the best time to see them in bloom.
While the northern hemisphere has their lauded White Christmas, December down under looks very different. A Kiwi Christmas will often include a family BBQ, a trip to the beach and sitting in the shade of crimson-flowered pohutukawa trees. These rugged trees with their extravagant blooms were mentioned as part of the NZ Christmas tradition as early as 1833, and have since become an integral part of how New Zealanders view the season. Sure, presents are still piled under traditional fir or pine trees but it's the pohutukawa that holds a special place in hearts of most New Zealanders. This might be due to their resilient nature, clinging to craggy outcrops and soaking up moisture from salty sea breezes, but a large part of their popularity undoubtedly stems from their magnificent red flowers that emerge during the summer months. This brief bloom is a spectacular sight that's well worth witnessing in person, so we've put together a quick guide to some of the places where you can see these Kiwi Christmas trees at their best.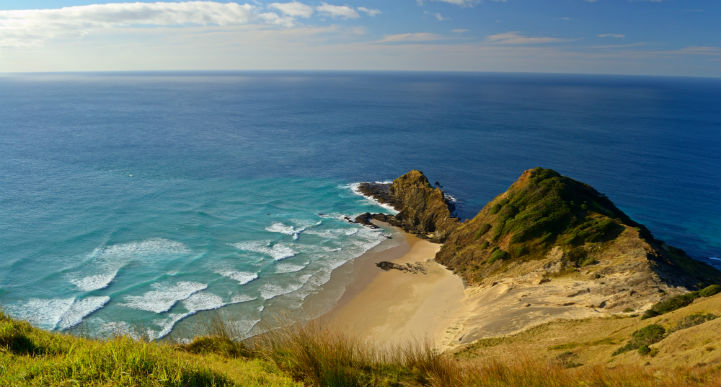 Cape Reinga, Northland
If you head north and drive to the very end of State Highway 1, you'll discover Cape Reinga - New Zealand's northernmost point. Pohutukawa trees are abundant along the coastlines of Northland, but it's one particular tree that makes this site incredibly special. According to Maori mythology, the spirits of the dead would leap off the Cape Reinga headland and climb the roots of the 800 year old Pohutukawa tree down into the underworld to return to their ancestral homeland of Hawaiki. While this tree blooms alone, seeing the ancient cultural icon in full flower is a deeply moving experience. If you plan to head north of Auckland in your NZ travels, a visit to Cape Reinga is a must.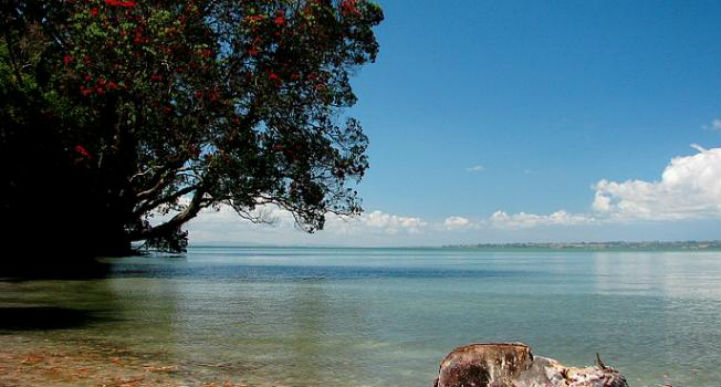 Pohutukawa Coast, Auckland
It's all in the name really. This series of beaches along Auckland's northeastern coastline is one of the best places in the region to enjoy a Kiwi summer and is home to one of the most impressive collections of pohutukawa trees in New Zealand. Packing a picnic is pretty much compulsory when you visit the Pohutukawa Coast. Omana Regional Park is a particularly great place to sit down and enjoy the sun, especially if you've got kids with you. BBQ's, a scenic beach, friendly farmyard animals - Omana really is the whole package. Maraetai Beach is another favourite among locals and tourists alike. Whether you're keen to relax on the white sands, take a dip in the clear blue waters or explore the nearby loop tracks, Maraetai can accommodate you. No matter where you go on this stretch of coast, finding vibrant pohutukawa displays is as simple as walking down to the beach.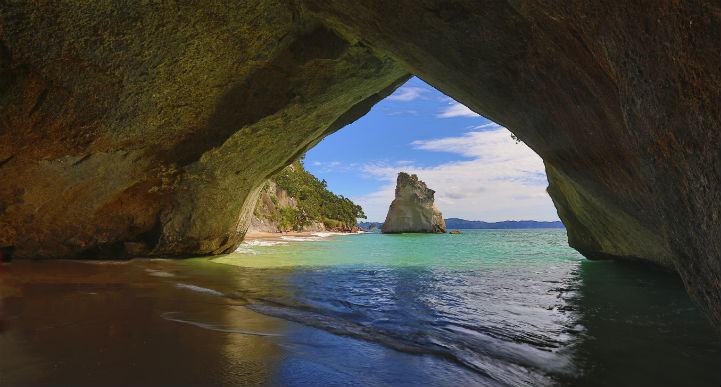 Cathedral Cove, Coromandel
Head to any beach on the Coromandel peninsula and you're likely to come across a host of pohutukawas in bloom, so picking one spot to highlight is less about the trees themselves and more about the surrounding area. The region has a number of iconic locations including Hot Water Beach and the laid back bach (holiday home) town of Whitianga, but chief among Coromandel tourism destinations is Cathedral Cove. Featured prominently in movies and music videos, an imposing natural archway leads from Cathedral Cove to the neighbouring Mare's Leg Cove. Naturally, the outcrop which forms the archway is covered in pohutukawa trees. Walking through the giant archway is a surreal, otherworldly experience which is perhaps the reason why it was used as the entrance to the mystical land of Narnia in the film Prince Caspian.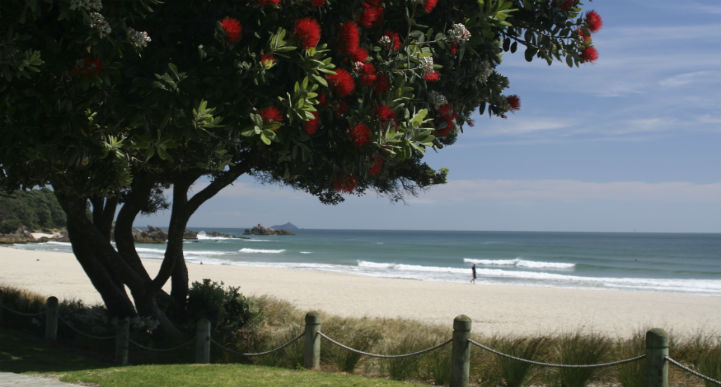 Mount Maunganui, Bay of Plenty
Known to locals as 'The Mount', this beach town is a favourite destination for Aucklanders looking to escape the Big Smoke. Mount Maunganui has an exceptionally long stretch of golden sand beach perfect for swimming and sunbathing, but the best place to see pohutukawa trees is on Mauao, an extinct volcanic cone located at the end of the town's peninsula. Climbing up to the top of the 232 metre cone provides visitors with an expansive view of the surrounding area, however it's on the loop track that encircles Mauao that you'll find the most impressive pohutukawa displays. Rocky, vertiginous and constantly blessed by sea spray, the slopes of The Mount provide the perfect environment for Kiwi Christmas trees to thrive. A walk around this track will take about 40 minutes at most and is well worth the time - you'd be hard pressed to find a more beautiful and varied short coastal walk anywhere in New Zealand.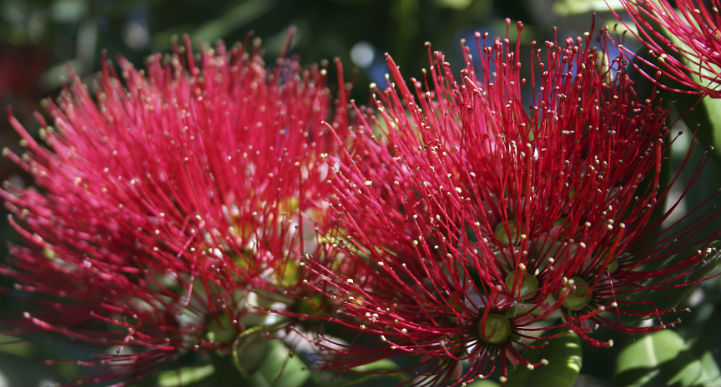 Napier, Hawkes Bay
Although Napier may be better known for its wineries and historic art deco architecture than its beaches, the coastal location of this beautiful city allows pohutukawa trees to flourish here. One such tree, a massive specimen planted in Napier's south suburb around 100 years ago, is a sterling example of what these trees are capable of when allowed to reach their full potential. For many years it was trimmed severely to accommodate overhead power lines but after the lines went underground, the tree has been cared for and its canopy encouraged to grow to full magnificence. A little closer to the sea, at the northern end of Marine Parade, is a trio of pohutukawas that have been specially looked after since the 1880's. The original significance of these trees has been lost to history, but a Maori source has claimed that the site where the trees stand once had a commemorative stone (urupa), erected to mark the agreement of a Maori chief to the transfer of Napier Hill to the British Crown.
Pohutukawas usually begin to flower around mid-November and stop sometime close to Christmas or New Years, so make sure you book your holiday soon to see these antipodean Christmas trees at the height of their beauty. Whether you are travelling through the South Island and need a campervan hire from Christchurch, a motorhome from Queenstown or are sticking to the north island, a campervan from Hamilton, Wellington, or even Rotorua with Motorhome Republic is a great way to experience the Christmas period.
---
It's funny how motorhome memories stick with you. I can still recall a motorhome vacation my family took when I was five years old and how awesome I thought I was, tucked away in a loft bed above the cab. From revealing unique destinations to providing tips and tricks, it's my mission to help others build great motorhome memories too.
It's funny how motorhome memories stick with you. I can still recall a motorhome vacation my family took when I was five years old and how awesome I thought I was, tucked away in a loft bed above the cab. From revealing unique destinations to providing tips and tricks, it's my mission to help others build great motorhome memories too.
---
---