If you are looking for an RV rental in Toronto there are plenty of options available to you. The city is quite large however and so many of the depots are spread out geographically. Pay close attention to the branch location, especially if you are short on time. Your intended itinerary may also mean one rental company is more preferable than another. It definitely pays to book early if you are wanting to hire a motorhome in Toronto, especially if you are choosy on locations as Toronto is a hub for a lot of local RV renters as well as international visitors
Toronto Tips for Motorhome Rental
When planning your itinerary, give yourself plenty of time to see everything at a leisurely pace. Don't rush and miss things along the way!
A deposit is often required when you first pick-up your motorhome this is almost always required to be a credit card (often debit cards are not accepted).
Cruising with kids? Make sure you have child seats and/or booster seats included in your rental!
If you are crossing the border, you need your passport and a visa or visa waiver for the United States. You can visit the Canadian side of Niagra falls obviously but there are some great vantage points and attractions on the US side and so a visa may be required.
RV rental locations in Toronto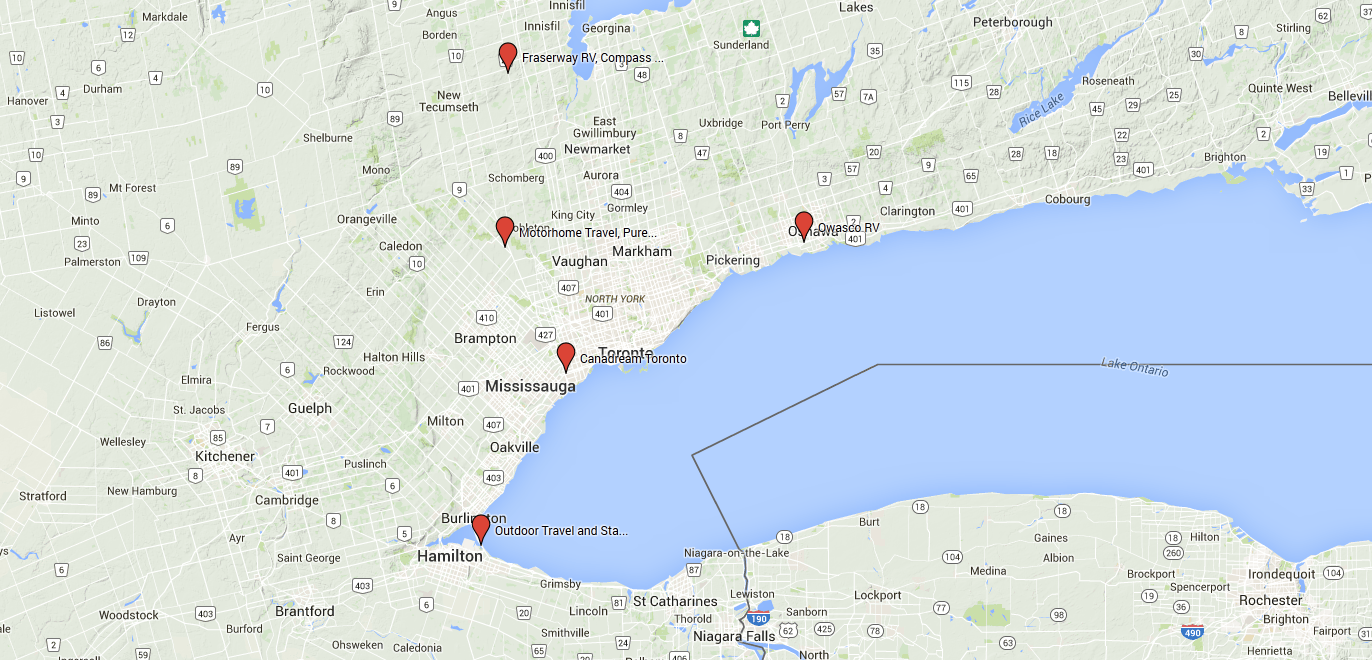 Outdoor Travel and Star Drive
Outdoor travel stock a range of vehicles in all classes, as well as having premium brand new vehicles or cheaper slightly older vehicles. These RV's are often on sold to the domestic buyers market after a few years on fleet, so they contain a lot of features not usually associated with a rental vehicle. They also cater well to families and some configurations even contain bunks and can sleep up to 8 people. The depot is located South of Toronto in the town of Hamilton - 110 Eastport Blvd, Hamilton, Ontario. It is around 65km from Toronto's Pearson International Airport which will take a little over 45 minutes, so please plan your itinerary and pick up with this in mind. The good news about the location though is that it is only another 80km (about 1 hour) to the Niagra falls and therefore Outdoor travel are the closest rental supplier to the Falls. All Outdoor Travel rates include 100km per day free which is great for those who are looking to travel large distances on their RV hire in Ontario. Star Drive offer the same vehicles however no mileage is included in the rates. It can be pre-purchased in advance if you have some fixed travel plans in mind. Obviously the rates are therefore cheaper with Star Drive and it offers a great option for travelers who are staying in one location for extended periods or who don't intend to cover great distances on their roadtrip.
Fraserway RV and Compass Campers
Fraserway offer an unsurpassed range of near new vehicles from their Toronto location in Cookstown, 70km North of the airport. The supplier offers free transfers to and from Toronto International airport hotels however these need to be pre-arranged in advance. The branch location is 5362 County Road North, RR 1, Cookstown, Ontario. If you are heading from the city on Highway 400 North, take exit 75 towards Cookstown and then left onto Highway 89 West. Turn right onto King St North/Highway 27. There is a gas station at the set of lights, so you can refuel your Rv there before returning the vehicle to the depot.
Canadream
Canadream is the closest RV rental location to Toronto city. The branch is only 12.5Km from the airport and 17KM from Toronto city at 576 Evans Avenue, Toronto, ON. Complimentary transfers are included to and from the Toronto International Airport area hotels, or a taxi fare from the city is around $70. Canadream offer high quality recent model motorhomes in a variety of layouts and styles. A popular option is the ROF (short for Run of Fleet), this means that the supplier makes no assurances of the type of vehicle you will get from their fleet until you arrive. Obviously if there are certain features you require this may not be the option for you, however if you don't mind what vehicle or you like surprises, you can definitely save money with this option.
Motorhome Travel, Pure Motorhomes and Big Sky RV
Motorhome Travel operate out of Bolton, Ontario and are the closest RV rental company to Toronto's Pearson International airport. The depot is 27KM north of the airport and free transfers are included in the rental rates Overseas customers must spend the first night at a hotel and are not permitted to rent on the same day as their international arrival. This is for safety reasons and offers protection for you, your family and the motorhome too of course. The fleet of vehicles are jointly owned by the supplier as well as individuals, this means that the general quality of vehicles on offer is very high and they often contain many extra features that are not standard with an RV. You get 100KM free per day with Motorhome Travel, whilst Pure Motorhomes Canada rates are cheaper but include no free kilometers in the rental rates. Lastly, Big Sky RV offers older vehicles for those looking at saving money on their rental and don't mind not having the latest model. The depot is at 14124 Highway 50, Bolton, ON.
Owasco RV
If you are looking to rent a premium motorhome in Toronto, then Owasco may well be your option. They offer some great new or near new vehicles from their branch at 2000 Champlain Avenue, Whitby, Ontario. This location is around 60km East of the city and around the same distance from the International airport. Ypu can add a transfer to your rental for a fee from certain airport area hotels. A particular favourite of ours with our customers are the Van conversions, they're smaller vehicles so are easier to drive for those first time to RV renters.