Rotorua has been officially recognised for its efforts to provide excellent facilities for motorhome travellers by the New Zealand Motorhome Caravan Association (NZMCA). The city has been named a 'Motorhome Friendly Town' following the opening in April of the NZMCA Ngongotaha Park for motorhomes and the recent establishment of a free, security camera monitored dedicated parking area in Government Gardens.
Located just a few minutes walk from the centre of town, the development has been welcomed by motorhoming visitors. The council's Sports and Recreation portfolio lead, Charles Sturt said "It means Rotorua is catering for a wide cross-section of visitors, making it easy for them to enjoy our facilities and of course to contribute to our local economy while they're in town." The project was designed to revitalise the downtown area, increasing foot traffic and ensuring that no matter how you choose to travel, the city still makes you feel welcome. Brian Stanley, the NZMCA area chairperson, has said that Rotorua's new Motorhome-Friendly status is a win-win. "It gives our huge network of members a lot of confidence in the destination, and it's likely to mean more visits and longer stays in Rotorua."
Regardless of whether you're a NZMCA member or not, the fact remains that Rotorua is a brilliant spot for a motorhome holiday whether you're heading there by yourself, as a couple or with the kids. No matter what kind of holiday you have planned, Rotorua tourism has a little something to cater to everyone, especially those driving their own accommodation down with them.
If you're contemplating a trip to 'Motorhome Friendly' Rotorua, let me help you out with a quick guide to some of the best things to see and do in the area.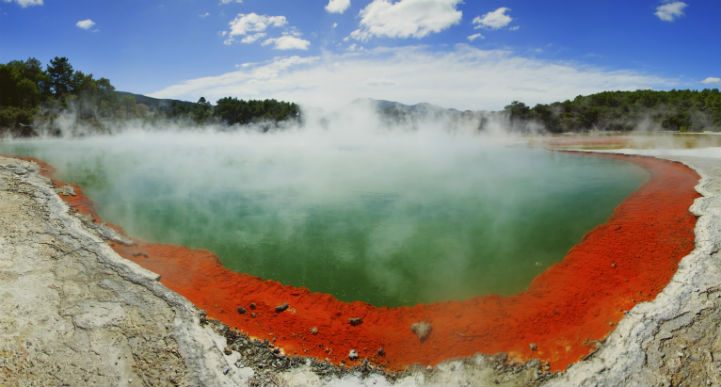 An alien land
Staring at geysers and boiling mud pools may not be for everyone, but I (and many, many others) find that the smouldering land has a devilish allure to it. Some areas close to the city look so bizarrely beautiful that they might as well exist on another planet entirely. Take a look into the different guided tours you can take that will take you right up close to the fuming earth; alternatively, if you get to know the locals, it's possible that they might be able to point you toward natural hot springs where you can soak away years worth of tension.
Glide, slide and dine
Just minutes out of the city, high up the slopes of Mount Ngongotaha, is the queen of Rotorua attractions. First, catch a ride up the steep incline in a gondola - this is the perfect opportunity to see the town spread out below you with Lake Rotorua stretching away into the distance. Trust me, the views are phenomenal. You then have the choice to make the return trip in a fraction of the time, careening down Ngongotaha on a luge, a sleek sort of cart that is capable of going very, very fast. Don't worry though, there are scenic tracks as well and beginner options for the little ones. Any adventure loving kid will absolutely love the luge. To top it all off, you can sample the culinary delights of the Stratosphere Restaurant and Bar. How's that for a well rounded day?
Walk among giants
Of course, Rotorua didn't miss out on New Zealand's signature verdant beauty. One of the best places to experience this is in The Redwoods and Whakarewarewa Forest. Towering California Coast Redwoods were introduced to the area for logging purposes in the early 20th century, and a few trees from that original planting still stand today. Many more have sprung up over the years, old and new alike inspiring awe in those who walk beneath their towering boughs. There are many different walking routes to choose from, and if you feel the need for a faster paced experience, there are nationally renowned mountain biking tracks that wind through this magnificent forest.
Have you holidayed in Rotorua before? We'd love to hear your story. Even if you've visited another city that you think should be officially 'Motorhome Friendly', let us know in the comments!

Ready for an adventure? Head on over to our NZ Campervan hire booking page, and become acquainted with the rentals on offer and places to visit! While you are on the North Island, you could head to nearby Lake Taupo, Tauranga, Coromandel peninsula and Auckland.