There's a new music fest in town and the organisers are making some pretty bold statements when it comes to just how big it's going to be - has a truly world class music event finally come to New Zealand?
Set just outside the coastal city of Tauranga, the McLaren Falls Music & Arts Festival will take place between the 10th to the 12th of January 2016 at McLaren Falls Park, a picturesque patchwork of fields, waterfalls, lakes and rivers. The fest is being billed as featuring a lineup of the world's finest artists from myriad different genres - rock to pop, psychedelia to R&B, organisers claim that no matter what your musical taste, you will find something you'll love at McLaren Falls Music & Arts Festival. Festival Director Paxton Talbot's said that he wanted to create an event with broad appeal to fill a space that has been missing from the New Zealand festival calendar. "McLaren Falls is a music and arts festival that makes room and welcomes all kinds of music. We want to bring together people from all ages and walks of life to an event that is culturally rich and inspiring. People can relax, they can get wild, they can dance, they can hang back and soak it all in."
Quality has also been of paramount concern. "We've picked these artists with excellence in mind," Talbot says. "Bands and performers who, no matter their genre, will be able to speak to any member of the audience on some level, just due to their sheer calibre." Talbot added that the fest will "bring a taste of Coachella and Glastonbury to the Pacific".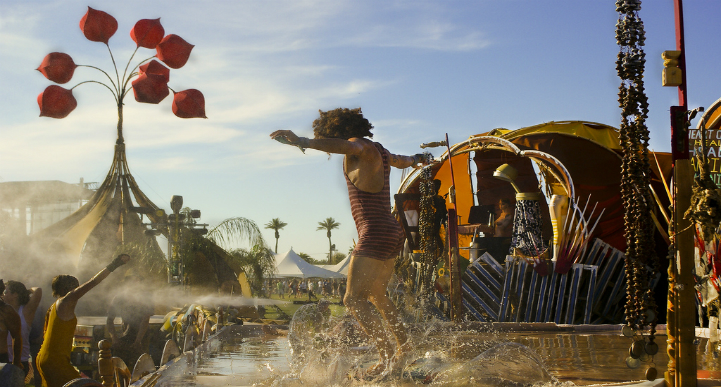 Coachella 2009
Those are some pretty weighty names to be throwing around. But it's not just about the music. Visual and performing arts will feature prominently, with markets and workshops also making an appearance. Couple this with lakeside camping, nearby glow worm caves and a gorgeous countryside setting and claims that this festival will compare to some of the best in the world begin to sound feasible.
So how would you get to this event? The good news is that Tauranga is only about 2 and a half hours south of New Zealand's biggest city, so picking up an Auckland motorhome rental makes good sense. Tickets for the festival go on sale from the 17th of August, and you won't want to wait much longer than that to book your campervan and accommodation as the Bay of Plenty region is extremely popular with both foreign and domestic holidaymakers over the summer period.
Accommodation details for the event have yet to be released, but motorhome camping is certainly allowed at McLaren Falls Park under normal circumstances. If you'd rather be a little bit removed from the action, there are plenty of holiday parks in Tauranga and the nearby beach town of Mount Maunganui for you to choose from.
As for what else there is to do in the area: there's a wide range of hiking tracks, from casual to demanding, in the Kaimai Ranges (the range that McLaren Falls Park is nestled at the foot of). Tauranga is a culturally vibrant city with a thriving cafe scene and if you want to hit the beach, Mount Maunganui's golden sand and clean waves are the stuff of legends. You can even climb the 232 metres to the summit of Mauao, the "mount" in Mount Maunganui, for spectacular views of the surrounding country.
Check out the McLaren Falls Music & Arts Festival website to keep up to date with new developments, including the much anticipated lineup announcement, and don't forget to book accommodation and your NZ Campervan hire early to avoid disappointment! Popular pick up locations include Rotorua, Taupo and Hamilton.