Luxury motorhomes aren't anything new - many different companies have created amazing homes on wheels for the discerning (and wealthy) traveller - but cutting edge tech company Furrion has pushed the boundaries of what's possible for an RV to even more extreme limits. Although the city of Las Vegas is no stranger to extravagance, and picking up a Las Vegas RV rental is a popular choice for many, even this glittering city had never seen anything like the Furrion ELYSIUM before now.
Furrion's luxury RV, which was displayed at this month's Consumer Electronics Show, is impressively large at 45 feet long and 8 feet wide, but its size is just one part of what makes this vehicle truly extraordinary. Alongside all the mod-cons one would expect in an ultra-modern home (induction cooktop, wine fridge, smart shower, 75" TV, etc) this indulgent RV features an upper deck featuring a hot tub, lounge area and a helicopter landing pad - complete with helicopter. The bad news is that the ELYSIUM isn't for sale - this is a concept model designed to display just what Furrion is capable of. Of course if it was on the market, the cost would doubtless stretch into the millions.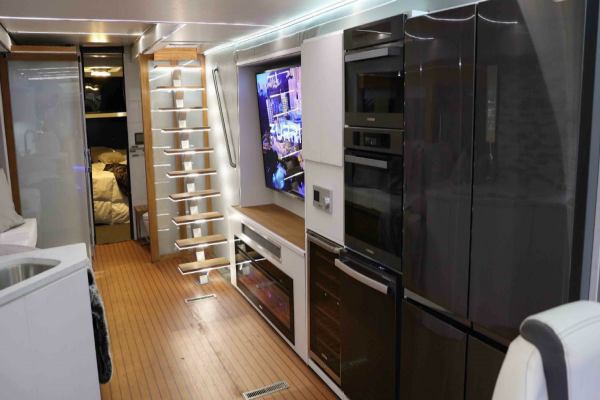 Buying a luxury motorhome is unfortunately well out of reach for the vast majority of holidaymakers - but striking out on an RV road trip is still an achievable dream for just about everyone. There's no need to sink thousands of dollars into purchasing a motorhome (unless you really fall in love with this carefree lifestyle) when it's easy and affordable to simply pick up an RV rental for a few days.
Those planning to tick the Grand Canyon off their bucket list might book an RV rental from Las Vegas, Middle Earth fans could explore the real deal with a campervan hire in NZ while a campervan hire in Iceland might have you completing the famous Ring Road, checking out ice caves, geysers and volcanoes along the way. You might be out of luck if you're searching for a motorhome with its own helipad, but there are plenty of spacious, well appointed vehicles available for you to choose from when planning your next vacation.
Most 6-berth motorhomes boast all the living space you could want on a road trip holiday, in addition to including essentials such as a stove, fridge, toilet and shower. After all, taking a trip in a motorhome isn't so much about spending all your time inside the campervan - the mobile nature of a motorhome puts the emphasis firmly on the various destinations you'll be visiting along the way. With the freedom to hop from place to place without the hassle of packing up every time, the world really is your oyster.
If the liberty of motorhome travel has captured your imagination but you're not quite sure where to go or what to do along the way, these free itineraries tailored for RV roadtrippers might just give your travel plans the jump start they need. With information on routes and attractions in 7 different countries including the USA, New Zealand and Iceland, these guides can help you craft an epic road trip that you'll be bragging about for months - no helipad required.