New Zealander Chuck Berry marked the 50 day countdown to Audi quattro Winter Games 2015 with the first ever wingsuit flight over Auckland yesterday. Berry performed the feat with Jim Scott, an Auckland skydive coach. Jumping from 7,000 feet, they glided over New Zealand's largest city for about 60 seconds before landing in Auckland's beloved Victoria Park.
"The jump went exactly as planned," said Berry. "It was such an amazing rush to fly over Auckland and see the city from a completely different perspective." First to greet the daring pair when they touched down were Corey Peters and Anna Willcox, two of New Zealand's top Winter Games elite athletes. "Life's all about pushing yourself with new challenges," Berry went on to say. "I have total respect for athletes like Corey and Anna who perform at the highest level in their sport. With only 50 days to go, I'm really looking forward to having the Games on my home turf and welcoming the world's best to the Southern Alps."
The Winter Games, which include sports like Alpine Skiing, Curling and Snowboarding, kick off on the 21st of August this year in and around the Southern Lake Region towns of Wanaka, Queenstown and Naseby. If you're tempted by the idea of watching some of the world's top winter athletes striving to outdo each other amidst the picture perfect environs of the Southern Lakes Region, we have some good news for you: it's absolutely free to experience the vast majority of what's on offer at the Winter Games 2015. That includes the opening and closing ceremonies, all mountain sports events and all ceremonies, concerts and film sessions held at the two Games Villages in downtown Queenstown and Wanaka. Pretty much the only charge you're going to incur is a gold-coin (one or two dollars) donation for entry to the Naseby Indoor Curling Rink, which leaves you free to spend your hard earned cash on making your southern holiday as memorable as possible. Given the multi-location nature of the Games and the rich variety of locations to explore in the region, why not opt for a Queenstown campervan rental to get the very most out of your time in the tourism capital of New Zealand.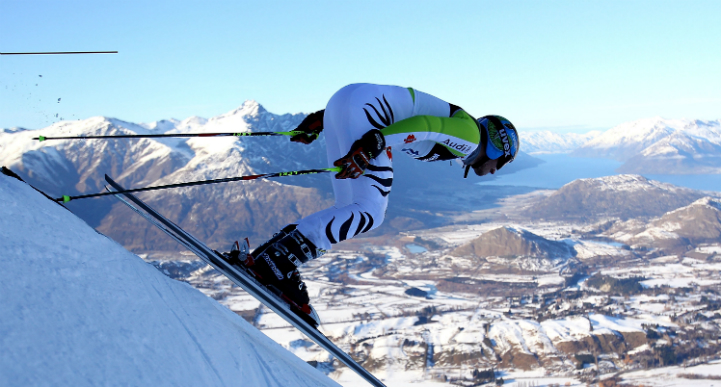 Naseby is the smallest of the three locations, a former gold rush mining town a little over 2 hours west of Queenstown. Just because it's small doesn't mean there's nothing to do, however. If the professionals aren't currently using the curling rink, why not get into the Games spirit and give it a go yourself? It's more trick than it looks but surprisingly fun! For something a little faster paced, you have to try the Southern Hemisphere's only 'snow and ice' luge track. World class luge experts from around the world will show you the ropes - this is something the whole family can enjoy.
Wanaka well known for its ski slopes, but the town also boasts a vibrant nightlife with abundant boutique bars and restaurants, ensuring that when the day is done and the athletes have gone to their well deserved rest, you'll be far from bored. One particular attraction to check out if you have children with you is Puzzling World. The visual feast of optical illusions on offer will make anyone's head spin - to be honest, bringing the kids along is just a convenient excuse. This place is incredible.
Queenstown is the crown jewel of the region, offering vistas that are rarely seen outside of tourism commercials, the full gamut of adventure activities and all the fine wining and dining that an epicure could dream of. Those who are especially daring may be drawn to The Ledge Night Bungy. If plunging into darkness from a platform 400 metres above Queenstown doesn't get your adrenaline pumping, there's nothing that will. But if you've really come to relax, the area still has plenty to offer. Over 200 vineyards dot the region (wine tour, ahoy!) and the day spas in the town are among the best in the nation.
Plus, for those who are disappointed that they missed Chuck Berry's first wingsuit flight, he'll be repeating his feat at the Audi quattro Winter Games NZ closing ceremony at Cardrona Alpine Resort near Wanaka on Sunday 30 August. All in all, it sounds like a winter holiday dream come true.

Queenstown is a great location to start your NZ campervan adventure, however if you'd like to travel a bit further and see the South Island countryside in all it's winter glory, consider Christchurch for your motorhome hire. Dunedin and Greymouth are other pick up points that you could consider.
Photos: Getty Images