Sometimes motorhome magic happens when you need it most. Nicko and Kiah are two Aussies from the state of Victoria who fell in love in high school and have stuck together through thick and thin for the last ten years. Nicko works in the mines, heading away for days at a time. Kiah is a doctor working toward specialising as a pediatrician. Kiah's latest placement is at a hospital outside her hometown, meaning the couple would have to go long distance for 3 months. Even though Nicko and Kiah are saving for their wedding in December, they decided they wanted to have some amazing experiences together before they parted.
Touring New Zealand had always been a dream, so Kiah seized the chance to book a motorhome holiday out of Queenstown. Little did she know that she had just made Motorhome Republic's 200,000th booking. A week before they were scheduled to leave, Kiah got a phone call - it was Phil from Motorhome Republic. To celebrate her milestone booking, Phil said, Motorhome Republic was going to refund the full rental price, and even upgrade her to a full insurance package. Kiah was ecstatic.
Flash forward a week and the couple are arriving in one of the most beautiful towns in New Zealand. A couple members of the Motorhome Republic team flew down to Queenstown at the same time to welcome the couple to the country. They met Nicko and Kiah at the airport, whisking them away to the Amisfield Winery and Bistro, renowned for its creative dishes and local, seasonal produce, for a gourmet lunch. No point starting a motorhome holiday on an empty stomach! The Motorhome Republic contingent then flew back north while the lucky couple were left to embark on the South Island odyssey of a lifetime.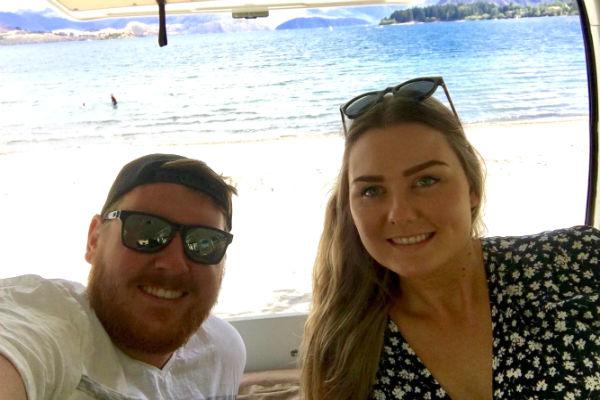 With a little help from Motorhome Republic, Nicko and Kiah were able to share all kinds of incredible experiences and make memories together without having to dip into their wedding fund. But you don't have to make a milestone motorhome booking to share something special with those you care about. Having the freedom to go wherever the road takes you and wake up in the midst of some of the world's most gorgeous scenery is within reach for just about anyone. Don't deny yourself the chance to explore, enjoy and experience all that life has to offer. Start planning your future motorhome memories today.