The first tickets have been snapped up and the buzz surrounding Burning Man Festival 2018 has already ignited. For many RV travellers it's considered the zenith, the peak, the ultimate conception of love, life and all that is positive in the world. The most ecologically-friendly event on the planet, Black Rock Desert in northern Nevada is transformed into a circular-shaped city, with the Burning Man at its centre – and for seven days you can park up your RV rental at Burning Man and enjoy this life-changing experience of art, community, self-reliance and celebration! But first you must connect with the Motorhome Republic Ultimate Guide to Burning Man in an RV. We have the inside track on where to rent and all of the key motorhome suppliers. Then, over the next few weeks we will give you further tips and handy guides to the event, as well as a few surprises. So, strap yourself in… it's gonna be one hell of a ride!
The hottest campervan ticket in town
Burning Man 2018 runs from August 26 to September 3. This is one of the most highly anticipated events on earth, so it's crucial to book tickets to Burning Man as soon possible. Similarly, securing your RV rental for Burning Man is best done many months ahead of time, as driving an RV to this event is a time honoured tradition for many. Even if taking an RV to Burning Man is an entirely new experience for you, this is still arguably the most comfortable way to stay at Black Rock City, the temporary city that springs up each year in the desert of Nevada. So, what are the key questions you need to ask yourself when renting an RV for the Burning Man Festival 2018?
Where shall I pick up my RV? Los Angeles/Las Vegas/Salt Lake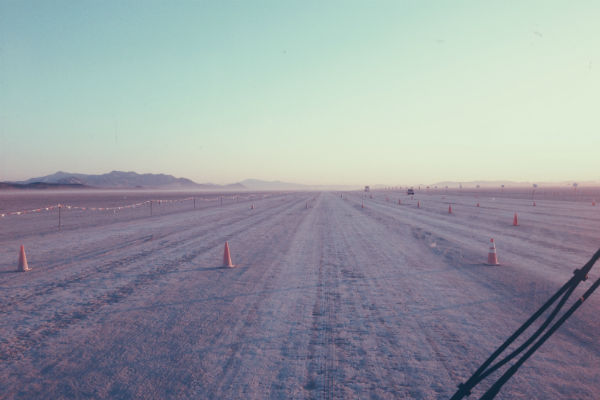 RV suppliers for Burning Man… compare the top brands
It's one of the biggest weeks in the motorhome rental calendar, where demand far exceeds supply. Don't be surprised if RV rates are somewhat higher than at other times of the year – everyone is at it, so adapt a reflective, forgiving, Burning Man-style attitude, because there's nothing you can do about it. Another important point to keep in mind is that your RV rental will be filthy by the end of Burning Man - in the dusty desert environment, this is inevitable. Most RV rental companies will charge a hefty cleaning fee for vehicles returned dirty - this can usually be avoided by returning the rental in a clean and tidy state. But it's not all bad… remember, if a few of you are travelling in your motorhome you can split the cost, so it could be around $70 bucks per night accommodation depending on numbers. But here's what you need to know about how the major RV rental companies work with regards to Burning Man:
Cruise America has been in business for more than 40 years and is a major player in RV rental for Burning Man 2017. They 'flex' their rates for Burning Man, which basically means that as the RVs get booked, prices rise. They are a massive company so you have to get in as soon as possible. Returning the vehicle in good shape is absolutely essential, or you will lose your deposit.

Escape Campervans have a good reputation for the quality of their vehicles, with their 2- to 4-berth options perfect for Burning Man 2017. A premium payment is part of the deal, alongside extra cleaning fees. Also, make sure you tell them you're travelling to the festival – there are special insurance dispensations, as mentioned in their terms.

Lost Campers have a minimum hire period of 10 days, but they do operate out of Salt Lake City. Expect additional fees and booking costs, but while their smaller vehicles are not self-contained, these are cheaper and can help keep your costs down.

It was back in 2013 that El Monte RV marketing director Joe Laing called Burning Man, '…the busiest time of the year for us.' And as Motorhome Republic have many El Monte vehicles on offer, it's a busy time for us too – their Reno office has even been moved to Grand Sierra just for the festival. Hidden costs are not El Monte's style, although prices here are often higher as they flex rates to cater for supply and demand - but a popular motorhome choice come Burning Man time.

Apollo vehicles are a maximum of three years old and they are an international brand with a good reputation. Generally sleeping up to five adults, you will have to pay a Burning Man surcharge but there are no other hidden costs – just make sure you tell Apollo where you are going.

Star RV have motorhomes that are less than one-year-old and their comfort levels are a big plus-point. From two to six people can be catered for.

Jucy green vehicles aren't difficult to spot and their 'Champ' sleeps up to four. Their fuel-efficiency is a major plus-point and the smaller vehicle can be easier to get around with than a larger vehicle. Although, like most suppliers, Jucy has a cleaning fee, you can get up to half of the fee back if you bring the vehicle back in the same state it was picked up in, saving you up to $350!

Road Bear RV have brand new vehicles that they want to sell at the height of summer, but they strictly limit RVs at Burning Man and your chances of getting hold of one are slim. However, they can be cheaper than their competitors.

Expedition knows how difficult it is to keep RVs clean, so you can hire a dust-buster to keep things spick and span!

Now you have the basics for your Burning Man Festival 2018 RV adventure. But we want to know your tips and advice for other motorhome and RV adventurers. Have you been to Burning Man Festival before and possess inside knowledge? What have we missed? Do you have any questions you want answered? Please drop us an email in the comments section below.